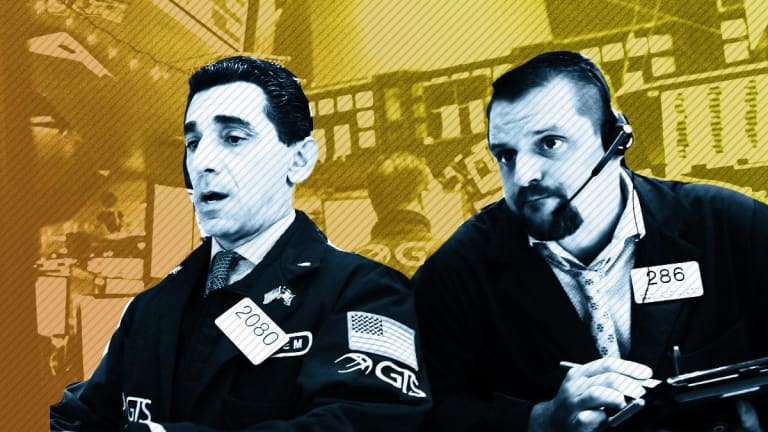 Citigroup, Newmont Buys Goldcorp, Weak China Data - 5 Things You Must Know
U.S. stock futures fall on Monday and global stocks retreat following surprisingly weak trade data from China; Citigroup will issue its fourth-quarter earnings report on Monday, kicking off a heavy weak of results from the big-cap banks; Newmont Mining reaches deal to buy Goldcorp for $10 billion in stock.
U.S. stock futures fall on Monday and global stocks retreat following surprisingly weak trade data from China; Citigroup will issue its fourth-quarter earnings report on Monday, kicking off a heavy weak of results from the big-cap banks; Newmont Mining reaches deal to buy Goldcorp for $10 billion in stock.
Here are five things you must know for Monday, Jan. 14:
1. -- Stocks Slide on Weak Trade Data From China
U.S. stock futures fell on Monday, Jan. 14, and global stocks retreated as surprisingly weak trade data from China added yet another level of concern over the health of the world's second-largest economy and added more pressure on the slow-moving trade talks between Washington and Beijing.
China's export engine, the world's biggest, suffered its largest monthly drop in two years in December, with exports falling 4.4% and imports contracting a much larger-than-expected 7.6%.
However, China's trade surplus with the United States jumped 17% to a record $323.32 billion last year, a figure that is certain to add an extra dimension of tension into the ongoing trade talks, given that Donald Trump had vowed to reduce that figure during his election campaign, only to see it print consecutive all time highs when he has been in office.
Some of the world's biggest companies, including Apple Inc. (AAPL) - Get Report and Samsung Electronics Co. (SSNLF) , have directly or indirectly cited slowing growth in China as the main catalyst for reduced earnings forecasts or weaker-than-expected current quarter earnings.
Contracts tied to the Dow Jones Industrial Average fell 176 points, futures for the S&P 500 were down 19.10 points, and Nasdaq futures slumped 65.75 points. 
The Detroit Auto Show has kicked off and media previews are scheduled this week for Monday and Tuesday. Public viewings begin Jan. 19.
According to the Detroit Free Press, Ford Motor Co. (F) - Get Report will unveil the 2020 Explorer Wednesday. The automaker also will showcase at the event what is expected to be the fastest production Mustang to date - the Shelby GT 500.
General Motors Co.'s (GM) - Get Report Cadillac division released the first images of its three-row XT6 luxury SUV on Sunday, and also unveiled the brand's first electric vehicle.
2. -- Citigroup Earnings Top Wall Street Forecasts
Citigroup Inc (C) - Get Report  reported fourth-quarter earnings of $1.61 a share, beating analysts' estimates of $1.55. Revenue of $17.12 billion came in below forecasts.
Citigroup earned $1.28 a share a year earlier on revenue of $17.3 billion.
The stock was down 1.9% in premarket trading.
Earnings from JPMorgan Chase & Co. (JPM) - Get Report and Wells Fargo & Co. (WFC) - Get Report are expected before the market opens on Tuesday.
Analysts at Credit Suisse expect big-cap U.S. bank earnings to rise by around 22% over the three months ended in December from last year, but see a quarter-on-quarter decline of about 3%.
Citigroup and JPMorgan are holdings in Jim Cramer's Action Alerts portfolio. Want to be alerted before Jim Cramer buys or sells C or JPM? Learn more now.
3. -- Newmont Mining to Buy Goldcorp for $10 Billion in Stock
Newmont Mining Corp. (NEM) - Get Report reached an agreement to acquire Goldcorp Inc.  (GG) for stock valued at $10 billion.
Newmont will acquire each Goldcorp share for 0.328 of a Newmont share, which represents a 17% premium based on the companies' 20-day volume weighted average share prices. With the inclusion of debt, the enterprise value of the deal is about $12.5 billion, with Newmont holding around 65% of the combined entity.
"This combination will create the world's leading gold business with the best assets, people, prospects and value-creation opportunities," said Newmont CEO Gary Goldberg. "We have a proven strategy and disciplined implementation plan to realize the full value of the combination, including an exceptional pool of talented mining professionals, stable and profitable gold production of six to seven million ounces over a decades-long time horizon, the sector's largest gold Reserve and Resource base, and a leading project and exploration pipeline."
Goldcorp shares were rising 9.4% to $10.60 in premarket trading Monday. Newmont fell 6.1% in premarket trading to $32.75.
Newmont Mining CEO Goldberg will stay on with the company until the deal with Goldcorp is closed, which the companies hope will happen in the first quarter of this year, but will then retire.
4. -- PG&E Announces Plan to File for Bankruptcy
PG&E Corp. (PCG) - Get Report said Monday it plans to begin voluntary bankruptcy proceedings under Chapter 11 in the face of billions of dollars in potential liability for recent California wildfires.
In a statement, the California utility company said it intends to file petitions to reorganize under Chapter 11 on or about Jan. 29.
"PG&E expects that the Chapter 11 process will, among other things, support the orderly, fair and expeditious resolution of its potential liabilities resulting from the 2017 and 2018 Northern California wildfires, and will assure the company has access to the capital and resources it needs to continue to provide safe service to customers, the company said.
On Sunday, PG&E said its CEO had stepped down, and reports said the utility company could be notifying its 20,000 employees as early as Monday that it was headed toward bankruptcy.
The company announced late Sunday that Geisha Williams was stepping down as CEO and has resigned from the boards of both the utility and the holding company. Company veteran John Simon was named interim CEO. Simon has been executive vice president and general counsel since 2017 and has been with the company since 2007.
Under state law, passed only recently, the utility had to inform employees of a bankruptcy filing or any change in control of the company at least 15 days in advance.
The stock fell 41.8% in premarket trading to $10.24.
5. --  Digital First Media Offers to Buy Gannett for $12 a Share
MNG Enterprises Inc., better known as Digital First Media, offered to buy Gannett Co. Inc. (GCI) - Get Report for $12 a share in cash, a bid that would value the USA Today publisher at around $1.4 billion.
MNG, which publishes the Denver Post and the Boston Herald, said it owns a 7.5% stake in Gannett through its managed investment account, making it the company's biggest shareholder. The company argued in a letter to shareholders Monday that "a series of value-destroying decisions made by an unfocused leadership team," including an "ill-fated hostile for Tribune Publishing" have hit the company's bottom line.
"With Gannett's CEO departing by May and its key digital executive leaving later this month, there's now an even greater leadership void," the letter stated. "Frankly, the team leading Gannett has not demonstrated that it's capable of effectively running this enterprise as a public company."
"Gannett shareholders cannot sit by and watch further value erode while the Board casts about for a strategy and a leader, especially when there is an opportunity to maximize value right now," the letter continued. "We believe Gannett shareholders deserve better."
Gannett shares, which have fallen around 3.65% over the past six months, rose 19.5% in premarket trading Monday to $11.65.