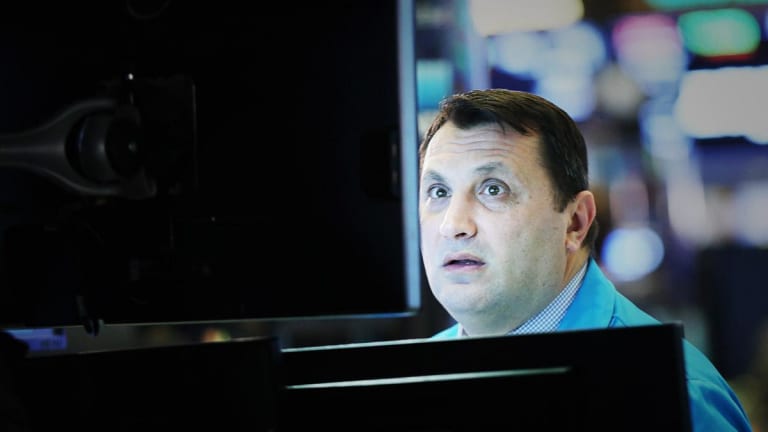 Donald Trump, Steven Mnuchin, Jerome Powell and Tesla - 5 Things You Must Know
U.S. stock futures tumble in a holiday-shortened session on Monday, following one of the worst weeks for Wall Street in more than a decade; Treasury Secretary Steven Mnuchin holds unusual calls with big bank CEOs; Donald Trump 'now realizes' he can't fire Fed Chairman Jerome Powell, Mick Mulvaney says.
Here are five things you must know for Monday, Dec. 24:
1. -- Stock Futures Tumble Ahead of Holiday-Shortened Session
U.S. stock futures turned lower in a holiday-shortened session on Monday, Dec. 24, and global stocks traded mostly to the downside as investors continued to express concern over the fate of the global economy and the ongoing turmoil in the White House.
Contracts tied to the Dow Jones Industrial Average fell 219 points, futures for the S&P 500 were down 21.75 points, and Nasdaq futures declined 57.50 points.
Those concerns were amplified late Sunday with an usual statement from Treasury Secretary Steven Mnuchin, who said he would chair a meeting Monday of the President's Working Group on Financial Markets, which includes the Federal Reserve, the Securities and Exchange Commission and the Commodity Futures Trading Commission, after speaking with the CEOs of the country's six biggest banks over the weekend to ensure there was ample liquidity in the financial system.
"We continue to see strong economic growth in the U.S. economy, with robust activity from consumers and business markets," Mnuchin said in a statement. He added, "With the government shutdown, Treasury will have critical employees to maintain its core operations at Fiscal Services, IRS and other critical functions within the department."
Munchin said he spoke with the CEOs of Bank of America Corp.  (BAC) - Get Report , Citigroup Inc.   (C) - Get Report , Goldman Sachs Group Inc.  (GS) - Get Report , JPMorgan Chase & Co.  (JPM) - Get Report  , Morgan Stanley (MS) - Get Report and Wells Fargo & Co.  (WFC) - Get Report . From those conversations, Mnuchin said, the CEOs "have not experienced any clearance or margin issues and that the markets continue to function properly."
Mnuchin's statements added to Wall Street concerns following one of the worst weeks on Wall Street in more than a decade. For the week, the Dow tumbled 6.9%, the S&P 500 dropped 7.1%, and the Nasdaq slumped 8.4%. The tech-heavy Nasdaq, off 22% from its all-time high, entered bear market territory.
Comments from Donald Trump's incoming chief of staff, Mick Mulvaney, to Fox News Sunday that suggested it's "very possible (the current government shutdown) will go beyond (December) 28th and into the new Congress" also were seen as adding to the broader market caution.
2. -- U.S. Stock Markets Close Monday at 1 p.m. ET
The U.S. stock market will close Monday at 1 p.m. ET, will be closed for Christmas Day, and will reopen with a full day of trading on Wednesday, Dec. 26.
The economic calendar in the U.S. Monday includes the Chicago Fed National Activity Index for November at 8:30 a.m. 
3. -- Trump 'Now Realizes' He Can't Fire Jerome Powell
Mick Mulvaney said Sunday that Donald Trump "now realizes he does not have the ability" to fire Federal Reserve Chairman Jerome Powell.
Mulvaney, who now serves as White House Office of Management and Budget director, said during an interview on ABC News' "This Week" that after speaking with Treasury Secretary Steven Mnuchin, he was assured Trump wouldn't try to fire Powell.
"It's not at all unusual for a president to complain about the actions of the Federal Reserve chairman," said Mulvaney, adding that the "tension" between the two was traditional.
"I think he put out a tweet last night specifically saying that he now realizes that he does not have the ability to fire him," Mulvaney said, before the host, ABC News' chief White House correspondent Jonathan Karl, corrected him and said that the Twitter post was from Mnuchin.
Mnuchin said on Twitter that while Trump "totally" disagrees with the Fed's policy and that he thinks raising interest rates is a "terrible thing to do at this time," Trump said he "never suggested firing Chairman Jay Powell, nor do I believe I have the right to do so."
Bloomberg had reported that Trump wanted to sack Powell over the central bank's moves to hike U.S. interest rates. The central bank raised rates last week for the fourth time in 2018.
4. -- Elon Musk Says Tesla Will Pay for Missed Tax Credits
Tesla Inc. (TSLA) - Get Report CEO Elon Musk said the electric carmaker will reimburse customers if delays to car deliveries cause them to miss out on a $7,500 tax credit, Reuters reported.
Customers are eligible for the current $7,500 U.S. tax credit if they take delivery by the end of the year. The tax credit for Tesla cars will drop by half on Jan. 1.
Tesla said earlier this year that orders for cars placed by Oct. 15 would be eligible for the full tax credit and that customers would receive their cars by the end of the year. From Jan. 1, 2019, the tax credit drops to $3,750, Reuters noted.
Musk, replying over the weekend to a Twitter user who asked what would happen if cars didn't arrive in time, said, "If Tesla committed delivery & customer made good faith efforts to receive before year end, Tesla will cover the tax credit difference."
Tesla shares fell 2.4% in premarket trading.
5. -- Kraft Heinz, Mondelez Make Short List for Campbell Soup's International Business
Kraft Heinz Co. (KHC) - Get Report and Mondelez International Inc. (MDLZ) - Get Report have been short-listed to participate in the second round of Campbell Soup Co.'s (CPB) - Get Report  auction of its international business, people familiar with the matter told Reuters.
Based on the first-round bids that were received, Campbell Soup could get close to $3 billion for its international business, the sources added.
***
Save 66% with our '12 Days of Holiday Deals' Sale. Join Jim Cramer's Action Alerts PLUS club for investors and get our best deal of the year. Click here for details or to sign up.