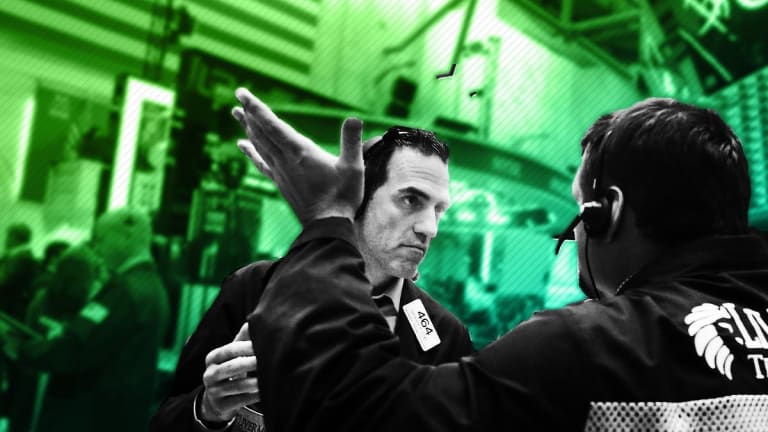 Wall Street Hits Records, Tesla to Remain Public - 5 Things You Must Know
U.S. stock futures are higher on Monday, following Friday's session that saw both the S&P 500 and Nasdaq close at all-time highs; Tesla slumps after the electric vehicle company says it won't be going private; a NAFTA deal between the U.S. and Mexico is close, say reports.
Here are five things you must know for Monday, Aug. 27:
1. -- Stocks Poised for Further Records
U.S. stock futures were higher on Monday Aug. 27, following the session on Friday, Aug. 24, that saw both the S&P 500 I:GSPC and Nasdaq I:IXIC close at all-time highs after Federal Reserve Chairman Jerome Powell said in a speech that the U.S. economy was strong and that "further gradual increases" in interest rates was "appropriate" if "strong growth in income and jobs continues."
Contracts tied to the Dow Jones Industrial Average I:DJI  gained 88points, futures for the S&P 500 I:GSPC  rose 7.30 points, and Nasdaq I:IXIC futures were up 28.25 points.
The Dow on Friday closed at 25,790.35, its highest level since early February. The S&P 500 ended Friday at a record 2,874.69, and the Nasdaq rose to close at an all-time high of 7,945.98.
The economic calendar in the U.S. on Monday includes the Chicago Fed National Activity Index for July at 8:30 a.m. ET, and the Dallas Fed Manufacturing Survey for August at 10:30 a.m.
If you'd like to receive the free "5 Things You Must Know" newsletter, please register here.
2. -- Tesla Slumps After Saying It Won't Be Going Private
Tesla Inc.  (TSLA) - Get Report  shares fell 3.4% in premarket trading on Monday after the electric vehicle company led by CEO Elon Musk said Friday it wouldn't be going private.
"Over the past several weeks, we put in place a process led by a Special Committee of the Board to evaluate a proposal Elon was considering to take Tesla private. Yesterday, we held a Board meeting, during which Elon reported on the work he and his advisors have been doing in connection with this effort," said a post on the company's website. "Elon communicated to the Board that after having done this work and considered all factors, he believes the better path is to no longer pursue a transaction for taking Tesla private. After discussing this, we dissolved the Special Committee. The Board and the entire company remain focused on ensuring Tesla's operational success, and we fully support Elon as he continues to lead the company moving forward."
Musk wrote: "I knew the process of going private would be challenging, but it's clear that it would be even more time-consuming and distracting than initially anticipated. This is a problem because we absolutely must stay focused on ramping Model 3 and becoming profitable."
Musk sent Twitter ablaze on Aug. 7 by tweeting that funding for a deal to take Tesla private at $420 had been secured. Tesla closed Friday at $322.82.
3. -- U.S. and Mexico Close In on NAFTA Deal
The U.S. and Mexico were poised to reach a NAFTA deal - perhaps as soon as Monday - after five weeks of talks. The deal would create an opening for Canada to rejoin the discussions. 
Significant breakthroughs between Mexico and the U.S. came during the past several days on automobiles and energy, Bloomberg reported, citing three people familiar with the process. 
The two countries have been going back and forth because Donald Trump had threatened to withdraw from the 24-year-old trade pact unless it was reworked. Canada had stepped out of the negotiations, reportedly until Mexico and the U.S. agreed on new auto-trade rules.
The North American Free Trade Agreement went into effect under President Clinton in 1994. The agreement between the U.S., Canada and Mexico was initially created to help lower costs of trade and bolster North American trade. 
4. -- Best Buy, Tiffany and Dick's Report Earnings This Week
The earnings calendar for Monday lacks any big names but later in the week will see releases from retailers Best Buy Co. (BBY) - Get Report and Tiffany & Co. (TIF) - Get Report on Tuesday, Aug. 28, and Dick's Sporting Goods Inc. (DKS) - Get Report on Wednesday, Aug. 29.
5. -- China's Didi Chuxing Suspends Carpooling Service
Didi Chuxing, the Chinese ride-hailing giant, fired two executives and will suspend one of its carpooling services nationwide starting Monday after a woman was raped and killed allegedly by a driver in eastern China, the company said Sunday.
The moves come as the country's largest online ride-hailing platform scrambles to address public complaints that it isn't doing enough to ensure the safety of its users who it said book 30 million rides daily, the Associated Press reported.