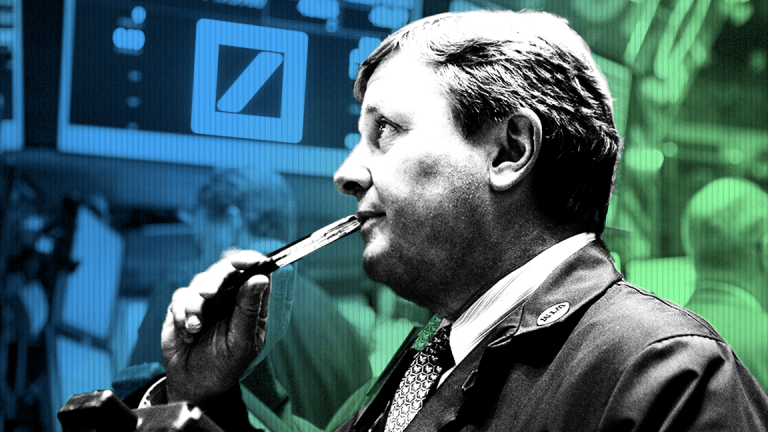 Trump-Kim, Envision Healthcare and Net Neutrality - 5 Things You Must Know
U.S. stock futures trade mixed on Monday, as Wall Street preps an extraordinary week that includes a summit between Donald Trump and North Korea's Kim Jong Un and a Federal Reserve meeting that's expected to conclude with a hike in interest rates.
U.S. stock futures trade mixed on Monday, as Wall Street preps an extraordinary week that includes a summit between Donald Trump and North Korea's Kim Jong Un and a Federal Reserve meeting that's expected to conclude with a hike in interest rates.
Here are five things you must know for Monday, June 11:  
1. -- Stocks Rise Ahead of a Big Week
U.S. stock futures traded mixed on Monday, June 11, as Wall Street prepared for an extraordinary week for risk events around the world.
Contracts tied to the Dow Jones Industrial Average I:DJI  rose 20 points, futures for the S&P 500 I:GSPC   fell slightly and Nasdaq I:IXIC futures were flat.
The story of the week will take place Tuesday, June 12, when Donald Trump is set to meet with North Korean President Kim Jong Un in Singapore. The meeting will be the first time an American president meets with a sitting North Korean leader.
Closer to home, the Federal Reserve begins a two-day meeting on Tuesday at which the central bank is expected to raise short-term interest rates for the second time this year and seventh time since December 2015.
However, sentiment could be dented by the collapse over the weekend of the G-7 summit in Quebec City, where Trump declined to endorse a G-7 communique calling for a lowering of tariffs and other barriers to trade and instead bashed trading partners NATO and Canada in a series of tweets.
The U.S. economic calendar on Monday is light.
If you'd like to receive the free "5 Things You Must Know" newsletter, please register here.
2. -- KKR Buys Envision Healthcare
KKR & Co. (KKR) - Get Report  reached an agreement to buy Envision Healthcare Corp. (EVHC)  in a deal valued at $9.9 billion, including debt.
KKR will pay $46 for each share Envision Healthcare, which is a premium of 5.4% to Envision's closing price of $43.64 on Friday, June 8.
The deal is one of the largest recent leveraged buyouts, according to The Wall Street Journal, which first reported the deal could be announced on Monday.
Envision, a provider of physician services to hospitals and other health-care facilities, conducted an auction after announcing a strategic review last fall.
Shares of Envision Healthcare were up 2.5% to $44.75 in premarket trading on Monday.
3. -- Rent-A-Center No Longer for Sale
Rent-A-Center Inc. (RCII) - Get Report  determined after a strategic review that the company was no longer for sale when it didn't receive any acquisition proposals that met its objectives for a sale.
"The board, which includes a representative of Rent-A-Center's largest stockholder, explored a range of potential transactions before determining that the continued execution of the company's strategic plan, which the company has been successfully pursuing since the appointment of Mitchell E. Fadel as its chief executive officer at the beginning of the year, provides the best opportunity to enhance long-term stockholder value,' the rent-to-own furniture retailer said in a statement late Sunday, June 10.
However, Rent-A-Center issued a second press release early Monday that said it received a letter containing an increased offer to acquire the company but that the letter wasn't  accompanied by "equity commitment letters that would be necessary for the company to evaluate whether to enter into an agreement with an acquisition entity possessing no assets." The letter came from one of the parties that previously had been involved in the process.
TheStreet's Ronald Orol reported at the end of April that buyout firm Cerberus Capital Management LP and sometimes activist private-equity firm Vintage Capital Management appeared to be the two main possible bidders for Rent-a-Center.
Rent-A-Center rose 8.8% to $11 in premarket trading.
4. -- The End of Net Neutrality
The end of net neutrality will take effect on Monday, despite ongoing efforts from members of Congress, state officials, tech companies and advocacy groups to save the rules.
"Now, on June 11, these unnecessary and harmful internet regulations will be repealed and the bipartisan, light-touch approach that served the online world well for nearly 20 years will be restored," said Federal Communications Commission Chairman Aji Pai last month.
An FCC spokesperson confirmed to CNN that the timetable was proceeding as previously announced. 
The Republican-led FCC voted along party lines in December to repeal the rules, which were intended to prevent internet providers from blocking, speeding up, or slowing down access to specific online services, CNN reported.
5. -- 'Ocean's 8' Wins the Weekend Box Office
Warner Bros. "Ocean's 8," the female-fronted overhaul of the heist franchise, made an estimated $41.5 million at the box office over the weekend, taking the top spot from the fast-falling "Solo: A Star Wars Story."
The film, made for approximately $70 million, stars Sandra Bullock, Cate Blanchett and Anne Hathaway.
Expert Advice for a Risky Market. We asked top experts from Bank of America, Fisher Investments, Invesco and Wells Fargo what smart investors should do right now. Click here and register for free to watch what these market watchers recommend.