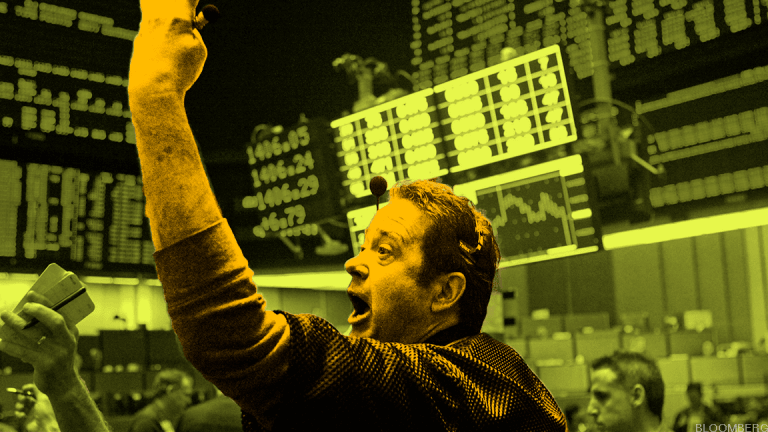 China Trade Truce, General Electric and Tesla - 5 Things You Must Know
U.S. stock futures rise sharply as investors react to a thaw in the trade war rhetoric between the U.S. and China; General Electric reportedly nears deal to merge its transportation unit with Wabtec; Tesla CEO Elon Musk tweets about an upgrade to the electric carmaker's Model 3 series.
Here are five things you must know for Monday, May 21:  
1. -- Stocks Rise as U.S.-China Trade Tensions Ease
U.S. stock futures rose sharply on Monday, May 21, and global stocks rallied as investors reacted to a thaw in the trade war rhetoric between the U.S. and China following a weekend summit in Washington.
Treasury Secretary Steven Mnuchin told Fox News on Sunday, May 20, that talks had led to a "hold" on the current trade dispute between the world's largest economies, even if no specific agreement had been reached over the multi-day talks in the U.S. capital.
"We are putting the trade war on hold. Right now, we have agreed to put the tariffs on hold while we try to execute the framework," Mnuchin said. China's state-run newspaper said that "despite all the pressure, China didn't 'fold,' as U.S. President Donald Trump observed. Instead, it stood firm and continually expressed its willingness to talk."
Contracts tied to the Dow Jones Industrial Average undefined   jumped 233 points, those linked to the broader S&P 500 undefined  rose 16.25 points, and Nasdaq undefined futures were up 47.75 points.
The U.S. economic calendar on Monday is light. Federal Reserve officials Raphael Bostic, Patrick Harker and Neel Kashkari have speaking engagements.
Earnings reports are scheduled Monday from Nordson Corp. (NDSN) and ViaSat Inc. (VSAT) .
If you'd like to receive the free "5 Things You Must Know" newsletter, please register here.
2. -- GE Reportedly Nears Deal to Merge Transportation Unit With Wabtec
General Electric Co. (GE)  confirmed Monday that it reached a deal to sell its GE Transportation business to Wabtec Corp. (WAB) in a deal valued at $11.1 billion.
Reuters had reported the news over the weekend and said a deal could be announced this week.
The deal is the biggest thus far for GE CEO John Flannery, who took over last August, according to Reuters.
GE's transportation business, which has revenue of $4.7 billion, manufactures freight and passenger trains, among other products. Wabtec, which has a market capitalization of $9.2 billion, manufactures equipment for locomotives, freight cars, and passenger transit vehicles.
GE rose 1.8% in premarket trading on Monday; Wabtec was up more than 5%.
3. -- Tesla's Musk Announces $78,000 Model 3
Tesla Inc. (TSLA)  rose 1.7% in premarket trading after CEO Elon Musk, in a series of tweets Saturday, May 19, unveiled plans for an upgrade to the electric carmaker's Model 3 series.
Musk announced two new dual-motor versions of the Model 3. One version of the car will have a top speed of 155 mph and lift its price to around $78,000.
Tesla shares also were supported by an analyst report which suggested the company's flagship Model 3 will be more profitable than most investors anticipate. Berenberg lifted its price target on Tesla to $500 a share, the highest of the major Wall Street firms that cover the company.
4. -- Campbell Soup Interim CEO Says No Plans to Sell the Company
Keith McLoughlin, interim CEO of Campbell Soup Co. (CPB) , said during an all-employee meeting on Friday, May 18, that as a public company Campbell was for sale every day, but that his strategy was not to sell the soup maker, The Wall Street Journal reported, citing a person who was at the meeting.
McLoughlin's comments to employees followed his statement earlier in the day during a conference call that "everything is on the table."
McLoughlin, a board member, was named interim chief after CEO Denise Morrison retired unexpectedly on Friday.
Morrison had spent more than eight years at Campbell before she became its CEO, but her tactics came under fire in recent years as the company has failed to turn around its cornerstone soup business.
5. -- 'Deadpool 2' Takes Top Spot at Box Office 
Fox's (FOXA) "Deadpool 2" brought in $125 million over the weekend, giving it the second-highest opening ever for an R-rated movie and ending the three-week reign of Walt Disney Co.'s  (DIS) "Avengers: Infinity War" at the top of the North American box office, according to studio estimates. 
***
TheStreet presents on May 22: "How to Stomach Market Volatility." Hosted by Fisher Investments, the exclusive live webinar will give you the tools to successfully navigate market volatility and discuss why having a wealth manager is more critical than ever before. Quickly register for the event here.