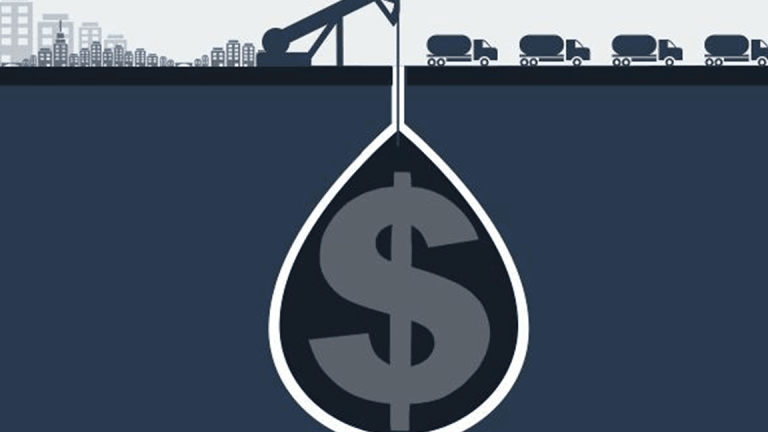 Oil Prices, Berkshire Hathaway, Nestle and Starbucks - 5 Things You Must Know
U.S. stock futures are higher Monday as futures for U.S. crude oil climb above $70 a barrel for the first time since late 2014.
U.S. stock futures are higher Monday as futures for U.S. crude oil climb above $70 a barrel for the first time since late 2014.
Here are five things you must know for Monday, May 7:  
1. -- Stock Futures Rise as Oil Tops $70 a Barrel
U.S. stock futures were higher Monday, May 7, as futures for U.S. crude oil climbed above $70 a barrel for the first time since late 2014.
Contracts tied to the Dow Jones Industrial Average I:DJI  rose 83 points, those linked to the broader S&P 500 I:GSPC  gained 10.40 points, and Nasdaq I:IXIC futures rose 42 points.
West Texas Intermediate crude was up 1.16% early Monday to $70.53 a barrel as investors were worried Donald Trump will pull out of the Iran nuclear deal, which allowed the country to boost its crude exports. Iran re-emerged as a major oil exporter in 2016 after international sanctions against it were lifted, and Trump has until May 12 to determine whether to extend sanctions,  Reuters reported.
Stocks closed up sharply on Friday, May 4, as shares of Apple Inc. (AAPL) - Get Report hit an all-time high and investors looked past a U.S. jobs report that came in below expectations. The Dow rose 332 points, or 1.39%, to finish at 24,262, the S&P 500 gained 1.28% and the Nasdaq rose 1.71%.
If you'd like to receive the free "5 Things You Must Know" newsletter, please register here.
2. -- Berkshire Hathaway Posts First Loss Since 2009
Berkshire Hathaway Inc. (BRK.A) - Get Report  reported a rare quarterly loss in the first quarter because of an accounting change.
Warren Buffett's conglomerate posted a loss of $1.14 billion for the quarter, the first loss since 2009. The accounting change forced Berkshire to recognize its equity holdings on a mark-to-market basis.
Buffett had warned about the accounting change earlier this year. 
The net loss wasn't really representative of what's going on in the business, Buffett said, adding that, "if you look at the figure of operating earnings, which is what we look at, we actually earned a record amount of any quarter we've ever had."
Some other highlights from Berkshire's annual meeting on Saturday, May 5:
Buffett remains bullish on Wells Fargo & Co. (WFC) - Get Report and CEO Tim Sloan despite its spate of scandals.
A CEO for Berkshire's healthcare initiatives with JPMorgan & Chase & Co. (JPM) - Get Report and Amazon.com Inc. (AMZN) - Get Report is expected to be announced in a few months.
Both Buffett and his partner Charlie Munger continue to think valuations on potential targets remain too high.
Everything You Need to Know About Warren Buffett (Watch Video)
3. -- Nestle To Sell Starbucks Coffee in $7.15 Billion Deal
Nestlé SA reached a deal Monday to pay Starbucks Corp. (SBUX) - Get Report $7.15 billion for the rights to sell the coffee chain's products globally.
Under the deal, Swiss-based Nestlé has been granted the "perpetual rights to market Starbucks consumer and foodservice products globally, outside of the company's coffee shops," the companies said in a statement.
"This global coffee alliance will bring the Starbucks experience to the homes of millions more around the world through the reach and reputation of Nestlé," said Starbucks CEO Kevin Johnson.
Starbucks said it intends to the proceeds from the deal to "accelerate share buybacks and now expects to return approximately $20 billion in cash to shareholders in the form of share buybacks and dividends through fiscal year 2020." The company also said it expects the transaction to be accretive to earnings per share by the end of fiscal 2021 at the latest.
Starbucks rose 3.1% in premarket trading.
4. -- Highlights of the Earnings Calendar
Tyson Foods Inc. (TSN) - Get Report  posted fiscal second-quarter adjusted earnings of $1.27 a share, below forecasts of $1.30. Revenue of $9.77 billion also came in light. 
E. W. Scripps Co. (SSP) - Get Report  reported an adjusted loss in its first quarter of 7 cents a share, narrower than forecasts of 8 cents.
Gannett Co. (GCI) - Get Report , the publisher of USA Today, posted none-GAAP earnings of 13 cents a share on revenue of $723 million. Analysts expected earnings of 3 cents.
Earnings reports are expected Monday Andeavor (ANDV) , Zillow Group Inc. (ZG) - Get Report , Hertz Global Holdings Inc. (HTZ) - Get Report and Sysco Corp (SYY) - Get Report .
5. -- 'Avengers: Infinity War' Crosses $1 Billion in Sales in 11 Days
"Avengers: Infinity War," the blockbuster release from Walt Disney Co. (DIS) - Get Report , took just 11 days to cross $1 billion in worldwide box office sales, the fastest film to ever do so.
The Marvel Studios film reached the milestone one day earlier than the previous record held by 2015's "Star Wars: The Force Awakens," according to CNN.