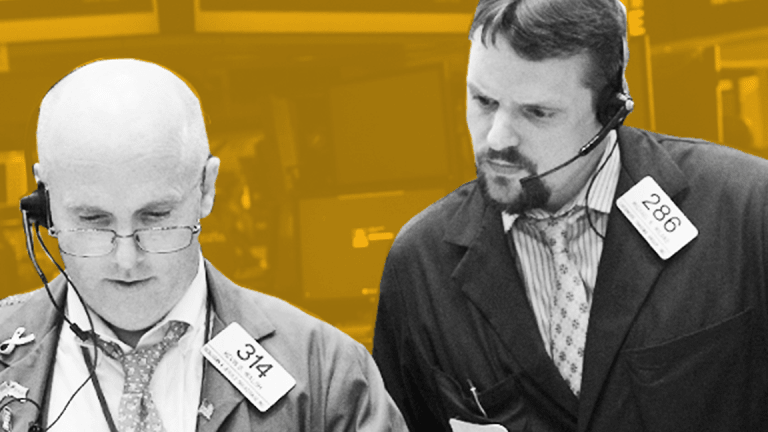 Trade Progress, Oil Prices, GM Strike, Walmart, SAP - 5 Things You Must Know
U.S. stock futures jump following reports that say the first day of high-level U.S. and China trade negotiations went better than expected; oil prices jump after Iran says one of its commercial oil tankers was hit by two missiles near the Saudi Arabian port of Jeddah; General Motors is pressing the UAW to quicken the pace of negotiating a new four-year contract to end a 26-day strike.
Here are five things you must know for Friday, Oct. 11: 
1. -- Stock Futures Rise Amid Progress in U.S-China Trade Talks
U.S. stock futures jumped Friday following reports that said the first day of high-level U.S. and China trade negotiations went better than expected, potentially leading to at least a partial resolution of the 15-month dispute between the world's two biggest economies.
Donald Trump said he would meet Friday with China's Vice Premier Liu He. Their sit-down would mark a substantial improvement in U.S.-China relations since an ad-hoc agreement on trade and tariffs was reached and then abandoned during the June G-20 Summit in Japan.
"We just completed a negotiation with China, we're doing very well, we're having another one tomorrow," the president told reporters in Washington on Thursday. "I'm meeting with the vice premier over at the White House, and I think it's going really well. We're going to see them tomorrow, right here, and it's going very, very well."
While few details are known about the meeting, which included U.S. Treasury Secretary Steven Mnuchin and U.S. Trade Representative Robert Lighthizer, analysts suggested the two sides could agree on easy-to-enact policies, such as currency manipulation and agricultural purchases, in order to engender goodwill for future negotiations on more complex topics and avoid a fresh round of tariff increases on $250 billion worth of China-made goods set for Oct. 15.
Contracts tied to the Dow Jones Industrial Average gained 263 points, futures for the S&P 500 rose 28.90 points, and Nasdaq futures were up 88.50 points.
Stocks finished higher Thursday as investors grew more optimistic about the start of the U.S.-China trade negotiations in Washington.
The Dow finished up 151 points, or 0.57%, to 26,497, the S&P 500 advanced 0.64% and the Nasdaq rose 0.6%.
The economic calendar in the U.S. Friday includes Import and Export Prices for September at 8:30 a.m. ET, and Consumer Sentiment for October at 10 a.m.
Fastenal (FAST) - Get Free Report is expected to report earnings Friday.
2. - Oil Prices Jump After Iran Claims Oil Tanker Was Attacked
Oil prices rose sharply Friday after Iran said one of its commercial oil tankers was hit by two missiles near the Saudi Arabian port of Jeddah, reigniting military tensions in the Gulf region following attacks on Saudi ships and oil facilities last month.
Iranian state television said the tanker owned by National Iranian Oil Company was heading toward the Red Sea when it was struck by missiles that caused an explosion in two of its tanks, triggering a spill that was quickly sealed by the crew on board. Iran's Press TV, a state-backed media group, aired comments from a company executive who claimed the missiles appeared to originate from Saudi Arabia.
Contracts for Brent crude, the global benchmark, were rising 1.61% to $60.05 a barrel. West Texas Intermediate crude contracts, which are more tightly linked with U.S. gasoline prices, rose 1.77% to $54.50 a barrel.
3. -- General Motors Seeks Quicker Pace in Negotiations to End Strike 
General Motors (GM) - Get Free Report is pressing the United Auto Workers to quicken the pace of negotiating a new four-year contract that would end a 26-day strike at the carmaker's U.S. factories, according to a letter obtained by The Wall Street Journal.
The letter from GM's top negotiator Scott Sandefur to Terry Dittes, UAW vice president, urged the union to engage in round-the-clock bargaining to reach an agreement.
"It has now been four days since we made our last comprehensive offer to you," Sandefur wrote. "That offer was a sincere attempt to address the concerns raised during these negotiations."
GM CEO Mary Barra met on Wednesday with UAW President Gary Jones to jump-start the stalled contract talks, according to GM's letter and another letter from Dittes to the company, the Journal reported.
Barra called the meeting with Jones and Dittes because she was concerned the union had yet to respond to GM's latest proposal, which it presented to the union on Monday, according to the Journal.
However, Dittes wrote in his letter that there won't be a response to Monday's offer until committees working issues are finished. He didn't know how long that would take, the Associated Press reported.
4. -- Sam's Club CEO John Furner to Head Walmart U.S.
Walmart (WMT) - Get Free Report named John Furner as president and CEO of Walmart U.S.
Furner, who was head of the retailer's Sam's Club business, will report directly to Walmart CEO Doug McMillon.
Furner replaces Greg Foran, who was named CEO of Walmart U.S. in August 2014. Foran is leaving to take the CEO job at Air New Zealand.
Furner's appointment is effective Nov. 1.
"John has done a fantastic job at Sam's Club, and he will continue the momentum we have in Walmart U.S.," said McMillon. "John knows our business well, having held many different jobs in the company over more than 25 years, and he is helping transform it for the future. He has the experience and judgment to know what we should continue doing and what we should change. He embraces technology and new ways of working, and he keeps our customers and Sam's Club members at the center of everything we do, while delivering results for the business."
5. -- SAP CEO Bill McDermott Is Stepping Down
SAP (SAP) - Get Free Report said CEO Bill McDermott would be stepping down from the German business-software giant, effective immediately.
Two board members, Jennifer Morgan and Christian Klein, were appointed co-CEOs of the largest European-based software company. Morgan headed the company's cloud division, while Klein served as SAP's chief operating officer.
McDermott announced his surprise departure just hours after SAP published stronger-than-expected third-quarter profit and a 37% increase in cloud revenue.
The company also reiterated its previously released guidance for the full year and said it expects "total revenues to increase strongly, at a rate lower than operating profit."
American depositary receipts of SAP rose 7.72% to $124.15 in premarket trading Friday.