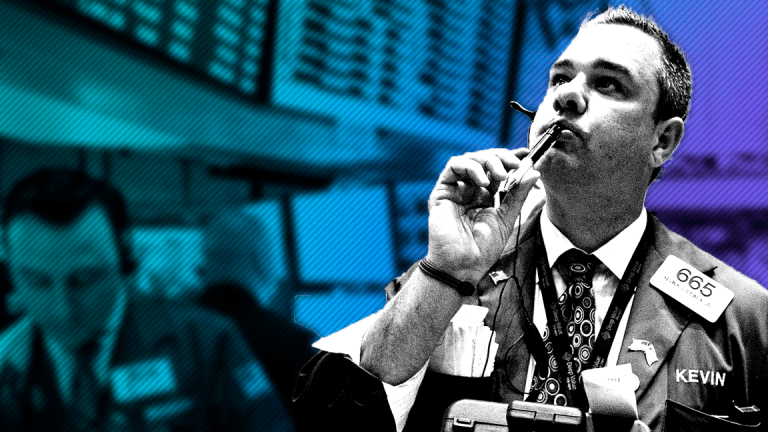 Jobs Report, HP Inc., Costco, Facebook and Bill Barr - 5 Things You Must Know
U.S. stock futures decline as investors await a key reading on U.S. job creation that could boost the case for a rate cut from the Federal Reserve in late October; HP Inc. will lay off 7,000 to 9,000 employees as part of a restructuring plan; Costco misses sales estimates; Attorney General Bill Barr wants Facebook to halt encrypted messaging program.
Here are five things you must know for Friday, Oct. 4: 
1. -- Stock Futures Slip Ahead of U.S. Jobs Report 
U.S. stock futures were lower Friday as investors awaited a key reading on U.S. job creation that could boost the case for a rate cut from the Federal Reserve in late October amid increasing signs of trade-related weakness in the world's biggest economy.
Contracts tied to the Dow Jones Industrial Average fell 93 points, futures for the S&P 500 were down 11.55 points, and Nasdaq futures declined 27.75 points.
The jobs report for September will follow grim assessments for both the U.S. manufacturing and services sectors earlier this eek that were linked to slowing global commerce from the U.S.-China trade dispute.
With global factory activity also slowing to near-decade lows, and the World Trade Organization warning that a "darkening outlook for trade" is hampering growth and job creation, traders have been increasing bets on a near-term interest cut from the Federal Reserve in order to support the slowing domestic economy.
The CME Group's FedWatch tool has priced in an 87.1% chance of a rate cut this month, which would lower the Fed's target range to 1.5% to 1.75%.
U.S. stocks bounced back somewhat Thursday, snapping a two-day slide that chopped more than 900 points off the Dow.
The Dow, down 335 points at one point during Thursday's session, finished with a gain of 122 points after the weak reading on U.S. services sector activity raised expectations the Fed will lower rates.
2. -- U.S. Expected to Have Added 145,000 Jobs in September
The economic calendar in the U.S. Friday includes the official U.S. jobs report for September at 8:30 a.m. ET. Economists surveyed by FactSet expect the U.S. to have added 145,000 jobs last month vs. 130,000 in August. The unemployment rate is expected to remain steady at 3.7%, with average hourly earnings rising in September by 0.3%.
The calendar also includes International Trade for August at 8:30 a.m.
Meanwhile, Federal Reserve Chairman Jerome Powell is scheduled to give opening remarks at the "Fed Listens: Perspectives on Maximum Employment and Price Stability" event in Washington at 2 p.m.
3. -- HP's Restructuring Plan Targets Job Cuts of 7,000 to 9,000
HP Inc. (HPQ) - Get Free Report said it will lay off 7,000 to 9,000 employees, or as much as 16% of the company's last reported headcount of 55,000, as part of a restructuring plan aimed at cutting costs at the computer hardware maker by $1 billion a year by 2022.
HP announced the job cuts Thursday at an analysts' meeting led by incoming CEO Enrique Lores, who was head of the division that includes the profitable business of selling ink for HP printers.
"We are taking bold and decisive actions as we embark on our next chapter," said Lores. "We see significant opportunities to create shareholder value and we will accomplish this by advancing our leadership, disrupting industries and aggressively transforming the way we work."
"We will become an even more customer-focused and digitally enabled company, that will lead with innovation and execute with purpose," added Lores, who replaces the outgoing Dion Weisler, who stepped down from HP in August citing a family health issue, on Nov. 1.
For fiscal 2020, HP projected adjusted profit of between $2.22 and $2.32 a share, excluding one-time items. The company said it expects to generate free cash flow of at least $3 billion in fiscal 2020.
HP said it will incur restructuring costs of about $1 billion. Those include $100 million to be incurred in its fiscal fourth quarter of 2019, $500 million over fiscal 2020, and the rest split between fiscal 2021 and 2022.
The company also raised its dividend by 10% and said its board has authorized an additional $5 billion for its share buyback program.
The stock fell 4.13% to $17.64 in premarket trading on Friday.
4. -- Costco Slips on Fourth-Quarter Sales Miss
Costco Wholesale (COST) - Get Free Report , the big-box retailer, declined 1.41% to $284.92 in premarket trading Friday after fiscal fourth-quarter same-store sales missed estimates.
For the quarter ended Sept. 1, Costco reported earnings of $2.47 a share on a 7% increase in revenue to $47.5 billion. Complicating matters was an SG&A-related reserve of 22 cents a share for a "product tax assessment." Stripping away the charge, which the company disputes, earnings were $2.69 per share, ahead of Wall Street estimates of $2.56. Analysts called for fourth-quarter revenue of $47.57 billion.
Costco said comparable-store sales rose 5.1%, missing the Refinitiv forecast of 5.25%, but membership renewal rates in both the U.S. and Canada (90.9%) and in markets around the world (88.4%) continued to trend near record highs.
Costco also said it was planning to open a second outlet in Shanghai, where it has 20,000 registered members, and said it was working to mitigate the impact of import tariffs linked to the U.S.-China trade dispute.
"Since the beginning of these tariffs over a year ago, we continue to be active in managing and we're possibly mitigating the impact where we can," Chief Financial Officer Richard Galanti said on a conference call. "In some cases, we've reduced our commitments on certain items. And again, just on the impact of what we expect, we look at alternative country sourcing where possible and feasible and although again, there's a limited amount of that ability to do that."
5. -- Attorney General Barr Asks Facebook to Halt Encryption
Attorney General Bill Barr has squared off against Facebook (FB) - Get Free Report over its use of encryption.
Barr requested that Facebook delay adding end-to-end encryption across its messaging products, an initiative it announced earlier this year. 
In a letter due to be published on Friday, Barr asked Facebook to halt the encryption work until it can guarantee "no reduction to user safety" and "a means for lawful access to the content of communications to protect our citizens." WhatsApp messages are already encrypted, and Facebook plans to expand that to its other messaging products.
"Companies cannot operate with impunity where lives and the safety of our children is at stake, and if (CEO) Mr. Zuckerberg really has a credible plan to protect Facebook's more than 2 billion users it's time he let us know what it is," said Barr's letter, which was published in part in The Wall Street Journal on Thursday.
Facebook shot back at Barr's request, writing in a statement: "We strongly oppose government attempts to build back doors because they would undermine the privacy and security of people everywhere."
Facebook is a holding in Jim Cramer'sAction Alerts PLUS Charitable Trust Portfolio. Want to be alerted before Cramer buys or sells these stocks? Learn more now.
Save 57% During Our Fall Sale. Join Jim Cramer's Action Alerts PLUS investment club to become a smarter investor. Click here to sign up and save!