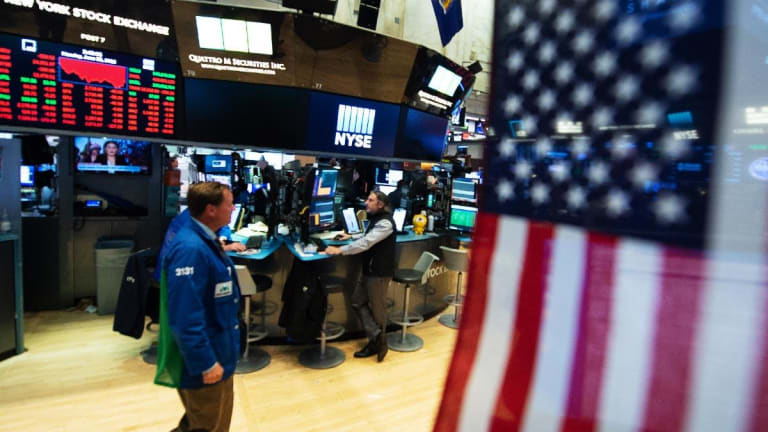 Dow Futures Fall, China to Raise Tariffs, Jerome Powell - 5 Things You Must Know
U.S. stock futures turn lower Friday after China says it will retaliate in its tariff battle with the U.S.; Salesforce jumps after reporting second-quarter earnings that beat estimates and raising its fiscal-year guidance; VMware to buy Pivotal Software and Carbon Black; Hasbro acquires the owner of the rights to 'Peppa Pig.'
Here are five things you must know for Friday, Aug. 23: 
1. -- Stock Futures Turn Lower as China Says Will Retaliate on Tariffs
U.S. stock futures turned lower Friday after China said it would take retaliatory measures in its tariff battle with the United States.
The State Council's Customs Tariff Commission said it decided to levy tariffs ranging from 5% to 10% on $75 billion of U.S. goods, in two batches effective on Sept. 1 and Dec. 15, CNBC reported.
Futures had been higher earlier ahead of a speech from Federal Reserve Chairman Jerome Powell that will be closely watched by Wall Street.
Contracts tied to the Dow Jones Industrial Average fell 66 points, futures for the S&P 500 declined 7.30 points, and Nasdaq futures fell 29 points.
Powell is scheduled to speak Friday at 10 a.m. ET at the Jackson Hole Economic Policy Symposium in Jackson Hole, Wyoming. The public appearance will be Powell's first since the U.S. central bank lowered rates on July 31 for the first time in more than a decade.
Fed-watchers will be hoping Powell signals what the Federal Reserve will do to strengthen the U.S. economy as recession worries have surfaced.
Donald Trump, who is running for re-election in 2020, repeatedly has criticized the Fed and Powell specifically for setting interest rates too high and "holding us back." But economists have noted Trump's trade war with China has been a drag on economic growth.
Investors expect the Fed to cut rates in September but two of the Fed's regional presidents - Kansas City Fed President Esther George and Philadelphia Fed President Patrick Harker - both said Thursday they don't see a need for another rate cut.
Stocks finished mixed Thursday as bonds yield inverted - in a possible recession warning - ahead of Powell's speech Friday.
The Dow Jones Industrial Average, which rose as much as 185, finished up 49 points, or 0.19%, to 26,252, the S&P 500 fell 0.05% and the Nasdaq was off 0.36%.
The economic calendar in the U.S. on Friday includes New Home Sales for July at 10 a.m. 
Earnings reports are expected Friday from Foot Locker (FL) , Red Robin Gourmet Burgers (RRGB) and Hibbett Sports (HIBB) .
2. -- Salesforce Jumps After Lifting Fiscal-Year Guidance
Salesforce.com (CRM)  rose 7.26% to $159 in premarket trading Friday after the cloud software giant reported second-quarter earnings that beat estimates and raised its fiscal-year guidance.
Adjusted earnings in the quarter were 66 cents a share, well above forecasts of 47 cents. Revenue of $4 billion rose 22% from a year earlier and beat Wall Street estimates of $3.96 billion.
"An enormous wave of digital transformation is sweeping across every industry, and major brands, like FedEx, AXA and Unicredit, turned to Salesforce in the quarter to propel their growth," said co-CEO Keith Block. "The trust our customers have in us to drive their digital transformations is reflected in our strong quarterly results across our clouds and regions."
The company increased its full-year revenue guidance range to between $16.75 billion to $16.9 billion. Analysts were calling for Salesforce to generate $16.66 billion in revenue.
"Overall, we felt that the results were staggering and nothing short of impressive," said Jim Cramer and the Action Alerts PLUS team, which holds Salesforce in its portfolio. "What amazed us most was the robust free cash flow, a measure that this recently beaten down stock was already cheap, based on a relative to peer basis."
3. -- VMware to Buy Pivotal Software and Carbon Black
Cloud infrastructure company VMware (VMW) reached agreements to acquire Pivotal Software  (PVTL) and Carbon Black (CBLK)  in deals with a combined enterprise value of $4.8 billion.
VMware will pay $15 a share for Class A shares of Pivotal. It will exchange 0.055 shares of VMware Class B shares for each Class B share of Pivotal held by Dell Technologies (DELL) , which holds a controlling interest in both companies. VMware said the transaction has an enterprise value of $2.7 billion.
VMWare will pay $26 a share in cash for Carbon Black, a security software provider, in a deal with an enterprise value of $2.1 billion.
VMware said it expects the acquisitions to close by January 2020 and meaningfully add to revenue in the first year after closing.
VMware shares fell 4.93% in premarket trading to $140.85, Pivotal gained 8.18% to $14.82 in after-hours trading Thursday, and Carbon Black jumped 6.33% in after-hours trading to $26.05.
4. -- HP Drops After Naming New CEO
HP Inc. (HPQ)  dropped 7.82% in premarket trading to $17.45 after the PC and printer company named a new CEO and posted earnings in the fiscal third quarter that topped forecasts.
Enrique Lores, a 30-year veteran of HP, was named CEO and president. Since 2015, he has led the company's imaging, printing and solutions business, which accounted for $20 billion, or a bit more than a third, of HP's fiscal 2018 revenue of $58.5 billion.
Lores replaces Dion Weisler, effective Nov. 1. Weisler will step down from the top positions because of a family health matter and return home to Australia, HP said.
Third-quarter adjusted earnings for HP were 58 cents a share, 3 cents higher than analysts' expectations. Revenue was $14.6 billion vs. estimates of $14.62 billion.
The company said revenue at its personal systems business rose 3.1% in the quarter, with desktops revenue up 8%. Printing revenue declined 5.3%, with supplies revenue falling 7%.
5. -- Hasbro to Buy Owner of 'Peppa Pig' for $4 Billion
Hasbro (HAS) said it reached an agreement to acquire Entertainment One (ENTMF) , the owner of the rights to children's entertainment brands "Peppa Pig" and "PJ Masks," for about $4 billion in cash.
The toymaker will pay £5.60 ($6.86) a share for Entertainment One, roughly a 30% premium to its 30-day weighted average price.
"The acquisition of eOne adds beloved story-led global family brands that deliver strong operating returns to Hasbro's portfolio and provides a pipeline of new brand creation driven by family-oriented storytelling, which will now include Hasbro's IP," said Hasbro CEO Brian Goldner. "In addition, Hasbro will leverage eOne's immersive entertainment capabilities to bring our portfolio of brands that have appeal to gamers, fans and families to all screens globally and realize full franchise economics across our blueprint strategy for shareholders."
Hasbro said it expects the deal for the U.K.-listed content provider to close in the fourth quarter. The deal, Hasbro said, would be accretive to earnings in the year after the deal closes.
Save 57% With Our Labor Day Sale. Join Jim Cramer's Action Alerts PLUS investment club to become a smarter investor! Click here to sign up!