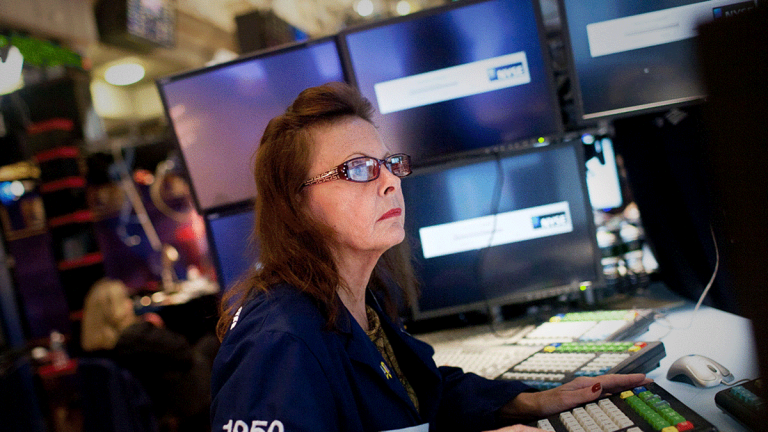 Broadcom, Oil Prices, Chewy, Trade War, Toronto Raptors - 5 Things You Must Know
U.S. stock futures decline amid tensions in the Middle East arising from the attack on two tankers in the Strait of Hormuz and weak data from China; Broadcom sinks after the chipmaker said it sees a slowdown in demand; shares of Chewy.com, an online retailer of pet food and supplies, are priced at $22 each; the Toronto Raptors win their first NBA title.
Here are five things you must know for Friday, June 14:
1. -- Stock Futures Fall on Rising Middle East Tensions, Weak China Data
U.S. stock futures declined on Friday amid tensions in the Middle East arising from the attack on two tankers in the Strait of Hormuz and weak data from China.
Contracts tied to the Dow Jones Industrial Average fell 52 points, futures for the S&P 500 were down 8.90 points, and Nasdaq futures slumped 61 points. Stocks rose Thursday after two days of losses as oil prices jumped following the tanker attacks.
The U.S. blamed Iran for the suspected attacks on the tankers, denouncing what it called a campaign of "escalating tensions" in a region crucial to global energy supplies.
"Taken as a whole, these unprovoked attacks present a clear threat to international peace and security, a blatant assault on the freedom of navigation and an unacceptable campaign of escalating tension by Iran," said U.S. Secretary of State Mike Pompeo.
Oil prices were lower Friday after the International Energy Agency reduced its forecast for global oil demand for the second consecutive month, to 1.2 million barrels a day this year from 1.3 million barrels a day.
Brent crude for August delivery fell 0.59% to $60.95 a barrel after a gain of 2.2% on Thursday. West Texas Intermediate contracts for July, which are more tightly linked to U.S. gas prices, were down 0.71% on Friday to $51.91 a barrel.
Meanwhile, China's industrial output growth in May slowed to 5%, below expectations of 5.5% and the weakest reading since early 2002, as the trade battle between the U.S. and China continues without a near-term settlement in sight.
The economic calendar in the U.S. on Friday includes Retail Sales for May at 8:30 a.m. ET, Industrial Production for May at 9:15 a.m. and Consumer Sentiment for June at 10 a.m.
2. -- Broadcom Sinks After Forecasting a Slowdown in Chip Demand
Broadcom (AVGO) - Get Broadcom Inc. Report  sank 9.8% to $254 in premarket trading Friday after the chipmaker beat quarterly earnings expectations but missed revenue estimates and said it sees a slowdown in demand.
The San Jose-based company reported fiscal second-quarter earnings of $5.21 a share on revenue of $5.51 billion, a 10% increase from a year earlier. Analysts were expecting earnings of $5.18 a share on revenue of $5.66 billion.
"We executed according to plan in the second quarter with tailwinds from networking offsetting the anticipated headwinds from wireless," said CEO Hock Tan. "We currently see a broad-based slowdown in the demand environment, which we believe is driven by continued geopolitical uncertainties, as well as the effects of export restrictions on one of our largest customers."
That customer, China's Huawei Technologies, accounted for $900 million of Broadcom's fiscal 2018 revenue. Tan said on a conference call that the demand softness Broadcom began seeing near the start of the current quarter worsened after the Huawei ban was announced in mid-May.
The uncertainty surrounding trade negotiations between the U.S. and China also was weighing on Broadcom, with the company saying customers were actively reducing their inventory levels.  Broadcom, in turn, said it was "taking a conservative stance for the rest of the year."
Broadcom lowered its full-year revenue forecast by $2 billion to $22.5 billion. The company now expects revenue in its semiconductor solutions segment of $17.5 billion, down from a prior outlook of $19.5 billion. 
Other chip stocks slumped following Broadcom's announcement. Chipmakers earlier this year had pointed to a second-half demand rebound.
Qualcomm (QCOM) - Get QUALCOMM Incorporated Report , Nvidia (NVDA) - Get NVIDIA Corporation Report  , Texas Instruments (TXN) - Get Texas Instruments Incorporated Report , Advanced Micro Devices, Intel (INTC) - Get Intel Corporation (INTC) Report  and Micron Technology (MU) - Get Micron Technology, Inc. (MU) Report  traded lower in premarket trading.
3. -- 600 Companies Urge Trump to End Trade Dispute With China
More than 600 companies, including Walmart (WMT) - Get Walmart Inc. Report and Target (TGT) - Get Target Corporation Report  , said in a letter to Donald Trump that an escalating trade war with China will American businesses and families.
The letter, dated Thursday and organized by business coalition Tariffs Hurt the Heartland, comes as the U.S. Trade Representative's office is set to hold public hearings Monday that will consider extending the 25% tariffs to practically all Chinese imports not already hit with levies. The letter also arrived two weeks before Trump and his Chinese counterpart, Xi Jinping, are expected to meet at the G-20 summit in Osaka, Japan, on June 28-29.
Trump already has imposed 25% tariffs on $250 billion of goods from China.
The letter calls for the White House to remove the tariffs, saying they will have "a significant, negative long-term impact on American businesses, farmers, families and the U.S. economy."
"We remain concerned about the escalation of tit-for-tat tariffs," the letter also said. "Broadly applied tariffs are not an effective tool to change China's unfair trade practices. Tariffs are taxes paid directly by U.S. companies ... not China."
4. -- Chewy.com IPO Is Priced at $22 a Share, Raises More Than $1 Billion
Shares of Chewy.com, an online retailer of pet food and supplies, were priced at $22 each, higher than the expected range of $19 to $21, a range that was raised earlier this week.
Chewy is expected to begin trading Friday on the New York Stock Exchange under the ticker symbol "CHWY."
Chewy was valued at $8.77 billion after more stock was sold than originally planned.
About 46.5 million Chewy shares were sold in the initial public offering, up from the anticipated 41.6 million as majority owner PetSmart sold more shares than originally planned, according to Reuters.
PetSmart will receive almost $900 million from the sale of its stock. Chewy raised $123.2 million.
Chewy reported sales of $3.5 billion in 2018, up 67% from a year earlier, and a loss of $267.9 million.
5. -- Toronto Raptors Win Their First NBA Title
The Toronto Raptors captured Canada's first NBA championship by beating the two-time defending champion Golden State Warriors 114-110 on Thursday night in Game 6 of the NBA Finals.
Kawhi Leonard, the NBA Finals MVP, scored 22 points and Kyle Lowry had 26 points, 10 assists and seven rebounds for the Raptors.