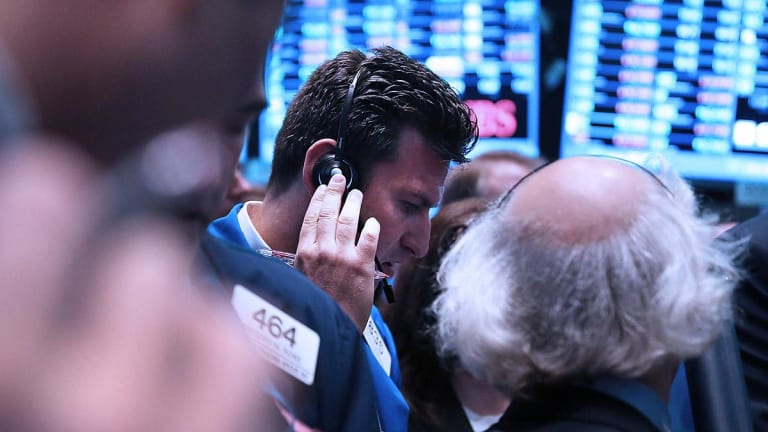 Amazon, Intel, Ford, Uber and First-Quarter GDP - 5 Things You Must Know
U.S. stock futures are mixed ahead of the release of a key reading on U.S. economic growth; Amazon beats earnings estimates and says it plans to introduce free one-day shipping for Amazon Prime members; Intel sinks after issuing a weak outlook for the second quarter and year.
Here are five things you must know for Friday, April 26:
1. -- Stocks Mixed Ahead of U.S. Growth Data
U.S. stock futures were mixed on Friday as investors looked ahead to the release of a key reading on U.S. economic growth and digested earnings reports from Amazon.com (AMZN) - Get Report and Intel (INTC) - Get Report .
The first estimate of U.S. first-quarter GDP will be released at 8:30 a.m. ET. Economists surveyed by FactSet expect GDP to have risen 2% during the first quarter.
The solid U.S. expansion, which will hit an historic high of 10 consecutive years later this summer, however, contrasts sharply with weakening data from around the world as well as dovish signals from major central banks.
Contracts tied to the Dow Jones Industrial Average fell 14 points, futures for the S&P 500 were down 1 point, and Nasdaq futures rose 14.25 points.
Earnings reports are expected Friday from Exxon Mobil (XOM) - Get Report , Chevron (CVX) - Get Report , American Airlines Group (AAL) - Get Report , Colgate-Palmolive (CL) - Get Report , Archer Daniels Midland (ADM) - Get Report , IMAX (IMAX) - Get Report and Goodyear Tire & Rubber (GT) - Get Report .
The economic calendar in the U.S. on Friday also includes Consumer Sentiment for April at 10 a.m.
2. -- Amazon Beats Estimates, Strives for One-Day Shipping
Amazon.com (AMZN) - Get Report  rose in premarket trading Friday after the giant online retailer set a record for quarterly earnings, doubling first-quarter profit from a year earlier, and said it plans to introduce free one-day shipping for Amazon Prime members, cutting in half the standard free two-day shipping available for most purchases.
Profit was $3.6 billion, or $7.09 a share, on sales of $59.7 billion, an increase from year-earlier earnings of $1.6 billion, or $3.27 a share, on revenue of $51 billion.
Analysts had expected Amazon to post earnings of $4.70 a share on sales of $59.68 billion.
Amazon's e-commerce business in North America posted revenue of $35.81 billion during the quarter, while international sales were $16.19 billion.
Amazon Web Services, the company's cloud computing division, reported operating income of $2.22 billion, an increase of 59% from a year earlier, on revenue of $7.7 billion. Wall Street had been calling for operating income of $2.17 billion on revenue of $7.7 billion.
Amazon said it expects second-quarter revenue of $59.5 billion to $63.5 billion. Revenue of $62.39 billion was projected by analysts.
As for the shipping effort, Chief Financial Officer Brian Olsavsky told investors the goal is to evolve the free two-day shipping program into one day, and that "we'll be building this capacity through the year in 2019."
He declined to specify whether the one-day shipping would be ready for 2019's holiday season. He did say the global initiative would take time to fully implement, and that Amazon has budgeted $800 million of "incremental" spending on it during the second quarter.
"We struggle to find a more attractive story in the business world as we are reminded of the explosive, secular growing, high-margin business of AWS, the continued success from advertising and subscription Services, and the most dominant e-commerce platform on the planet that is once again out-innovating itself with its plan for free one-day shipping, said Jim Cramer and the Action Alerts PLUS team, which has Amazon as a holding in its portfolio.
The stock rose 1% to $1,921 in premarket trading.
3. -- Intel Sinks After Weak Second-Quarter and Year Outlooks
Intel's  (INTC) - Get Report  first-quarter earnings beat analysts' expectations but shares of the chipmaker tumbled in premarket trading after its outlook for the second quarter came in well shy of forecasts.
Intel said it expects second-quarter adjusted earnings of 89 cents a share on revenue of roughly $15.6 billion - analysts were expecting earnings of $1.01 a share on revenue of $16.86 billion.
The company said it expects adjusted earnings for the year of $4.35 a share on revenue of $69 billion. Analysts had been calling for profit of $4.50 a share on revenue of $71.04 billion.
"Looking ahead, we're taking a more cautious view of the year, although we expect market conditions to improve in the second half," said Intel CEO Bob Swan. "Our team is focused on expanding our market opportunity, accelerating our innovation and improving execution while evolving our culture."
Adjusted earnings in the first quarter were 89 cents a share, beating estimates by 2 cents, as revenue of $16.1 billion slightly beat forecasts.
But sales in Intel's data center group division fell 6.3% to $4.9 billion, below expected revenue of $5.1 billion. It was the first quarterly sales decline in seven years for data center chips.
Intel said revenue in its largest segment - client-computing - rose 4% to $8.6 billion vs. expectations of $8.38 billion.
The stock was down 7.7% in premarket trading to $53.20.
4. -- Ford Drives Higher on Healthy U.S. Demand
No. 2 U.S. automaker Ford (F) - Get Report  posted first-quarter earnings that beat Wall Street expectations and the stock jumped 8.3% in premarket trading to $10.18.
Ford earned 44 cents a share on an adjusted basis, beating forecasts of 27 cents. Revenue fell to $40.3 billion from $42 billion a year earlier but met forecasts.
U.S. sales held steady at $25.4 billion, with healthy demand for trucks and SUVs in the company's home market providing $2.2 billion of its overall $2.4 billion in operating earnings for the quarter. Operating profit in the quarter rose by $300 million.
Chief Financial Officer Bob Shanks said the first-quarter operating profit likely would be the strongest of the year, but the results put Ford "on track to deliver better company results in 2019 than last year."
"North America's EBIT improvement was driven by our F-Series, despite new competitive challenges; Ranger as it came to market, and Transit America's best selling van," Shanks told investors on a conference call. "The region's EBIT also benefited substantially from the decision to exit traditional passenger sedans."
"The strong financial performance of F-Series was matched by robust performance in the marketplace," he added. "In the quarter and in the face of new competitive entries, F-Series customer sales and average transaction prices held strong from a year earlier while share of segment increased."
5. -- Uber Sets IPO Price Range at $44 to $50 a Share
Uber Technologies set the indicative price of its planned initial public offering that would value the ride-sharing group at around $85 billion, well below the $120 billion valuation investors had pegged prior to the debut of rival Lyft (LYFT) - Get Report last month.
Uber said it would price shares in the range of $44 to $50 each, according to documents filed with the Securities and Exchange Commission, and plans to sell around 180 million shares. At the top end of that range, Uber would raise around $10.35 billion, around five times the amount raised by Lyft on March 29.
The Wall Street Journal reported earlier that Uber would lower its target valuation for its IPO to a range of about $80 billion to $90 billion.