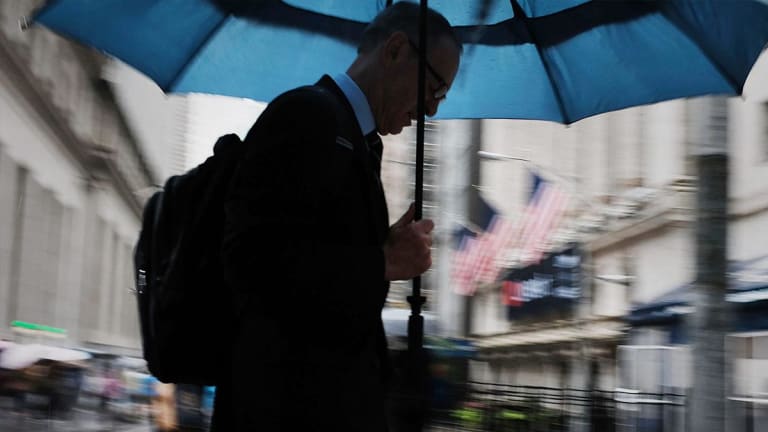 Nike, Boeing, Uber, Weak European Manufacturing Data - 5 Things You Must Know
U.S. futures are sharply lower Friday after a private sector reading of economic activity in Europe slumps to its weakest level in seven years; Nike declines after the athletic apparel giant posts weaker-than-expected fiscal third-quarter sales in North America; Indonesia's national airline seeks to cancel an order for 49 Boeing MAX jets.
Here are five things you must know for Friday, March 22: 
1. -- Stocks Slump on Weak European Factory Output
U.S. futures turned sharply lower Friday after a private sector reading of economic activity in Europe slumped to its weakest level in seven years, underscoring  concerns over slowing global growth, political uncertainty in Europe and flagging U.S.-China trade talks.
Contracts tied to the Dow Jones Industrial Average fell 131 points, futures for the S&P 500 tumbled 13.25 points, and Nasdaq futures declined 30.50 points.
The IHS Markit Composite PMI reading for the eurozone economy slipped to 51.3, while an index of new orders tumbled to 44.5, the lowest since December 2012, as exports dried up amid trade uncertainty between Washington and Beijing. The PMI reading for Europe's crucial manufacturing sector slumped to 47.6, the lowest since April 203.
"Most worrying is the plight of the manufacturing sector, which is now in its deepest downturn since 2013 as trade flows contracted at the sharpest rate since the debt crisis-ridden days of 2012," said IHS chief economist Chris Williamson. "Forward-looking indicators such as business optimism and backlogs of work suggest that growth could be even weaker in the second quarter."
European stocks also were notably weaker, while Germany's benchmark 10-year bund yields, a proxy for European risk-free interest rates, fell 5 basis points to trade at 0% for the first time since October 2016.
The weak data overshadowed Apple's (AAPL) - Get Apple Inc. Report 3.7% jump on Thursday that helped lift both the Dow and the broader S&P 500 solidly into positive territory, and boosted the Nasdaq to a gain of 1.42%.
Meanwhile, gains in Asia earlier Friday were capped by ongoing concerns over the strength of the global economy and tensions linked to a U.S. Treasury Department move to sanction two Chinese shipping companies for allegedly helping North Korea evade prohibitions on its atomic weapons program.
With Treasury Secretary Steven Mnuchin and U.S. Trade Representative Robert Lighthizer set to travel to Beijing next week with hopes to move U.S.-China trade talks forward, the decision to sanction two Chinese companies could complicate negotiations. Reports have said the talks have started to get bogged down by resistance from China on how the U.S. would ensure China was abiding by any deal.
The economic calendar in the U.S. Friday includes the PMI Composite FLASH for March at 9:45 a.m. ET, Existing Home Sales for February at 10 a.m., and Wholesale Trade for January at 10 a.m.
Earnings reports are expected Friday from Tiffany (TIF) - Get Tiffany & Co. Report and JinkoSolar Holding (JKS) - Get JinkoSolar Holding Company Limited American Depositary Shares (each representing 4) Report . 
2. -- Nike Falls on Weaker-Than-Expected Sales in North America
Nike (NKE) - Get Nike Inc. Report  declined in premarket trading Friday after the athletic apparel giant posted weaker-than-expected fiscal third-quarter sales in North America and noted that a stronger dollar would clip profits over the near term.
Adjusted earnings in the quarter of 68 cents a share topped analysts' forecasts by 3 cents, while a currency-neutral gain of 11% in revenue to $9.6 billion met forecasts. However, $3.81 billion in sales in Nike's key North American market, thanks in part to issues with product launch timing, missed expectations.
Nike's fourth-quarter and fiscal 2020 outlooks were solid as the company continues to win back market share from German rival Adidas  (ADS) - Get Alliance Data Systems Corporation Report in its home U.S. market and capitalizes on its strength in basketball shoe sales, but a stronger U.S. dollar and planned increases in expenditures could erode earnings potential.
"There were some timing impacts related to our NBA business and the launch of certain products year over year," Chief Financial Officer Andy Champion told investors on a conference call late Thursday. "There are always timing impacts in terms of product launches. So yes, nothing in terms of a turn or change in consumer demand."
"In fact, consumer demand for our apparel in North America is very strong. Frankly to some extent it puts pressure on supply, but that is a great point of pressure to have," he added. "We've got really strong demand for our apparel in North America."
Nike's quarterly gross margin from last year to 45.1%, thanks to higher average selling prices, but was partly offset by a rise in selling and administrative expenses, which swelled by 12% to $3.1 billion as the company continues to expand its digital platforms, supply chain improvements and marketing campaigns.
The stock fell 4.4% to $84.18 in premarket trading on Friday.
3. -- Indonesia's Garuda Seeks to Cancel Order for Boeing 737 MAX Jets
Garuda Indonesia, the flag carrier for Indonesia, said it was seeking to cancel an order for 49 Boeing  (BA) - Get The Boeing Company Report 737 MAX jets, saying passengers have lost confidence in the aircraft following two deadly crashes in recent months, The Wall Street Journal reported.
The move makes Garuda the first airline to publicly confirm plans to cancel a 737 MAX order, according to the Journal.
The 737 MAX jets were grounded across the globe earlier in March following an Ethiopian Airlines crash that killed all 157 on board.
Garuda CEO I Gusti Ngurah Askhara Danadiputra told the Journal that the airline sent a letter to Kevin McAllister, head of Boeing's commercial plane division, "to say that we want to cancel."
The letter was sent March 14, company spokesman Ikhsan Rosan said, adding that Boeing representatives were planning to meet with Garuda in Jakarta on March 28 "for further discussion."
Rosan told the Journal the decision to cancel was "in line with the desires of consumers who have lost confidence in the Boeing 737 MAX 8."
Boeing shares fell slightly in premarket trading to $372.15.
4. -- GameStop Names a New CEO
GameStop  (GME) - Get GameStop Corporation Report , the video game and consumer electronics retailer, named George Sherman as chief executive, after nearly 10 months of looking.
Sherman will begin his job on April 15, replacing interim CEO Shane Kim.
Prior to winning the job at GameStop, Sherman was chief executive of Victra, an authorized retailer for products and services of Verizon Wireless. He also served as president and interim CEO at Advance Auto Parts, overseeing the business of 4,000 stores, and was president of Best Buy Services. Earlier, he ran the operations and home services divisions of Home Depot.
"We are very excited to welcome George to the GameStop team. His extensive retail leadership at several top brands including Advance Auto Parts, Best Buy, Target Corporation and Home Depot positions him as the right choice to lead GameStop for the years ahead," said Dan DeMatteo, GameStop's executive chairman, in a statement.
But a "new CEO is only exciting if they acknowledge that the business model is broken. The days of a selling physical games are fast coming to an end," said TheStreet's Zev Fima, a research analyst for Jim Cramer's Action Alerts PLUS investment club.
"It's not over for them, but they need to radically shift their business model. Forget selling games. I wouldn't be surprised if the next generation of consoles doesn't even include a disk drive," Fima said.
5. -- Uber Selects NYSE for Its IPO - Report
Uber Technologies has selected the New York Stock Exchange for its upcoming initial public offering, Bloomberg reported, in what could be one of the five biggest listings of all time.
The ride-hailing company is expected to publicly file for its offering in April. The IPO could value the company at as much as $120 billion and is likely to be the biggest of the year, people familiar with the plans previously have said. At that valuation, Uber would only have to float about 16% of its shares to make the top five, according to data compiled by Bloomberg.
Uber's choice of the NYSE differs with that of rival Lyft, which will start trading next week on the Nasdaq Global Select Market. 
**
How Much Money Will I Need to Retire?
Want to learn about retirement planning from some of the nation's top experts? Join TheStreet's Robert "Mr. Retirement" Powell live in New York on April 6 for our Retirement Strategies Symposium. For a limited time, tickets are available for $99 for this full-day event. Check out the agenda, learn about the speakers and sign up here.