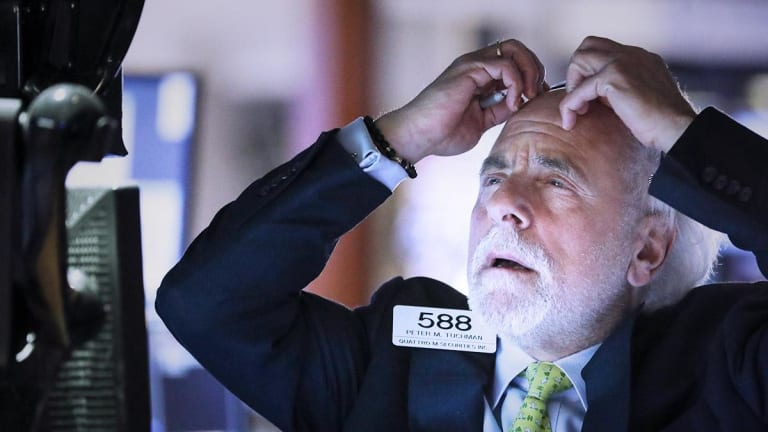 Jobs Report, China Trade, Costco, Tesla, Paul Manafort - 5 Things You Must Know
U.S. stock futures fall on concerns the U.S. and China aren't as close to reaching a trade deal as had been hoped; Wall Street awaits the U.S. jobs report for February; Costco's earnings beat estimates; Marvell Technology issues a weak forecast; Donald Trump's former campaign manager is sentenced to 47 months in prison.
Here are five things you must know for Friday, March 8: 
1. -- Stocks Slump as Trade Deal Said Not Imminent
U.S. stock futures were lower on Friday, March 8, taking their cue from Asian markets that fell sharply on concerns the U.S. and China weren't as close to reaching a trade deal as had been hoped and as Wall Street awaited the U.S. jobs report for February.
Contracts tied to the Dow Jones Industrial Average slid 98 points, futures for the S&P 500 fell 10.50 points, and Nasdaq futures declined 36 points.
The U.S. and China have yet to set a date for a summit to resolve their trade dispute, said Terry Branstad, the U.S. ambassador to China, as neither side feels an agreement is imminent.
"A date hasn't been finalized" for a meeting between Donald Trump and Chinese President Xi Jinping, Branstad told The Wall Street Journal in an interview. 
Negotiators need to further narrow the gap in their positions, including over the enforcement of a potential deal, before summit arrangements are made, Branstad said.
"Both sides agree that there has to be significant progress, meaning a feeling that they're very close before that happens," Branstad said. "We're not there yet. But we're closer than we've been for a very long time."
Stocks in the U.S. closed lower on Thursday for a fourth straight session amid signs of slowing global growth after the European Central Bank said it would step in to support a slowing eurozone economy. Meanwhile, on Friday, China's General Administration of Customs reported that exports fell 20.7% in February, much wider than expected, after rising 9.1% the previous month.
The economic calendar in the U.S. Friday includes the U.S. jobs report for February at 8:30 a.m. ET. Economists surveyed by FactSet expect the U.S. to have added 180,500 jobs last month, down from 304,000 in January, with the unemployment rate ticking lower to 3.9% from 4%.
Average hourly earnings are forecast to rise 0.3% month over month, with the year-on-rate rising one-tenth to 3.3%.
While most economists now say the stimulus from Donald Trump's $1.5 trillion of tax cuts in late 2017 has started to fade, growth has been slowing, and a recession is likely by 2021, one positive they agree on is that Trump has proven remarkably successful at creating jobs for American workers, a linchpin of his campaign platform.
The calendar also includes Housing Starts for January at 8:30 a.m.
2. -- Costco's Earnings Smash Wall Street Estimates
Costco Wholesale
(COST) - Get Costco Wholesale Corporation Report
rose 5.2% in premarket trading Friday after the warehouse retailer posted fiscal
 of $2.01 a share, well ahead of Wall Street forecasts of $1.69.
Revenue in the quarter was $35.4 billion and same-store sales gained 6.7%. Analysts had forecast revenue of $35.65 billion, and same-store sales of 5.7%. Same-store sales in the U.S. jumped 7.2%, topping forecasts.
Adjusted e-commerce sales soared 25.5% in the second quarter.
Costco also said Thursday it began raising minimum wages this week for store workers to $15 an hour from $14, the second time in a year the company has raised starting pay.
3. -- Marvell Technology Issues Weak First-Quarter Forecast
Marvell Technology Group (MRVL) - Get Marvell Technology Inc. Report  declined 1.3% in after-hours trading Thursday after the chipmaker issued an earnings forecast for its fiscal first quarter below Wall Street estimates.
Marvell on Thursday reported adjusted fourth-quarter earnings of 25 cents a share, matching estimates, on sales of nearly $745 million, which came in above forecasts.
But the company said it expects first-quarter adjusted earnings of 12 cents to 16 cents a share on sales of about $650 million, plus or minus 3%. Analysts had been calling for adjusted profit of 23 cents a share on sales of $718 million.
"Marvell continued to improve its financial performance in fiscal 2019, while also increasing scale and diversifying its business through the acquisition of Cavium," said Matt Murphy, Marvell's president and CEO. "While macroeconomic conditions are currently impacting our first-quarter outlook, we expect growth to resume in the second quarter."
4. -- Tesla Signs Agreement With Chinese Lenders for Gigafactory
Tesla  (TSLA) - Get Tesla Inc. Report  signed an agreement with lenders in China for a 12-month credit facility of up to 3.5 billion yuan, or about $521 million, for the electric carmerk's Gigafactory in Shanghai.
The company broke ground on the factory in January.
Tesla has estimated the Gigafactory will cost about $2 billion to build.
China is a key market for Tesla, but ongoing trade tensions between the U.S. and the world's second-largest economy have put the company's expansion plans in a bind. By building its electric vehicles in the country, Tesla will be able to avoid the worst of the trade tariffs and better compete with Chinese electric vehicle makers.
5. -- Paul Manafort Sentenced to Nearly 4 Years in Prison
Paul Manafort, Donald Trump's former campaign manager, was sentenced Thursday to 47 months in prison for bank and tax fraud related to his work advising Ukrainian politicians.
He also was ordered to pay millions of dollars in restitution and a $50,000 fine.
The judge in the case said he would give Manafort nine months credit for time already served. Sentencing guidelines called for a 20-year prison term.
Manafort faces sentencing next week in federal court in Washington in a separate case for conspiracy against the United States and conspiracy to obstruct justice.
Both cases grew out of special counsel Robert Mueller's investigation of possible collusion between the Trump campaign and Russian agents.
Manafort was Trump's campaign manager from June to August 2016.
**
A Special Invitation: Do you want to learn more about planning for and living retirement from the nation's top experts, including Ed Slott and Robert Powell, the editor of TheStreet's Retirement Daily? Want to learn how to create tax-efficient income in retirement and how to manage and mitigate all the risks you'll face in retirement? Then sign up to attend TheStreet's Retirement Strategies Symposium on April 6 in New York City. For a limited time, you can attend this extraordinary symposium for $149 - a cost savings of $50 off the general admission price of $199.
You can see the full day's agenda, learn about the guest speakers and sign up HERE for this special event.