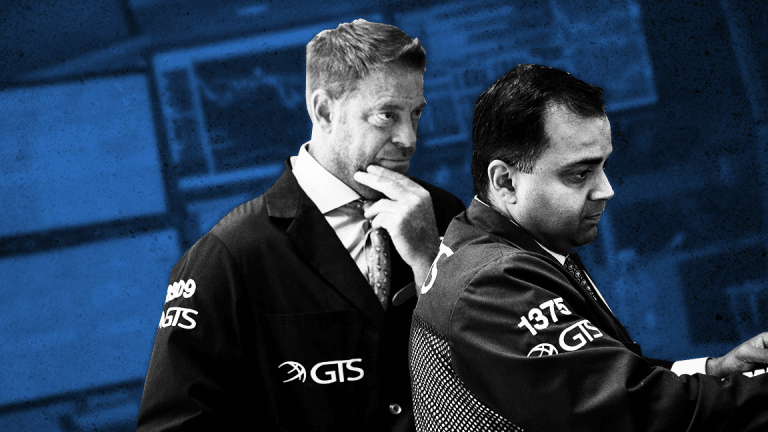 Tesla, Gap, AT&T's HBO, Car Sales, Trade Negotiations - 5 Things You Must Know
U.S. stock futures rise following bullish comments on U.S.-China trade talks from one of Donald Trump's top advisers; Tesla launches its long-delayed $35,000 Model 3 electric car but the announcement is overshadowed by CEO Elon Musk saying the company probably won't be profitable in the first quarter; Gap plans to close more than 200 stores and split into two publicly traded companies.
Here are five things you must know for Friday, March 1: 
1. -- Stocks Get Boost From U.S.-China Trade Progress
U.S. stock futures rose on Friday, March 1, and global stocks traded firmly higher, boosted by a move from one of the market's biggest index providers to increase the weighting of China stocks on world benchmarks and bullish comments on U.S.-China trade talks from one of Donald Trump's top advisers.
MSCI, which compiles equity market benchmarks for markets around the world, will quadruple the weighting of China-listed shares, taking them to about 3.3% of the key emerging markets index from around 0.7% between now and November. The provider said the move could unlock fresh investor inflows of around $80 billion as fund managers move to re-balance portfolios around the new benchmarks.
Stocks were given a further boost through comments from White House economic adviser Larry Kudlow, who told CNBC Thursday that there was "fantastic" progress in trade talks last week, thanks in part to U.S. Trade Representative Robert Lighthizer reading "the riot act" to Chinese officials.
"We are heading towards a remarkable, historic deal," Kudlow predicted. "The documents are very clear: I mean, even things like the currency deal ... no manipulation; they've got to report any interventions in the market."
Contracts tied to the Dow Jones Industrial Average rose 185 points, futures for the S&P 500 gained 17.50 points, and Nasdaq futures were up 52 points.
The economic calendar in the U.S. Friday includes Personal Income and Outlays for December and January at 8:30 a.m. ET, the PMI Manufacturing Index for February at 9:45 a.m., the ISM Manufacturing Index for February at 10 a.m., and Consumer Sentiment for February at 10 a.m.
Foot Locker (FL) - Get Foot Locker, Inc. Report posted stronger-than-expected fourth quarter earnings and same-store sales and said it sees double-digit profit growth in the coming year. The stock soared 13.5% in premarket trading Friday.
U.S. automakers, such as Ford (F) - Get Ford Motor Company Report , will be releasing sales for February throughout the day.
Sales in the U.S. are expected to decline about 1% in February from a year earlier partly due to inclement weather, said industry consultants J.D. Power and LMC Automotive. They see U.S. total vehicle sales of about 1.29 million units in February.
2. -- Tesla Unveils $35,000 Model 3 but Says Expects First-Quarter Loss
Tesla (TSLA) - Get Tesla Inc Report  launched its long-delayed $35,000 Model 3 electric car on Thursday but the announcement was overshadowed by CEO Elon Musk saying the company probably won't be profitable in the first quarter.
Musk told reporters on a conference call that expenses associated with launching sales of its Model 3 in Europe and China as well as one-time charges during the quarter mean "we do not expect to be profitable" in the first quarter, CNBC reported.
Tesla shares were down 3.6% in premarket trading Friday.
The electric vehicle company said in a blog post it would move its sales operations online in a bid to save costs. The move "will enable us to lower all vehicle prices by about 6% on average, allowing us to achieve the $35,000 Model 3 price point earlier than we expected," the company said.
Tesla said it would be winding down "many" of its stores over the next few months, "with a small number of stores in high-traffic locations remaining as galleries, showcases and Tesla information centers."
The cheaper version of the Model 3, teased by Musk in tweets earlier this week, is aimed at broadening the company's market share to buyers intrigued by its technology, but put off by the high prices of its luxury models and higher-end Model 3s. The cheaper Model 3 comes with a reduced driving range of 220 kilometers (132 miles) and a slimmed-down interior.
Tesla faces increased pressure to generate profits as a number of large convertible bond issues come due.
It began shipping higher-end Model 3s to Europe this month and has broken ground on a factory in China.
3. -- Gap Plans to Split Into Two Companies, Close 230 Stores
Gap Inc. (GPS) - Get Gap, Inc. Report announced plans to close more than 200 stores and split into two publicly traded companies - one for Old Navy and the other for Gap, Banana Republic and other brands.
"Following a comprehensive review by the Gap board of directors, it's clear that Old Navy's business model and customers have increasingly diverged from our specialty brands over time, and each company now requires a different strategy to thrive moving forward," Chairman Robert Fisher said in a statement announcing the move.
"Recognizing that, we determined that pursuing a separation is the most compelling path forward for our brands -- creating two separate companies with distinct financial profiles, tailored operating priorities and unique capital-allocation strategies, both well positioned to achieve their strategic goals and create significant value for our customers, employees and shareholders," Fisher said.
Gap plans to separate the two companies through a tax-free spinoff - a stand-alone Old Navy and a second company which has yet to be named. Current Gap shareholders will get stock in each company once the split happens, likely in 2020.
The new company would have about $9 billion in annual revenue, according to Gap.
Separately, Gap posted fourth-quarter earnings of 72 cents a share, up from 52 cents a year earlier. Sales in the quarter were $4.6 billion, down from $4.8 billion a year earlier.
Analysts had called for earnings of 67 cents a share on sales of $4.7 billion.
4. -- HBO's CEO Is Stepping Down as AT&T Restructures
Richard Plepler, the chairman and CEO of HBO, said he was resigning in a memo to staff Thursday, while David Levy, president of Turner, the parent of cable channels CNN, TNT, TBS and Cartoon Network, also is stepping down, perhaps as early as Friday, people familiar with the matter told The Wall Street Journal.
The resignation of Plepler, who has led HBO since 2013 and played a prominent role in the success of shows such as "Game of Thrones," comes as AT&T (T) - Get AT&T Inc. Report overhauls the operations of Warner Bros., HBO and Turner. Under previous owner Time Warner and its then-CEO Jeff Bewkes, the units had operated very autonomously, the Journal noted.
AT&T, meanwhile, is in advanced talks with veteran TV executive and producer Robert Greenblatt to take a senior role at WarnerMedia - as Time Warner was rebranded - that could include oversight of a new unit that would combine HBO and Turner entertainment networks and a coming streaming service, the Journal reported.
5. -- VMware Rises After Earnings and Sales Beats
VMware (VMW) - Get VMware, Inc. Class A Report  was rising 3.6% in premarket trading Friday after the enterprise software maker's fourth-quarter earnings and revenue topped Wall Street expectations.
The company reported adjusted earnings in the period of $1.98 a share, beating estimates of $1.88 billion. Revenue in the period was $2.58 billion, higher than analysts' expectations of $2.5 billion. 
VMware shares have risen more than 25% year to date.