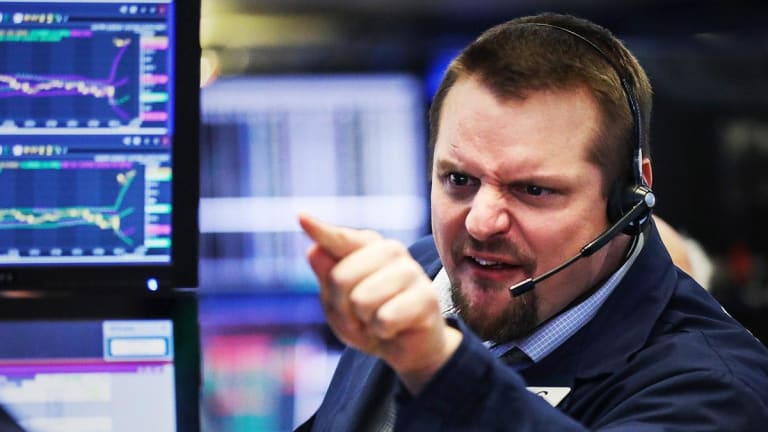 Amazon, Jobs Report, Exxon Mobil and Honeywell - 5 Things You Must Know
U.S. stock futures are lowerFriday as investors weigh the progress of trade talks between Washington and Beijing and await a reading on U.S. jobs; Amazon falls after issuing first-quarter guidance below expectations; Exxon Mobil, Chevron and Honeywell report earnings.
Here are five things you must know for Friday, Feb. 1:
1. -- Stock Futures Slip Amid Progress in U.S.-China Trade Talks, Ahead of Jobs Data
U.S. stock futures were lower on Friday, Feb. 1, while global stocks traded mostly higher as investors weighed the progress of trade talks between Washington and Beijing and awaited a reading on U.S. jobs.
Progress in the trade negotiations was characterized by the White House as "substantial" late Thursday following a two-day meeting between China Vice Premier Liu He and U.S. Trade Representative Robert Lighthizer, which culminated in brief talks with Donald Trump and a pledge to sit down with his opposite number, Xi Jinping, to potentially reach a deal prior their self-imposed March 1 deadline.
"I hope our two sides will continue to act in the spirit in mutual respect," Xi said in a letter read by an interpreter to Trump. "An agreement would send a positive signal to our two peoples and the broader international community."
The economic calendar in the U.S. Friday includes the U.S. jobs report for January at 8:30 a.m. ET.
Economists surveyed by FactSet expect the U.S. to have added 165,000 jobs last month, down from December's strong 312,000, with the unemployment rate remaining steady at 3.9%. The 35-day shutdown, which ended a week ago, could skew the numbers slightly. Average hourly earnings in January are forecast at 0.3% in January, down from 0.4% in December.
The calendar also includes the ISM Manufacturing Index for January at 10 a.m., Construction Spending for November at 10 a.m., and Consumer Sentiment for January at 10 a.m.
Contracts tied to the Dow Jones Industrial Average were down 21 points, futures for the S&P 500 fell 6.25 points, and Nasdaq futures declined 42.75 points.
The major indexes closed out January with their best monthly performance in years on Thursday. The Dow jumped 7.2% in January, the blue-chip index's biggest increase in January in 30 years. The S&P 500, up 7.9%, had its best January since 1987.
2. -- Amazon Falls After Issuing Tepid Guidance
Amazon.com Inc. (AMZN) - Get Free Report  was falling 4.9% in premarket trading Friday after the online retailing giant reported fourth-quarter earnings and revenue that topped Wall Street's forecasts but issued first-quarter guidance that was below expectations.
Earnings were $6.04 a share, up from $3.75 a year earlier and above estimates of $5.65. Revenue of $72.4 billion beat forecasts of $71.9 billion.
But Amazon said it expects sales in the first quarter of $56 billion to $60 billion, below analysts' predictions of $60.83 billion, and operating income of $2.3 billion to $3.3 billion, roughly in line with consensus of $3.09 billion.
The company said the shortfall was related to regulatory uncertainty in India, a key growth market, raising questions over Amazon's uneven international strategy.
"There is much uncertainty as to what the impact of the government rule change is going to have on the e-commerce sector there," Chief Financial Officer Brian Olsavsky told investors on a conference call late Thursday, in reference to new rules that restrict foreign-owed companies from selling goods through vendors in which they have an ownership stake. "We remain committed to complying with all laws and regulations, we will, but we're evaluating the situation."
"We feel very good about the long-term prospects in India and doing a good job for both Indian customers and Indian sellers. The new regulations (must not have) unintended consequences," he added. "And again, I don't think it's necessarily consistent with better price, better selection and better convenience for the Indian customer."
Amazon's "physical stores" revenue, which for now mostly stems from Whole Foods, fell 3% to $4.4 billion, missing consensus of $4.78 billion.
Revenue at Amazon Web Services rose 45% to $7.43 billion, beating expectations of $7.29 billion. The segment's operating profit grew 61% to $2.18 billion.
"Overall, this was another strong quarter from the company with plenty of beats in key areas, as well as good growth in North American operating profits and international top-line sales," said Jim Cramer and the Action Alerts PLUS team, which holds Amazon in its portfolio. "We'll hear about guidance getting nitpicked again (Friday), and spending growth might be on top of mind too, however, you won't find another company as innovative as Amazon that's also churning out profits at a torrid pace."
3. -- Exxon, Chevron, Honeywell Report Earnings Friday
Honeywell International Inc. (HON) - Get Free Report posted stronger-than-expected fourth-quarter earnings, and said 2019 profit would continue to expand, easing investor concerns over the impact of a China-led slowdown in global economic growth.
Honeywell said adjusted earnings for the three months ended in December were $1.91 a share, topping the Wall Street forecast of $1.89. Worldwide sales fell 10.3% from last year to $9.73 billion, but just ahead of the market's consensus of around $9.7 billion.
Honeywell said it sees 2019 earnings in the range of $7.80 to $8.10 a share, firmly ahead consensus of $7.88 a share, and revenue in the range of $36 billion to $36.9 billion.
Merck & Co. (MRK) - Get Free Report earned an adjusted $1.04 a share, 1 cent better than estimates, on fourth-quarter sales of $11 billion, which came in higher than forecasts of $10.95 billion.
The drug company said it expects 2019 adjusted profit of $4.59 to $4.72 a share vs. estimates of $4.69.
Exxon Mobil Corp. (XOM) - Get Free Report  reported fourth-quarter adjusted earnings of $1.41 a share vs. estimates of $1.08. Revenue was $71.9 billion, below forecasts of $72.5 billion. The stock gained 3.6% in premarket trading.
Rival Chevron Corp. (CVX) - Get Free Report  also will report earnings Friday.
Honeywell is a holding in Jim Cramer's Action Alerts PLUS Charitable Trust Portfolio. Want to be alerted before Cramer buys or sells the stock? Learn more now.
U.S. automakers, including Ford Motor Co.
(F) - Get Free Report
, are expected to report sales for January throughout the day.
4. -- Deutsche Bank Posts First Annual Profit in Four Years
Deutsche Bank AG (DB) - Get Free Report posted a wider-than-expected fourth-quarter loss that overshadowed the troubled lender's first annual profit in four years.
Deutsche Bank, Germany's biggest bank. said it recorded a net loss of €409 million ($469 million) for the three months ended in December, nearly twice as large as analysts had expected, as revenue in its fixed income trading group slumped 23% to €786 million. Broader investment bank revenue fell 5% to €2.6 billion. However, the bank said cost cuts and headcount reductions, which will continue through 2019, helped the bank swing to its first full-year profit - of €341 million - since 2014.
"Our return to profitability shows that Deutsche Bank is on the right track," said CEO Christian Sewing. "Now, our priority is to take the next step. In 2019 we aim not only to save costs but also to make focused investments in growth. We aim to grow profitability substantially through the current year and beyond."
Deutsche Bank shares traded in the U.S. fell 3.5% in premarket trading.
5. -- Yum China Jumps as KFC Sales Rise
Shares of Yum China Holdings Inc. (YUMC) - Get Free Report were rising 2.9% in premarket trading after the owner of the Chinese operations of KFC and Pizza Hut posted fourth-quarter adjusted earnings of 12 cents a share, beating analysts' forecasts by 3 cents.
Revenue in the quarter rose 2% to $1.91 billion. Analysts expected revenue of $1.92 billion. 
Yum China said same-store sales at KFC rose 3% during the quarter, while Pizza Hut saw same-store sales declined 4%.
Score a Touchdown with Jim Cramer's Big Game Special
Get access to the best stock picks in Jim Cramer's investment portfolio by executing a two-minute drill on our Big Game Special on Action Alerts PLUS, Jim's VIP club for investors. Sign up now through Feb. 4 and receive 58% off the normal subscription price. Now that's a real touchdown!