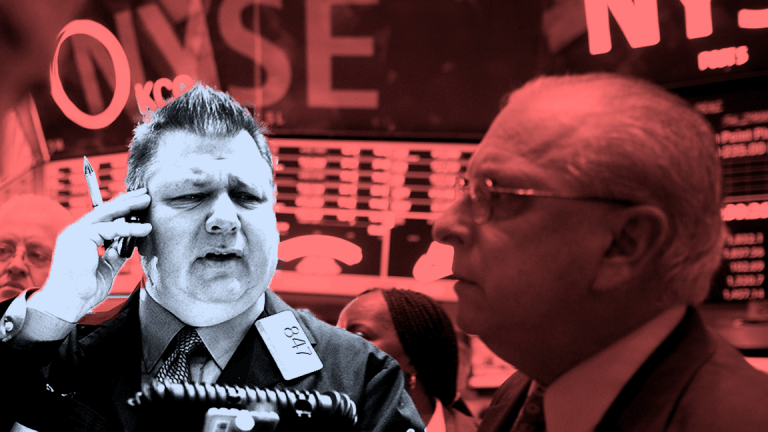 Apple, Netflix, Activision, CPI Data and Fiat Chrysler - 5 Things You Must Know
U.S. stock futures slip Friday, as the equity rally to begin the new year looks as if it will fail to materialize for a sixth day; Apple plans to release three new iPhone models again this fall, including a successor to the struggling XR, a report says; Netflix rise after an analyst at UBS lifts his rating on the stock to 'buy.'
U.S. stock futures slip Friday, as the equity rally to begin the new year looks as if it will fail to materialize for a sixth day; Apple plans to release three new iPhone models again this fall, including a successor to the struggling XR, a report says; Netflix rise after an analyst at UBS lifts his rating on the stock to 'buy.'
Here are five things you must know for Friday, Jan. 11:
1. -- Stock Futures Fall Following Five Days of Gains
U.S. stock futures slipped slightly on Friday, Jan. 11, as the equity rally to begin the new year looked as if it would fail to materialize for a sixth day day following a dovish message from the chairman of the Federal Reserve and amid renewed hopes that trade talks between the U.S. and China will deliver a near-term deal.
Fed Chairman Jerome Powell reiterated Thursday in a question-and-answer session at the Economic Club of Washington that the central bank would be "patient" with raising interest rates. 
"We have the ability to be patient and watch patiently and carefully as we see the economy evolve and figure out which of these two narratives is going to be the story of 2019," Powell said.
Later Thursday, U.S. Treasury Secretary Steven Mnuchin told reporters that the current U.S. government shutdown wouldn't slow the progress of trade talks between Washington and Beijing, and that China's vice premier, Liu He,"will most likely come and visit us later in the month" in order to keep the discussions going.
Contracts tied to the Dow Jones Industrial Average fell 44 points, futures for the S&P 500 were down 6.25 points, and Nasdaq futures fell 21.25 points. 
Stocks on Thursday finished higher for the fifth straight session, and the gains moved the Dow and S&P 500 out of correction territory.
The economic calendar in the U.S. on Friday includes the Consumer Price Index for December at 8:30 a.m. ET.
Economists surveyed by FactSet expect prices at the consumer level to fall 0.1% month to month, while the core CPI rate - excluding gas and food - is forecast to rise 0.2%. The year-on-year rate for CPI in December is forecast to increase 1.9%, with the core rate up 2.2%.
2. -- Apple to Release 3 New iPhones This Fall - Report
Apple Inc. (AAPL) - Get Report  plans to release three new iPhone models again this fall, including a successor to the struggling XR with a liquid-crystal display, people familiar with the matter told The Wall Street Journal.
Apple plans to introduce some new camera features, including a triple rear camera for the highest-end model and double rear camera for the two other models, the people told the Journal.
The move to stick with LCD, amid sluggish sales of the iPhone XR, is partly because the planned LCD handset has been in the product pipeline for months and the plan can't be altered easily, the people said.
The news follows Apple's surprise sales warning last week, in which the tech giant cut its forecast for fiscal first-quarter revenue - the holiday quarter - thanks in part to slowing sales in China.
In a letter to investors, Apple CEO Tim Cook said revenue for the three months ended in December would be about $84 billion, below analysts' estimates of roughly $94 billion and the company's own previous guidance of between $89 billion and $93 billion.
Cook pinned weaker iPhone demand in China on several factors, including a slowing economy worsened by "rising trade tensions with the United States" and high prices tied to the strength of the U.S. dollar.
Earlier this week, Cook insisted the iPhone XR remained Apple's most popular product even as reports suggested the tech giant would slash production for new models this quarter amid slowing demand.
The stock was down slightly in premarket trading.
Now, a little history lesson:
Apple is a holding in Jim Cramer's Action Alerts PLUS member club. Want to be alerted before Jim Cramer buys or sells AAPL? Learn more now.
3. -- Netflix Rises as UBS Lifts Rating to 'Buy'
Netflix Inc. (NFLX) - Get Report rose 2.8% to $333.85 in premarket trading Friday after an analyst at UBS raised his rating on the streaming giant to buy from neutral and lifted his price target to $410 from $400.
Analyst Eric Sheridan cited Netflix's strong subscriber numbers and a better understanding from investors about the company's challenges and emerging competition.
"After six months of stock underperformance & key debates emerging about competition, margins & FCF, we think these debates are better understood by investors and reflected in the current stock price," Sheridan wrote. "With content spend now at a scale of the major media companies and titles continuing to demonstrate outsized marketplace success, we see the moat around NFLX's global positioning widening and its long-term secular winner status remaining intact."
"Over the past months, the potential for new (& more pronounced) competition for both subscribers and to source original/licensed content among regional & global streaming media companies has caused NFLX's stock volatility to remain pronounced," Sheridan said. The stock has risen 21% so far in 2019 and has gained close to 53% over the past 52 weeks.
Analysts at Credit Suisse on Friday boosted their estimate for Netflix's fourth-quarter subscriber additions.
Credit Suisse analysts said they expect the company added 9.75 million users to its platform over the three months end in December, well ahead of the Netflix's guidance of 9.4 million.
4. -- Activision Slides After Splitting With Maker of 'Destiny' 
Activision Blizzard Inc. (ATVI) - Get Report was falling 6.9% in premarket trading after the videogame company announced it ended a partnership with Bungie Inc., a studio that developed the online shooter franchise "Destiny."
Activision disclosed in an 8-K filing that Bungie would "assume full publishing rights and responsibilities for the Destiny franchise. Going forward, Bungie will own and develop the franchise."
The two companies had signed a 10-year contract in 2010.
The relationship between the two had been showing strain for years, according to the Los Angeles Times.
Activision Chief Operating Officer Coddy Johnson late last year said on an earnings call that "Destiny 2: Forsaken" had failed to meet Activision's sales standards. But Bungie replied that it wasn't "disappointed" with "Forsaken." 
"We set out to build a game that Destiny players would love, and at Bungie, we love it too," the company said in a tweet.
5. -- Fiat Chrysler to Recall 1.6 Million Vehicles to Fix Airbags
Fiat Chrysler Automobiles NV (FCAU) - Get Report said it was recalling more than 1.6 million vehicles worldwide to replace Takata front passenger airbag inflators that can be dangerous.
The recall includes 1.4 million vehicles in the United States.
Just Wednesday, Toyota Motor Corp. (TM) - Get Report said it added another 1.3 million U.S. vehicles to its recall list because of the defective airbags.
About 10 million inflators are being recalled this year, according to the Associated Press. Ford Motor Co. (F) - Get Report and Honda Motor Co. (HMC) - Get Report also have issued recalls.