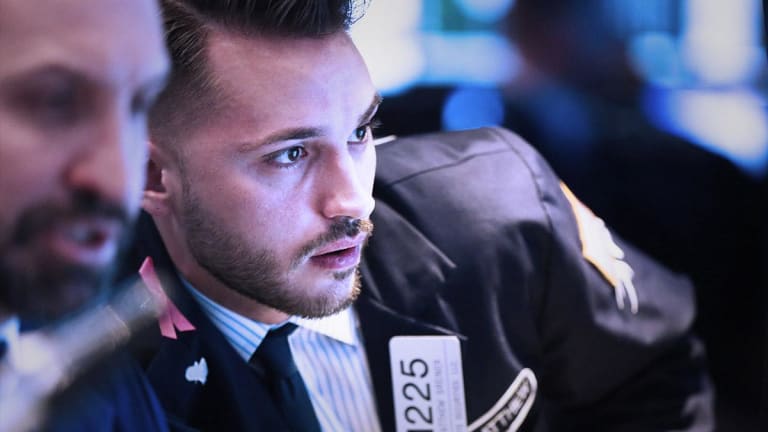 Wild Wall Street, Pot Stock Aphria, Sears' Final Hours? - 5 Things You Must Know
U.S. stock futures point to a higher start for Wall Street, following the previous session's late-day rally that wiped off a 600-point loss for the Dow; cannabis stock Aphria soars after receiving a takeover bid; Sears needs a savior - and fast.
Here are five things you must know for Friday Dec. 28:
1. -- Stock Futures Rise Amid Continued Volatility 
U.S. stock futures pointed to a higher start for Wall Street on Friday, Dec. 28, following the previous session's late-day rally that wiped off a 600-point loss for the Dow Jones Industrial Average.
Contracts tied to the Dow Jones Industrial Average were up 89 points, futures for the S&P 500 gained 9 points, and Nasdaq futures rose 9 points. However, with the CBOE's key volatility index, the VIX, trading at around 30.17 points - just six points from the 10-month high it reached last week - investors could see another day of significant moves on the benchmarks after Thursday's wild session.
The Dow on Thursday rose 260 points, or 1.1%, to close at 23,138.82 - at the session low the blue-chip index had declined 611 points. The S&P 500 and Nasdaq also erased losses to close Thursday higher by 0.9% and 0.4%, respectively. The gains added to Wednesday's sharp rally that saw the Dow jump 1,086 points, the highest single-day point increase in its history.
The indexes remain lower for December and the full year with just two trading sessions left in 2018.
"So many things have come together that I'd expect the volatility to continue into the new year," JJ Kinahan, chief market strategist at TD Ameritrade, told The Wall Street Journal. "There's still a lot of answers waiting around earnings [growth], tariffs and a sense of where the economy is at."
2. -- Chicago PMI and Pending Home Sales on Friday's Calendar
The economic calendar in the U.S. Friday includes Chicago PMI for December at 9:45 a.m. ET, and Pending Home Sales for November at 10 a.m.
Data on International Trade in Goods and Wholesale Inventories won't be released Friday because of the government shutdown, which has entered its seventh day. Those reports are issued by the U.S. Census Bureau.
3. -- Aphria Soars on Takeover Bid
Aphria Inc. (APHA) jumped 12.6% to $6.27 in premarket trading Friday after receiving a takeover bid from Xanthic Biopharma Inc., a U.S.-based cannabis company that does business as Green Growth Brands Ltd. (GGBXF) .
Green Growth Brands said it would offer 1.5714 shares of stock for each Aphria share. The offer represents a premium of 45.5% over Aphria's closing price on the Toronto Stock Exchange on Dec. 24. Aphria's Canada-listed shares closed at C$7.57 Thursday; the U.S.-listed shares finished at $5.57.
Green Growth Brands said its offer values Aphria at C$2.8 billion, or $2.1 billion, based on a valuation of C$7 per Xanthic share. It said it plans to complete a brokered financing of C$300 million to fund the business growth of the combined company.
Aphria said in a statement Friday that the bid from Green Growth Brands "significantly undervalues the company," and Aphria's board has set up an independent committee to consider the offer.
"The board believes that GGB is attempting to acquire the company through a highly conditional offer at a significant discount to its current and future value," Aphria said Friday.
4. -- Sears Needs a Savior
Sears Holdings Corp. (SHLDQ)  has just hours remaining to be saved and avoid being broken into pieces.
The deadline for a $4.6 billion proposal from Sears' chairman, Eddie Lampert, to buy the 125-year-old retailer out of bankruptcy through his hedge fund, ESL Investments, is Friday. ESL is the only party offering to buy Sears as a whole, people familiar with the situation told CNBC. Without that bid or another like it, liquidators will break the company up into pieces.
If Lampert submits a bid - by Thursday afternoon he had yet to do so -- Sears' advisors would have until Jan. 4 to decide whether he is a "qualified bidder." Only then, could ESL take part in an auction against liquidation bids on Jan. 14, CNBC reported.
5. -- J.C. Penney Sinks to Record-Low 97 Cents
J.C. Penney Co. (JCP) closed down 7.54% to a record-low 97 cents a share Thursday, as the Plano, Texas-based department-store chain continues to struggle against a tide of red ink. 
The stock dipped below $1 for the first time in the company's history on Wednesday, briefly trading at 99 cents before closing at $1.05. But the markdown continued on Thursday, with the stock falling as low as 92 cents before partly recovering.
The 110-year-old retailer last month said third-quarter sales at stores open for more than a year fell 5.4%, pushing the company to a wider-than-expected loss of 48 cents a share. The group also scrapped its full-year profit guidance.
J.C. Penney hasn't been profitable since 2010. The retailer's debt stands at about $4 billion.