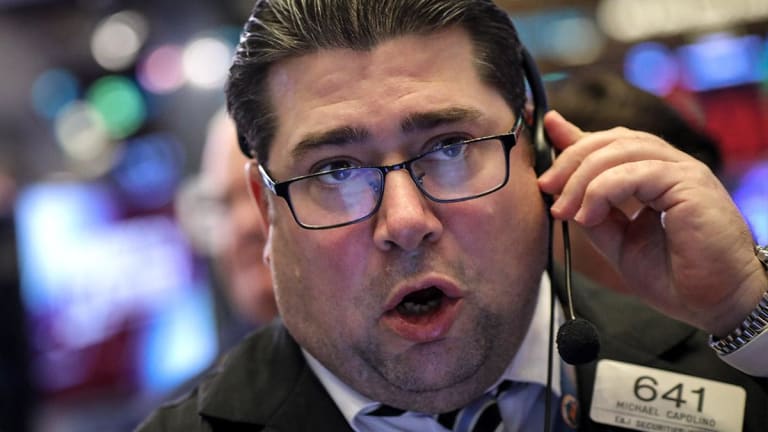 Government Shutdown, Nike, Canopy Growth and GDP - 5 Things You Must Know
Wall Street heads for its worst quarter since the financial crisis as investors react to the fallout from the Fed's fourth rate hike of the year and chaos in the White House; third-quarter GDP expected to remain at 3.5%; Nike jumps as digital sales soar; Canopy Growth says will enter the U.S. market after passage of the Farm Bill.
Here are five things you must know for Friday, Dec. 21:
1. -- Stocks Decline as Wall Street's Mood Darkens 
U.S. stock futures pointed lower on Friday, Dec. 21, and Wall Street was headed for its worst quarter since the financial crisis as investors reacted to the fallout from the Federal Reserve's fourth rate hike of the year, slowing economic growth, trade tensions between the U.S. and China, and renewed chaos in the White House.
Contracts tied to the Dow Jones Industrial Average fell 57 points, futures for the S&P 500 declined 8 points, and Nasdaq futures were down 28.75 points.
Global stocks extended declines with many growing increasing concerned that Donald Trump's erratic administration will add to a global market backdrop that has been struggling under intense pressure from falling share prices, slumping crude and a weakening U.S. dollar.
Darkening the mood was the fact that Trump appeared content to risk a government shutdown later Friday by refusing to sign a continuing resolution that would fund the nation's spending plans until February, arguing it didn't include $5 billion for a proposed wall along the Mexican border.
Trump tweeted early Friday:
Trump's move Thursday, which was backed up by a House vote that was unlikely to find support in the Senate, was followed by the resignation of Defense Secretary James Mattis, perhaps the most highly respected member of Trump's administration, over differences linked to foreign policy and the withdraw of troops in Syria.
The shutdown threat, coupled with the Fed's rate hike, sunk the Dow by almost 500 points Thursday, Dec. 20. The blue-chip index was on track for the worst December since the Great Depression and the worst year in a decade.
2. -- GDP Data Highlight Friday's Calendar
The economic calendar in the U.S. Friday includes the third estimate for third-quarter U.S. GDP at 8:30 a.m. ET. Economists surveyed by FactSet expect GDP to come in at 3.5%, similar to the first and second estimates. 
The calendar also includes Durable Goods Orders for November at 8:30 a.m., Personal Income and Outlays for November at 10 a.m., and Consumer Sentiment for December at 10 a.m.
CarMax Inc. (KMX) - Get Report is expected to report quarterly earnings on Friday.
3. -- Nike Shares Jump as Digital Sales Soar
Nike Inc. (NKE) - Get Report  rose 8.6% in premarket trading Friday after the sports apparel maker posted fiscal second-quarter earnings that topped the expectations of Wall Street analysts.
Nike earned 52 cents a share in the quarter, up from 46 cents a year earlier. Revenue rose 10% to $9.37 billion. Digital sales soared 41%.
Analysts had expected Nike to earn 46 cents a share on sales of $9.17 billion.
"Nike's ambitious digital transformation is driving strong results and momentum in North America and in our international geographies," said CEO Mark Parker. "We're incredibly energized about 2019 - with a full innovation pipeline; the most personal, responsive retail experiences in the industry; and a supply chain that's delivering speed at scale." 
Nike said sales rose in each of its four geographic markets, with sales in North America jumping 8.5% to $3.78 billion, and sales in China rising 26.5%.
Gross margin in the quarter rose 0.8% to 43.8%, Nike said.
The company also said full-year revenue could "potentially" approach the lower double-digit percentage range, with gross margins improving by around 70 basis points, up from a prior forecast of just more than 50 basis points.
4. -- Canopy Growth to Enter U.S. Market After Farm Bill's Passage
Canopy Growth Corp. (CGC) - Get Report  was rising 4.5% in premarket trading on Friday after the cannabis company said it "will participate in the American market" after the Farm Bill was signed into law.
"Canopy Growth will participate in the American market now that there is a clear federally permissible path to the market," said CEO Bruce Linton in a statement. "Consistent with the spirit of the Farm Bill, Canopy Growth will participate in ways that support American farmers."
The company added that "thanks to a deep hemp-specific portfolio of intellectual property acquired from Colorado-based ebbu Inc. and a landmark investment of $4 billion from Constellation Brands (STZ) - Get Report , management believes it is well-positioned to enter the U.S. market quickly."
Donald Trump on Thursday signed the so-called Farm Bill -- a massive volume of agriculture legislation that includes new rules governing growing hemp, as well as billions of dollars in various forms of assistance to farmers.
5. -- Campbell Soup Names Mark Clouse as CEO
Campbell Soup Co. (CPB) - Get Report  named Mark Clouse, the former CEO of Pinnacle Foods, as the soup maker's president and CEO.
Clouse will succeed interim CEO Keith McLoughlin when he takes over Jan. 22.
A proxy fight that Campbell concluded last month with shareholder Third Point permitted the activist investor to take part in a search for a new CEO.
"Consistent with the terms of the settlement agreement between Third Point and Campbell, Third Point provided constructive input into the CEO search process and fully supports the Campbell board's decision to name Clouse president and CEO," Campbell Soup said in a press release.
***
Save 66% with our '12 Days of Holiday Deals' Sale. Join Jim Cramer's Action Alerts PLUS club for investors and get our best deal of the year. Click here for details or to sign up.