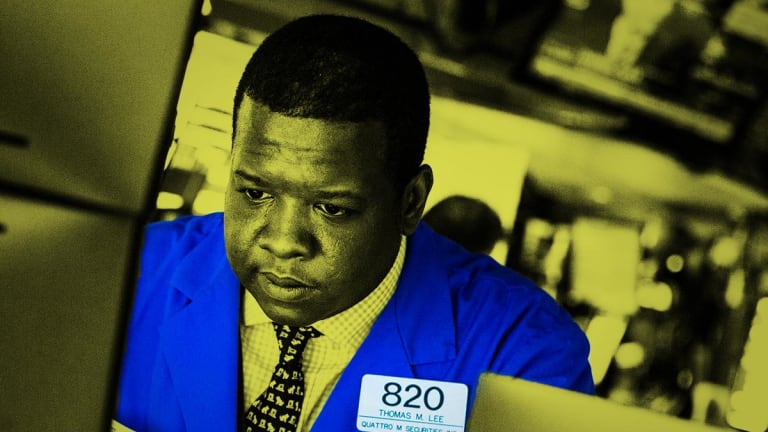 Weak China Data, Starbucks, Adobe, Apple, Facebook - 5 Things You Must Know
U.S. stock futures tumble Friday and global shares slump after economic data in China are weaker than expected; Starbucks falls after unveiling expansion plans in China; Adobe's earnings come in just shy of estimates; Apple reportedly to push software updates in China.
Here are five things you must know for Friday, Dec. 14:
1. -- Stocks Tumble as China Data Weaker Than Expected
U.S. stock futures were tumbling on Friday, Dec. 14, and global shares slumped after economic data in China, the world's second-largest economy, were weaker than expected.
Retail sales in China during November rose 8.1%, the weakest pace since 2003, and were down from 8.6% the previous month. Industrial output rose 5.4% compared with a 5.9% increase in October. Industrial output rose the least in nearly three years as domestic demand in China softened, according to Reuters.
Optimism had been rising amid signs of progress in the trade relationship between the U.S. and China, lifting investor sentiment. But the data "certainly puts a further dent in recent optimism over the outlook for China," wrote analysts at MUFG in a note Friday.
Contracts tied to the Dow Jones Industrial Average fell 196 points, futures for the S&P 500 dropped 21.75 points, and Nasdaq futures declined 66 points.
Stocks in Shanghai fell 1.53% on Friday, Hong Kong shares declined 1.62%, and Japanese stocks slid more than 2%.
U.S. stocks finished mixed on Thursday, Dec. 13, as Wall Street monitored trade developments between the U.S. and China. The Dow rose 70 points, or 0.29%, to 24,597, the S&P 500 fell 0.02%, and the Nasdaq slid 0.39%. 
The economic calendar in the U.S. on Friday includes Retail Sales for November at 8:30 a.m. ET, and Industrial Production for November at 9:15 a.m. 
2. -- Starbucks Lower After Unveiling Expansion Plans in China
Starbucks Corp. (SBUX) - Get Report  was down 3.8% in premarket trading after traders reacted to a series of comments from the coffee chain's investor day in New York that included plans for rapid growth in China.
Starbucks said Thursday it planned to expand its store footprint in the world's second-largest economy by 6,000 stores over the next four years, nearly double its current total, and will open a so-called "virtual" store that utilizes both its own app and those of online e-commerce giant Alibaba Group Holding Ltd. (BABA) - Get Report , a tie-up CEO Kevin Johnson once described as "rocket fuel" for the company's growth strategy.
Starbucks also said it would partner with Uber Eats to offer delivery service in the U.S. from around a quarter of its existing company-operated stores. In China, delivery will be offered from 2,000 stores in 30 cities by the end of the year. Starbucks began working with its Chinese delivery partner, Ele.me, three months ago.
3. -- Adobe Falls After Earnings Miss Estimates
Shares of Adobe Inc. (ADBE) - Get Report  fell 2% in premarket trading after the software company's fiscal fourth-quarter earnings missed analysts' estimates.
Adobe said adjusted earnings for the three months ended Nov. 30, were $1.87 a share, up 45% from the same period last year but just shy of the Wall Street consensus of $1.88. Sales in the quarter were $2.46 billion, up 23% from a year earlier and ahead of analysts' forecasts.
Adobe also said its sees non-GAAP earnings for its 2019 fiscal year at around $7.75 a share and revenue of $11.15 billion, which includes its acquisition of Marketo.
"Adobe achieved record revenue of greater than $9 billion and delivered outstanding earnings performance in fiscal 2018," said CEO Shantanu Narayen. "In 2018 we made significant investments across our product portfolio, entered new markets, and made strategic acquisitions which we believe will fuel continued top and bottom-line performance."
4. -- Apple Will Push Software Update in China - Report
Apple Inc. (AAPL) - Get Report , which is facing a court ban in China on some of its iPhone models over alleged infringement of Qualcomm Inc. (QCOM) - Get Report patents, told Reuters on Friday that it would push software updates to users in a bid to resolve potential issues.
Apple will carry out the software updates at the start of next week "to address any possible concern about our compliance with the order," the tech giant said in a statement sent to Reuters.
A court in China granted an injunction earlier this week that could limit the sale of iPhones into the world's biggest smartphone market. 
Qualcomm, which is locked in a series of patent disputes with Apple, said the Fuzhou Intermediate People's Court order banned the sale of iPhone 6, iPhone6 S, iPhone 7, iPhone 7-plus, and iPhone 8 and iPhone X models models in China and order four China-based Apple subsidiaries to cease infringing on Qualcomm patents.
Apple told Reuters on Friday, "Based on the iPhone models we offer today in China, we believe we are in compliance."
Apple is a holding in Jim Cramer's Action Alerts PLUS member club. Want to be alerted before Jim Cramer buys or sells AAPL? Learn more now.
5. -- Facebook Expands Its Video Platform
Facebook Inc. (FB) - Get Report  said it was expanding Facebook Watch, its platform for video content currently residing somewhere next to users' Newsfeeds, and bringing it to more screens across the globe.
In a blog post on Thursday, Facebook went into some detail about its plans for Facebook Watch, which has received little fanfare in the three months since its global launch. Facebook's head of video, Fidji Simo, wrote that more than 75 million people spent "at least one minute" and an average of 20 minutes on Watch daily, and that it draws 400 million viewers on a monthly basis.
In an effort to capture - and monetize - more viewers on Facebook Watch, Facebook laid out a strategy of continuing to invest in longer-form original content paired with improvements to ad tools, including ad breaks in video and new options for advertisers coming in 2019. Notably, it's also rolling out Facebook Watch to users of Facebook Lite, its stripped-down version of the Facebook app that's designed to work with slow or shaky internet connections common in rural parts of the globe.
Facebook is a holding in Jim Cramer's Action Alerts PLUS member club. Want to be alerted before Jim Cramer buys or sells FB? Learn more now.
***
Save 66% with our '12 Days of Holiday Deals' Sale. Join Jim Cramer's Action Alerts PLUS club for investors and get our best deal of the year. Click here for details or to sign up.