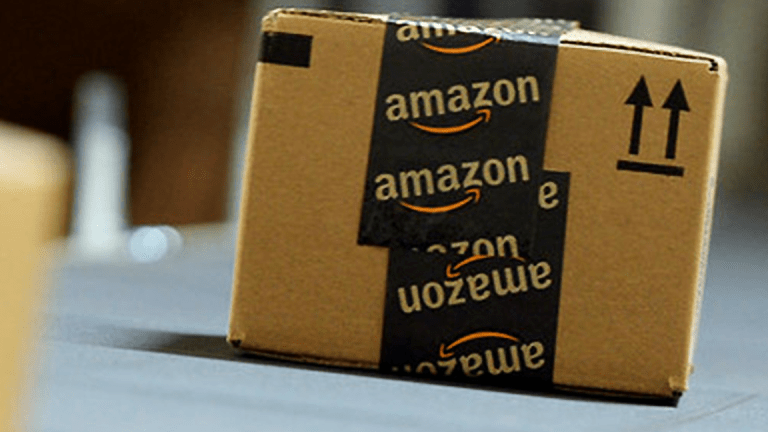 Amazon, Facebook, GDP, Intel and Exxon - 5 Things You Must Know
U.S. stock futures rise modestly on Friday ahead of data on second-quarter GDP; Amazon's profit in the second quarter tops $2 billion; Intel shares fell despite the chipmaker beating earnings forecasts.
Here are five things you must know for Friday, July 27:   
1. -- Stocks Rise Ahead of GDP Report
U.S. stock futures rose modestly on Friday, July 27, as Wall Street prepared for a report that could show the U.S. economy grew the most in four years during the second quarter.
Economists expect gross domestic product to top a 4% annualized rate in the second quarter compared with the first quarter's 2%. The Commerce Department will release its first official estimate of second-quarter GDP at 8:30 a.m. ET. Consumer sentiment for June at 10 a.m. will round out Friday's U.S. economic calendar.
Investors also were taking comfort from the easing of trade tensions between Washington and Europe and a blowout quarter from Amazon.com Inc. (AMZN) .
Contracts tied to the Dow Jones Industrial Average undefined  rose 27 points, futures for the S&P 500 undefined  were up 1.75 points and Nasdaq undefined futures gained 12.75 points.
The Nasdaq fell more than 1% on Thursday, July 26, after social media giant Facebook Inc. (FB)  dropped almost 19%, losing $120 billion in market capitalization and earning the dubious record for the worst one-day loss in market value in U.S. stock market history.
Merck & Co. (MRK)  posted second-quarter adjusted earnings of $1.06 a share, 3 cents ahead of estimates. Revenue rose to $10.47 billion from $9.93 billion, and beat forecasts of $10.28 billion.
Twitter Inc. (TWTR)   shares plunged 14% in premarket trading Friday after the social media company posted solid second-quarter earnings and a robust outlook, but noted that changes to its content rules meant fewer people were using the microblogging website.
Colgate-Palmolive Inc.'s (CL)  second-quarter adjusted earnings of 77 cents a share met analysts' forecasts. But sales of $3.87 billion came in below analysts' forecasts. The stock fell 3.5%.
Earnings are also expected Friday from AbbVie Inc. (ABBV) , Chevron Corp. (CVX) and Exxon Mobil Corp. (XOM)  .
If you'd like to receive the free "5 Things You Must Know" newsletter, please register here.
2. -- Amazon.com's Profit Tops $2 Billion
Amazon.com Inc. rose 4.3% in premarket trading on Friday after the online retailing giant posted second-quarter earnings of $2.5 billion, or $5.07 a share, the first time Amazon topped $2 billion in quarterly profit.
Analysts were looking for earnings of $2.48 a share.
Revenue in the quarter was $52.9 billion, rising from $37.96 billion a year earlier but slightly below analysts' estimates of $53.37 billion. The company said sales growth accelerated in North America, internationally and at Amazon Web Services. AWS revenue rose 49% year over year to $6.11 billion, matching the first-quarter's growth rate and topping a consensus estimate of $5.98 billion.
Amazon said it expects third-quarter operating profit in a range of $1.4 billion to $2.4 billion vs. estimates of $1.28 billion. Revenue in the third quarter is expected at $54 billion to $57.5 billion, which is below consensus of $58.1 billion.
Amazon is a holding in Jim Cramer's Action Alerts PLUS member club. Want to be alerted before Jim Cramer buys or sells the stock? Learn more now.
"Overall, we think this was another really good quarter for the company," said Cramer and the AAP team. "The revenue miss and soft guidance does raise some red flags about top-line growth, but what impressed us the most is how quickly Amazon can turn up profitability thanks to an increase sales mix towards AWS, subscriptions, and advertising."
3. -- Intel Slides Despite Earnings Beat
Intel Corp. (INTC)  fell 6.8% in premarket trading despite an earnings beat in the chipmaker's second quarter. 
Intel reported adjusted earnings of $1.04 a share on revenue of $16.96 billion, beating analysts' expectations of 96 cents a share on revenue of $16.76 billion.
According to Intel, the nearly $17 billion in sales during the period was a company record. As a result, the company raised its full-year revenue guidance by about $2 billion to $69.5 billion, and raised adjusted guidance by 30 cents a share to $4.15 a share.
Downsides: The company said data-center revenue in the quarter jumped 27% from a year earlier to $5.5 billion but was below analysts' forecasts of $5.61 billion, and said one of its key next generation chips wouldn't be released until next year.
4. -- Sales at Starbucks Rise 11%
Starbucks Corp. (SBUX)  earned 62 cents a share on an adjusted basis in its fiscal third quarter, 1 cent above Wall Street estimates. The stock fell slightly in premarket trading on Friday.
Sales at the coffee retailer rose 11% to $6.31 billion from $5.66 billion a year earlier. Analysts were looking for sales of $6.26 billion. Global comparable-store sales rose 1%, meeting estimates.
The company lowered its expectations for fiscal global same-store sales growth to just below 3%, from its previous estimate of 3% to 5%. Watch a quick analysis of the quarter below. 
5. -- Chipotle Tops Profit Forecasts
Chipotle Mexican Grill Inc. (CMG) jumped 6.1% in premarket trading on Friday after the better burrito chain reported second-quarter earnings that topped expectations.
Revenue rose 8.3% to $1.27 billion while comparable-restaurant sales in the quarter rose 3.3%.
Meanwhile, new Chipotle CEO Brian Niccol, the former Taco Bell chief who took over in March, told TheStreet his company would soon begin piloting a "late-night" menu, serving up $2 tacos and a drink after 8 p.m.
Free White Paper: 7 Things All Investors Must Know in 2018. Start the second half off right with our free white paper on seven key things to watch this year. From how much cash to have on hand to the three reasons this bull market might die, our white paper features key takeaways from an all-star panel that TheStreet and Fisher Investments recently hosted in New York. Click here to register for your free online copy.