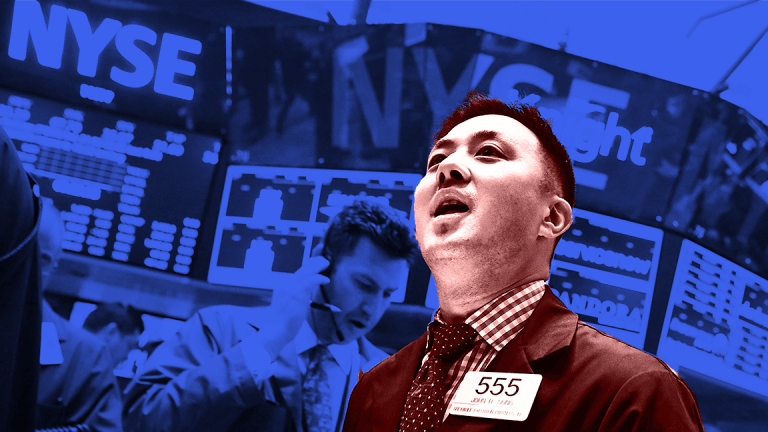 JPMorgan, AT&T-Time Warner, J&J, Apple and Blue Origin - 5 Things You Must Know
U.S. stock futures rise as earnings season gets started with reports from big U.S. banks; the Justice Department appeals the approval of the AT&T-Time Warner merger; J&J is ordered to pay $4.7 billion in a talcum powder case.
Here are five things you must know for Friday, July 13:   
1. -- Stocks Higher as Big Banks Kick Off Earnings Season
U.S. stock futures were higher and global stocks extended gains as big U.S. banks kicked off the earnings season on Friday, July 13.
JPMorgan Chase & Co. (JPM) - Get JP Morgan Chase & Co. Report  earned $2.29 a share in the second quarter, 7 cents ahead of estimates. Second-quarter profit of $8.32 billion rose 18% from a year earlier as the largest U.S. bank benefited from the Trump administration's cuts in the corporate tax rate.
The stock rose 0.3% in premarket trading.
Citigroup Inc. (C) - Get Citigroup Inc. Report  earned $1.63 a share in the second quarter, beating estimates of $1.56. Profit at the bank was $4.49 billion, up 16% from a year earlier. Shares slipped 0.5%.
Wells Fargo & Co. (WFC) - Get Wells Fargo & Company Report  posted a quarterly profit of 98 cents a share. Analysts expected $1.12. Profit was $5.19 billion, down from $5.86 billion in the quarter a year earlier. Wells Fargo fell 2.7%. 
A host of blue chip corporations will follow with earnings next week in a season that is expected to see S&P 500 profits rise by more than 20% from the same period last year.
Contracts tied to the Dow Jones Industrial Average undefined   rose 36 points, futures for the S&P 500 undefined  were up 2.50 points and Nasdaq undefined futures gained 8.25 points.
Trade jitters remained on the minds of investors, however, after Donald Trump launched an astonishing broadside to U.K. Prime Minister Theresa May late Thursday, telling Britain's most-read newspaper, The Sun, that her new Brexit strategy would "probably kill" any chance of a U.S.-British trade deal.
The economic calendar in the U.S. on Friday includes Import and Export Prices for June at 8:30 a.m. ET, and Consumer Sentiment for July at 10 a.m.
Citigroup and JPMorgan Chase are holdings in Jim Cramer's Action Alerts PLUS member club. Want to be alerted before Jim Cramer buys or sells C or JPM? Learn more now.
2. -- Justice Department Appeals Approval of AT&T-Time Warner Merger
The Justice Department said it plans to appeal a federal judge's ruling in June that gave the go-ahead to AT&T Inc.'s (T) - Get AT&T Inc. Report $85.4 billion acquisition of Time Warner Inc. 
In a one-sentence document released Thursday, July 12, the Justice Department said it was appealing U.S. District Judge Richard Leon's ruling, which rejected the government's argument that the deal was anti-competitive.
The combination of AT&T and Time Warner was quickly completed, just two days after Leon's ruling on June 12 and almost as soon as the Justice Department signaled it wouldn't seek to temporarily block the merger while it pondered an appeal.
AT&T CEO Randall Stephenson told reporters on Thursday at a conference in Sun Valley, Idaho, that the company wasn't surprised about the Justice Department's decision to appeal, Reuters reported.
"They have the right to appeal. Everyone has the right to appeal. We have a very fact-based thoughtful order. It will be evaluated on those grounds," he said.
3. -- Johnson & Johnson Ordered to Pay $4.7 Billion in Baby Powder Suit
Johnson & Johnson (JNJ) - Get Johnson & Johnson Report on Thursday was ordered by a jury in Missouri to pay $4.69 billion in damages to 22 women who claimed the company's baby powder contained asbestos that caused their ovarian cancer. 
The jury award in the case included $550 million in compensatory damages and $4.14 billion in punitive damages, according to a statement from the attorneys representing the plaintiffs.
The company faces more than 9,000 cases over body powders containing talc, according to its latest quarterly filing with the Securities and Exchange Commission. 
In a statement, Johnson & Johnson said it would appeal the verdict, "which was the product of a fundamentally unfair process that allowed plaintiffs to present a group of 22 women, most of whom had no connection to Missouri, in a single case all alleging that they developed ovarian cancer."
J&J shares fell 1.9% in premarket trading.
4. -- Apple to Invest $300 Million in China Clean Energy Fund
Apple Inc. (AAPL) - Get Apple Inc. Report said it would front a $300 million renewable energy fund, also backed by 10 of its suppliers, that will invest over four years with the aim of installing one gigawatt of renewable energy in China.
The fund will be managed by DWS Group GmbH & Co., the recently listed fund management arm of Deutsche Bank AG (DB) - Get Deutsche Bank AG Report , which will also contribute cash to the fund.
"Transitioning to clean energy can be complex. This is especially true for smaller companies that may not have access to viable clean energy sources," said Apple. "By virtue of its size and scale, the China Clean Energy Fund will give its participants the advantage of greater purchasing power and the ability to attain more attractive and diverse clean energy solutions."
Apple is a holding in Jim Cramer's Action Alerts PLUS member club. Want to be alerted before Jim Cramer buys or sells AAPL? Learn more now.
5. -- Jeff Bezos to Charge $200,000-$300,000 for Space Trips - Report
Jeff Bezos' rocket company plans to charge passengers about $200,000 to $300,000 for its first trips into space next year, two people familiar with its plans told Reuters.
Executives at Blue Origin, started by Amazon.com Inc. (AMZN) - Get Amazon.com Inc. Report founder Bezos in 2000, told a business conference last month they planned test flights with passengers on the New Shepard space vehicle soon, and to start selling tickets next year.
Blue Origin representatives didn't respond to requests for comment frm Reuters about its programs and pricing strategy. Bezos said in May ticket prices hadn't yet been decided.
Amazon is a holding in Jim Cramer's Action Alerts PLUS member club. Want to be alerted before Jim Cramer buys or sells the stock? Learn more now.
Free White Paper: 7 Things All Investors Must Know in 2018. Start the second half off right with our free white paper on seven key things to watch this year. From how much cash to have on hand to the three reasons this bull market might die, our white paper features key takeaways from an all-star panel that TheStreet and Fisher Investments recently hosted in New York. Click here to register for your free online copy.