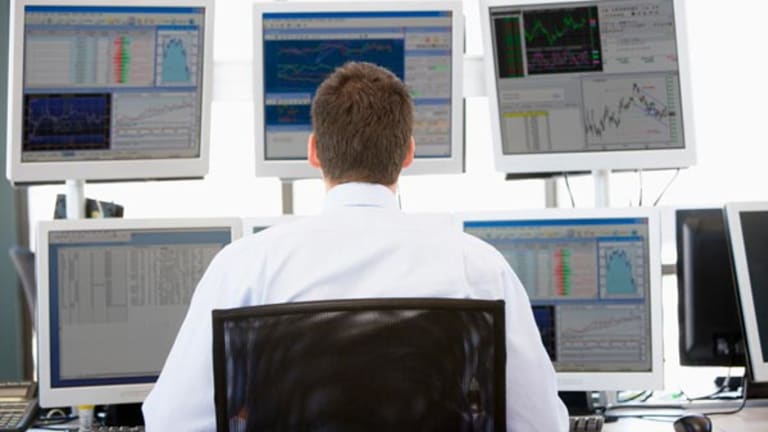 5 Stock Charts Every Investor Needs to See
How often do things like gold, bonds and the dollar factor into your stock analysis? For most retail investors, the answer is "not enough."
BALTIMORE (Stockpickr) -- As a stock investor, how often do you look at other assets? I mean, how often do things such as gold, bonds and the dollar factor into your stock analysis? For most retail investors, the answer is "not enough."
Today, we'll change that by taking an intermarket look at five charts every investor needs to see before June.
If you're wondering how gold prices might impact the value of your stock portfolio, it's a valid question. The fact of the matter is that all markets are connected. No, I'm not talking some kind of new-age spiritualism; all markets are
literally
coupled together through factors like
. It's a concept called intermarket analysis or global macro strategy on Wall Street.
>>5 Stocks to Profit From a Snapback Rally
Put simply, markets are connected because all of the money that moves them is coming from the same place. When a portfolio manager decides to move more into bonds, for instance, chances are he'll have to liquidate some of his stocks to do it. That increased supply of stocks on the market and increased demand for bonds impacts the prices of both at the same time.
You can bet that intermarket analysis is something that institutional investors keep a close eye on -- so it makes sense for you to add these trades to your toolbox too. To do that, we'll turn to the technical.
If you're new to
, here's the executive summary:
Technicals are a study of the market itself. Since the market is ultimately the only mechanism that determines a stock's price, technical analysis is a valuable tool even in the roughest of trading conditions. Technical charts are used every day by proprietary trading floors, Wall Street's biggest financial firms, and individual investors to get an edge on the market. And research shows that skilled technical traders can bank gains as much as 90% of the time.
Every week, we take an in-depth look at big names that are telling important technical stories. Here's this week's look at the technicals of
.
Market Vectors Gold Miners ETF
The first asset class we'll look at is gold, an asset that's been on fire in the last several years, as the global financial meltdown of 2008 sent investors scurrying to find some kind of safety asset. The
Fed's
decision to undertake Operation Twist back in September sapped a lot of the demand for the yellow metal, and since then, investors have been wondering if it still makes sense to be a goldbug. So, does it?
It sure does. Gold prices hit horizontal support this week after getting woefully oversold, but to me the best trading opportunity isn't in gold; it's in gold miners. Enter the
Market Vectors Gold Miners ETF
(GDX) - Get VanEck Gold Miners ETF Report
, an exchange-traded fund that tracks a portfolio of gold mining stocks.
Barrick Gold
(ABX)
and
Newmont Mining
(NEM) - Get Newmont Corporation Report
are a couple of the fund's biggest holdings.
>>6 Stocks to Play for Lower Gold Prices
GDX made a v-bottom last week, and yesterday's massive 4.5% rally in the index broke it out above short-term resistance at $44.
, a measure of momentum, broke its 3-month downtrend a couple of days earlier, signaling extra evidence for a bullish shift in price action.
I think now's a good time to buy the oversold bounce in GDX -- especially as Operation Twist winds down in June. If you decide to buy, keep a protective stop no lower than $40 support.
As of the most recently reported quarter, GDX was one of the
top holdings at David Einhorn's Greenlight Capital
and also shows up in
.
iShares Barclays 20+ Year Treasury Bond Fund
Speaking of Operation Twist, that brings us to the unfortunately-named
iShares Barclays 20+ Year Treasury Bond Fund
(TLT) - Get iShares 20+ Year Treasury Bond ETF Report
, an ETF that gives investors easy exposure to treasuries on the longer-end of the curve. TLT has been an extremely popular fund as treasury prices skyrocketed in the last few years -- and last week's breakout is bringing investors back out of the woodwork to buy more. But I wouldn't recommend joining in.
At first glance, TLT looks pretty strong from a technical standpoint: it broke out above $121.50 resistance last week, and it's got plenty of support levels nearby to reduce risk. But TLT has some structural challenges to it right now. Keep in mind that as TLT moves higher, treasury yields are moving lower -- and at this point, yields are already scraping the bottom.
Similarly, the Fed's Operation Twist buying has accounted for the vast majority of the dollar volume flowing into Treasuries in the last six months; when that demand slows next month, yields could start floating higher again.
>>5 Stocks Ready to Boost Dividends
Overbought RSI and a dying uptrend on the
are a couple of early cues for those structural factors challenging treasury prices.
PowerShares DB US Dollar Index Bullish Fund
Instead of TLT, think about the
PowerShares DB US Dollar Index Bullish Fund
(UUP) - Get Invesco DB US Dollar Index Bullish Fund Report
. The fund gives you exposure to the U.S. dollar, an asset that benefits when investors are piling into treasuries and when other currencies are getting shellacked (a la the eurozone), but it doesn't share the same structural challenges that treasuries have right now. In fact, it could rally more when the Fed stops inflating the greenback to buy t-bonds.
More important, UUP is edging into a technical breakout right now. UUP moved up to test resistance at $22.80 in yesterday's session, but failed to break above that price ceiling that was set back in January. Even though RSI is threatening a similar oversold swing to the one in TLT, a price breakout would outrank any red flags from it. A breakout means that buyers are in control of prices for UUP -- it's the buy signal for a high probability trade.
>>5 Stocks Setting Up to Break Out
Closest support at $22.40 gives traders limited risk in buying this ETF. It's the price that I'm recommend using for a
.
iShares Cohen & Steers Realty Majors
One asset class that investors shouldn't ignore right now is real estate. After all, REITs are easy to invest in, they have very low correlations with other equity investments, and they pay out dividend income.
One stellar way to get exposure to a bunch of REITs is through the
iShares Cohen & Steers Realty Majors ETF
(ICF) - Get iShares Cohen & Steers REIT ETF Report
, which has big positions in names such as
Simon Property Group
(SPG) - Get Simon Property Group, Inc. Report
and
Public Storage
(PSA) - Get Public Storage Report
.
>>6 Housing Stocks With Curbside Appeal
Right now, ICF is looking toppy. The ETF has formed the left shoulder and head of a head and shoulders top, a pattern that indicates exhaustion among buyers -- that's an outlook that makes sense giving what we saw in bonds. If TLT does fall and interest rates rise, dividend-paying REITs are going to suddenly look a whole lot less attractive. A breakdown below the neckline in ICF provides a good opportunity to short the fund -- or at least reduce your REIT exposure for the next few months.
If you decide to go short, I'd recommend putting your stop in just above the 50-day moving average.
SPDR S&P 500 ETF
That all brings us back to the index everyone's wondering about: the
S&P 500
. The S&P has been hard to read of late, thanks to a major pullback in the last month that's left many investors wondering whether it's time to run for the hills or start accumulating stocks again. The techincals tell part of the story, and the intermarket picture tells the rest.
Right now, the best way to get cheap exposure to the S&P 500 is through the
SPDR S&P 500 ETF
(SPY) - Get SPDR S&P 500 ETF Trust Report
, a $95 billion fund that owns behemoth S&P constituents such as
Apple
(AAPL) - Get Apple Inc. Report
and
Exxon Mobil
(XOM) - Get Exxon Mobil Corporation Report
.
For starters, the S&P got
, resulting in the snapback rally we're seeing this week. The fact that stocks are bouncing off of previous support in the high 1270s helps make a case that this is still just a correction, not a crash-in-progress. In the chart above, it's clear that the uptrend is only decelerating for the first time now -- from trend line 1 to trend line 2 -- that's far from being broken altogether.
On the intermarket side, a pullback in TLT would support upside in stocks: we'd want to see demand get sapped from treasuries (a flight to quality asset) as investors ramp up their risk tolerance and throw cash back into equities. And a bounce in stocks makes sense with every other asset class story we've looked at. Don't run for the hills just yet - investors are looking at a buying opportunity in SPY.
To see this week's trades in action, check out the
High Volume Technicals portfolio
on Stockpickr.
-- Written by Jonas Elmerraji in Baltimore.
RELATED LINKS:
>>5 Value Stocks Insiders Are Snapping Up
>>5 Hated Stocks You Should Love
>>5 Rocket Stocks Ready to Blast Off
Follow Stockpickr on
and become a fan on
Facebook.
At the time of publication, author had no positions in stocks mentioned.
Jonas Elmerraji is the editor and portfolio manager of the Rhino Stock Report, a free investment advisory that returned 15% in 2008. He is a contributor to numerous financial outlets, including Forbes and Investopedia, and has been featured in Investor's Business Daily, in Consumer's Digest and on MSNBC.com.