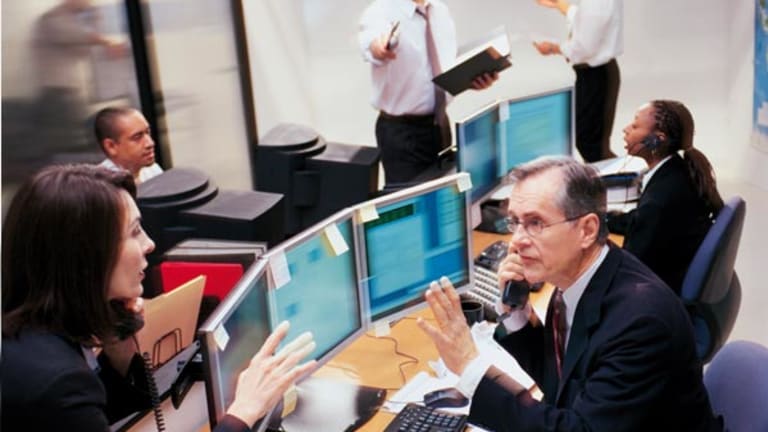 5 Rocket Stocks to Buy After Friday's Bounce
These stocks have both short-term gain catalysts and longer-term growth potential.
These stocks have both short-term gain catalysts and longer-term growth potential.
BALTIMORE (Stockpickr) -- Mr. Market bounced hard on Friday, the S&P 500 rallying 1.65% as buyers flooded back into stocks. The buying power was enough to put the S&P at a gain for the week --- but just barely.
So now that the buyers have asserted themselves, should you be a buyer here?
My answer is "yes," but with a caveat. First of all, Friday's bounce happened on no news. But there was still some major significance for the move: it coincided with the trendline support level that's been in place since the start of June. Since that near-term bottom, the S&P has climbed a very impressive 6.16%, carving out a well defined bottom in the big index. That makes the buying end of the market look pretty attractive right now.
>>5 Stocks Poised for Breakouts
Of course, I mentioned there was a caveat. This week, it's earnings season. A flood of fundamental data is slated to hit Wall Street this week, with close to a hundred S&P 500 components releasing their quarterly numbers to investors between now and Friday. That flow of data is going to have a big impact on investors' willingness to keep buying in July. So far, earnings have been skewed slightly positive; if that pace can keep up, investors should expect more upward momentum this week.
For that reason, we're turning to a new set of Rocket Stock names this week.
For the uninitiated, "Rocket Stocks" are our list of companies with short-term gain catalysts and longer-term growth potential. To find them, I run a weekly quantitative screen that seeks out stocks with a combination of analyst upgrades and positive earnings surprises to identify rising analyst expectations, a bullish signal for stocks in any market. After all, where analysts' expectations are increasing, institutional cash often follows.
>>ACTIVE STOCK TRADERS: Check out Stockpickr's special offer for Real Money, headlined by Jim Cramer, now!
In the last 159 weeks, our weekly list of five plays has outperformed the S&P 500 by 80.29%.
With that, here's a look at
.
American Express
First up this week is
American Express
(AXP) - Get Report
, a firm that's been dramatically outperforming the rest of the financial sector in 2012 as consumer spending ticks higher.
So far this year, shares of the payment card company have rallied more than 22%. Amex may not be the biggest card network in the world, but it is the most profitable, a distinction that's helped fuel many of those gains this year. And Amex looks just as strong in the second half of 2012.
American Express operates the biggest closed-loop card network in the world, issuing the vast majority of Amex-branded cards itself and cutting out the middleman in the form of third-party issuers. While that does expose Amex to credit risk, it also exposes the firm to deeper profit margins.
>>3 Bank stocks Picks for 2Q Earnings
One way American Express has skirted risk has been the success of its legacy charge card products; because charge cards are extremely short-term credit, they carry less risk than rotating balances that grew out of consumers' control when the credit crisis hit.
Another result of Amex's charge card products is that it's model is spending-driven rather than borrowing-driven. By courting higher-income consumers, the firm has created a business that grabs a higher share of dollar volume than bigger rival card networks -- and American Express earns dramatically larger fees for its trouble.
With Amex starting to shift some of its lending risks over to third-party issuers, the firm should benefit from scale growth while maintaining its pickiness over whom it extends credit to. Watch out for the firm's second quarter earnings call this week.
Boeing
Boeing
(BA) - Get Report
has been catching the headlines lately, getting attention after a series of high profile aircraft orders that stand to make the firm's hefty backlog even bigger.
Boeing is one of two major widebody commercial airliner manufacturers, as well as a key defense contractor that's responsible for projects like the Air Force's new refueling tanker planes. The commercial and defense businesses each generate around half of Boeing's total sales.
New plane designs have been a big growth-driver for Boeing. The 787 Dreamliner, delayed though it was, has been one of the most highly anticipated jet designs in years, and successful revamps in the immensely popular 737 lineup have been driving unit orders. The key to both designs has been fuel efficiency. After all, in the land of triple-digit crude prices, fuel costs have been an even bigger chunk of airlines' operating costs than ever before. By releasing planes that are materially less expensive to operate, Boeing's customers are getting material improvements in their earnings.
While the commercial lineup is looking strong, there are some big headwinds in the defense side of the business. Government spending has been unbridled for far too long, and talks of budget cuts are going to start again once Uncle Sam starts hitting his head on the debt ceiling again. Even though big-dollar long-term contracts (like the KC-46A tanker project) take some of that risk away in the near-term, BA will need to fill the gap somehow.
Monsanto
If you've eaten in the last few years, agrichemical company
Monsanto
(MON)
probably crossed your dinner table. The $45 billion firm engineers and sells genetically modified crop seeds and herbicides that are designed to increase yields and stave off threats like insects from farmers' fields. Monsanto's RoundUp brand also extends to the consumer market, where green-thumbed gardeners have used the weed killer for years.
Monsanto owns a patent on its genetically modified seeds, which gives the company license to extract fees from farmers who try replanting or buying "black market" crop seeds. In many ways, that's created an adversarial relationship between Monsanto and its customers, something that the firm will need to work on as the original RoundUp-Ready seed trait reaches patent expiration in 2015. If Monsanto wants to compete with generic agrichemical firms, it'll need to repair that relationship.
One big offset to patent expirations is the fact that Monsanto has been pouring cash into R&D continually in recent years. Because of that it should continue to churn out products that improve farmers' yields -- and start the patent countdown clock afresh.
MON has had some impressive relative strength so far this year; this week, we're betting on shares of this Rocket Stock to continue that trend.
Applied Materials
Applied Materials
(AMAT) - Get Report
, on the other hand, hasn't been showing quite as much relative strength recently. The $13 billion semiconductor manufacturing equipment maker lowered its 2012 outlook last week, sending shares down around 5% in the past five trading days -- but with disappointment priced into shares this week, now could be a good time to buy AMAT.
Applied makes the tools that microchip manufacturers use to make chips. As the industry leader, the firm's tools are used by more chipmakers than any others. That's a big advantage, especially when its fabrication tools save enough cost to justify factory upgrades. The firm's big investments in the solar business have made it a big player there too, but with one big problem: Both chipmaking and solar are cyclical businesses. That means that when it rains, it pours for AMAT.
Still, the firm is the biggest player in the industry, and it's got a deep and well established economic moat. That means that once the semiconductor waiting game is over, AMAT should be able to deliver impressive numbers once again. Shares are currently nearing support at $10. A bounce off of that level may well be in order this week.
Ulta
Beauty-care retailer
Ulta
(ULTA) - Get Report
has been absolutely on fire in 2012: Shares of the big box salon, cosmetics, and fragrance store have rallied more than 42% since the first trading day of January. Ulta operates approximately 450 stores spread out across the country, giving it a large footprint but leaving plenty of room for growth in this profitable niche.
Specialty retail names like ULTA have been performing well this year, buoyed by strong consumer sales in niche products. Ulta's unique product positioning creates a one-stop shop that's unlike most other beauty retailers -- a combination of ultra high-end products and the offerings you'd find at any mass retailer make the store a one-stop shop for consumers' beauty needs, and give Ulta the opportunity to offer a value proposition that's not easily found in the fragmented beauty industry. At present, ULTA stocks more than 20,000 individual SKUs at each store, a selection that wide widely focused stores just can't compete with.
From a financial standpoint, Ulta isn't cheap. The rally investors have enjoyed this year has created a store stock with a hefty earnings multiple that'll need to be justified by continued breakneck growth. But at this point, Ulta's unique positioning should leave ample room for expansion domestically. That's why we're betting on shares of this Rocket Stock this week.
To see all of this week's Rocket Stocks in action, check out
at Stockpickr.
-- Written by Jonas Elmerraji in Baltimore.
RELATED LINKS:
>>5 Bargain Stocks With High Free Cash Flow Yields
>>5 Biotech Stocsk Under $10 Set to Soar
>>5 Stocks With Huge Payout Ratios
Follow Stockpickr on
and become a fan on
Facebook.
At the time of publication, author had no positions in stocks mentioned.
Jonas Elmerraji is the editor and portfolio manager of the Rhino Stock Report, a free investment advisory that returned 15% in 2008. He is a contributor to numerous financial outlets, including Forbes and Investopedia, and has been featured in Investor's Business Daily, in Consumer's Digest and on MSNBC.com.