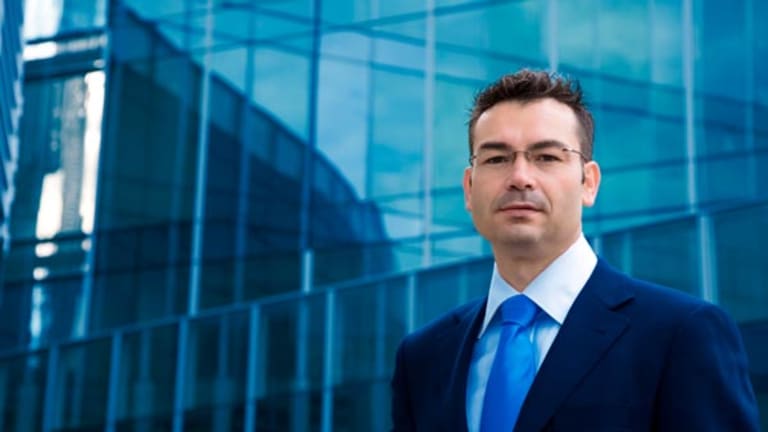 5 Rocket Stocks for the Snapback Rally
These stocks have both short-term gain catalysts and longer-term growth potential.
BALTIMORE (Stockpickr) -- Mr. Market is getting ready to bounce even harder this week -- and a new set of Rocket Stock names is primed to slingshot higher as a result.
Stocks are taking the next round of eurozone drama in stride to start the week, with EU markets looking flat this morning, while Asian markets blasting higher past the midpoint of Monday's session. It's all shaping up to extend the short snapback rally that shoved the
S&P 500
1.74% higher last week. Stocks are still looking oversold right now, and for folks holding equities, that's a very good thing.
At this stage in the game, the technical and fundamental factors are lining up to support higher prices for equities, especially if U.S. equities can keep shrugging of the black clouds over Europe. We're turning to a new set of Rocket Stocks to take full advantage of the move.
>>5 Stocks Poised for Breakouts
For the uninitiated, "Rocket Stocks" are our list of companies with short-term gain catalysts and longer-term growth potential. To find them, I run a weekly quantitative screen that seeks out stocks with a combination of analyst upgrades and positive earnings surprises to identify rising analyst expectations, a bullish signal for stocks in any market. After all, where analysts' expectations are increasing, institutional cash often follows.
In the last 152 weeks, our weekly list of five plays has outperformed the S&P 500 by 83.73%.
With that, here's a look at
.
PepsiCo
PepsiCo
(PEP) - Get PepsiCo, Inc. Report
is giving investors something to drink to this quarter. In the trailing three months, shares of the $107 billion beverage and snack giant are up 8.4% over a time where the broad market has actually shed 4%. That's significant outperformance, and it could be getting even bigger as we approach June.
Pepsi is a lot bigger than just its namesake cola brand. The firm owns beverage labels like Gatorade and Mountain Dew, as well as a massive set of snack food names that includes Lay's, Doritos and Quaker. All told, Pepsi is the biggest snack food company in the world, a status that more than makes up for PEP's No. 2 status in the carbonated beverage business. North American snack sales alone accounted for more than 40% of Pepsi's operating profits last year, thanks in large part to established scale and hefty margins. Investors shouldn't underestimate the performance that PEP can churn out in muted economic conditions.
>>5 High-Yield Stocks Ready to Boost Dividends
The firm drastically changed its business in 2010, when it acquired its North American bottlers. While that move ramped up the firm's debt load, the move is also throwing off mountains of cash savings, which PEP is using to shovel cash to shareholders (and eventually pay down that debt load).
That yield, by the way, rings in at 3.13%, making Pepsi a strong choice for income investors looking for food stock exposure.
I also featured Pepsi in "
7 Dividend Stocks You Can't Ignore Right Now
."
Target
Another name that's outperforming this year is
Target
(TGT) - Get Target Corporation Report
. Shares of the $38 billion retailer have rallied more than 12.5% so far in 2012, besting the S&P by a wide margin. Target boasts a footprint of more than 1,800 stores, the majority of which are located in the U.S.
Here's why you should be paying attention to this Rocket Stock name this week.
In an increasingly competitive retail world, Target has done a good job carving out an attractive niche for itself. By focusing on a slightly more affluent demographic than its biggest rivals, Target is able to squeeze bigger net margins out of a product mix that's heavy on private labels and exclusive designer partnerships.
In the next year investors should expect those margins to decline -- but that's actually a good thing. Target's addition of more complete grocery offerings should do a good job of driving more traffic into its stores, even if they comes at the cost of diluting margins. By making Target a one-stop shop for customers who need grocery products, Target is betting that they'll be able to drive their top line numbers higher by osmosis.
Historically, that's been a good bet for major big box retailers, so investors should keep an eye out for this stock's performance in the near- to mid-term.
I also featured Target, one of
12 Highest-Rated Consumer Stocks Picked by S&P
, in "
5 Stocks Primed to Pay Bigger Dividends
."
Motorola Solutions
Communications infrastructure firm
Motorola Solutions
(MSI) - Get Motorola Solutions, Inc. Report
has been getting a lot less attention post-split up than its former mobile phone unit thanks to a high-profile
Google
(GOOG) - Get Alphabet Inc. Class C Report
acquisition, but investors shouldn't ignore the less exciting corporate sibling right now. MSI has some major advantages that its rival firms don't.
MSI serves government and enterprise customers with hardware, software, and services to communicate better. Those offerings range from long-range two-way radios to barcode scanners, wireless LAN networking tools, and RFID chips. While that business doesn't have the consumer excitement of Motorola's spun-off mobile phone business, it's shown stair-step growth over the last few years and consistent profitability that investors should be valuing higher than they are.
>>5 Stocks to Buy Instead of Dell
Motorola's market-leading position in the radio business is especially impressive. Radios are used in scores of business and government applications, and customers who opt for MSI's products have high switching costs if they decide to go with a seemingly lower-cost replacement unit. And because a large chunk of MSI's revenues are contract-based, it benefits from long-term customers and revenue streams that are predictable well in advance of when they're recognized on the income statement.
As enterprise IT spending ramps up, MSI's infrastructure products should get an increasing piece of the action. With rising analyst sentiment this week, we're betting on shares.
As of the most recently reported quarter, Motorola Solutions was one of
.
Starwood Hotels & Resorts
The hotel business hasn't looked especially attractively lately -- but that's changing. Just look at
Starwood Hotels & Resorts
(HOT)
, a $10.6 billion firm that weighs in as the world's biggest operator of luxury hotels and resorts. Starwood's sales turned the corner in 2009, and the firm has been fundamentally firing on all cylinders ever since, even if shares have been under pressure more recently.
Starwood owns an attractive portfolio of brands that includes Sheraton, St. Regis, and W in its growing portfolio of luxury and upscale names. While Starwood operates the properties, it only owns around 5% of them. Although that sort of positioning spares the firm from the sort of balance sheet leverage that got punished the most during the recession, it also keeps most of the profits flowing to the owners rather than HOT. The firm will need to continue to ramp up its owned property list if it wants to earn the kinds of returns that will attract investors in 2012.
>>5 Stocks Your Pension Fund Loves
And so the firm has been doing just that. One of the biggest catalysts for new properties has been the roll-outs of newer hotel concepts such as Aloft, which provide a way for Starwood to add new rooms to its business without having to resort to less attractive hotel markets to do so. More exposure to international hotel demand is another way that HOT can grow its owned properties in the near-term without attempting to buy-out franchisees.
The analyst sentiment in this stock looks attractive this week.
Under Armour
If you're looking for exposure to a cheap stock, look again. Priced at 52 times earnings, shares of
Under Armour
(UA) - Get Under Armour, Inc. Class C Report
are pricey by almost any standard. But don't think that means that there isn't potential for serious upside in shares in 2012.
Under Armour is a performance sports apparel and accessory brand that's taken the industry by storm in the past decade and change. The firm has grown to take a sizable share of the market from standard bearer
Nike
(NKE) - Get NIKE, Inc. Class B Report
, and establish its interlocked "UA" logo as one of the most popular and recognizable icons in sports. That should help the firm continue to demand premium pricing (and bigger margins) from consumers.
It's impressive the UA has been able to carve out growth in the super-saturated U.S. sports apparel market, but that concentration has created a sales mix where just 10% of revenues are earned overseas. Under Armour will need to focus additional resources on marketing abroad, particularly in emerging markets where sports apparel trends tend to mirror those of the U.S. thanks to a burgeoning middle class population.
As a rising tide in stocks lifts all ships this week, this growth name should benefit better than most.
Under Armour is one of
the top holdings at Steven Cohen's SAC Capital
.
To see all of this week's Rocket Stocks in action, check out
at Stockpickr.
-- Written by Jonas Elmerraji in Baltimore.
RELATED LINKS:
>>5 Stock Charts Every Investor Needs to See
>>5 Stocks Insiders Love Right Now
>>5 Stocks to Profit From a Snapback Rally
Follow Stockpickr on
and become a fan on
Facebook.
At the time of publication, author had no positions in stocks mentioned.
Jonas Elmerraji is the editor and portfolio manager of the Rhino Stock Report, a free investment advisory that returned 15% in 2008. He is a contributor to numerous financial outlets, including Forbes and Investopedia, and has been featured in Investor's Business Daily, in Consumer's Digest and on MSNBC.com.