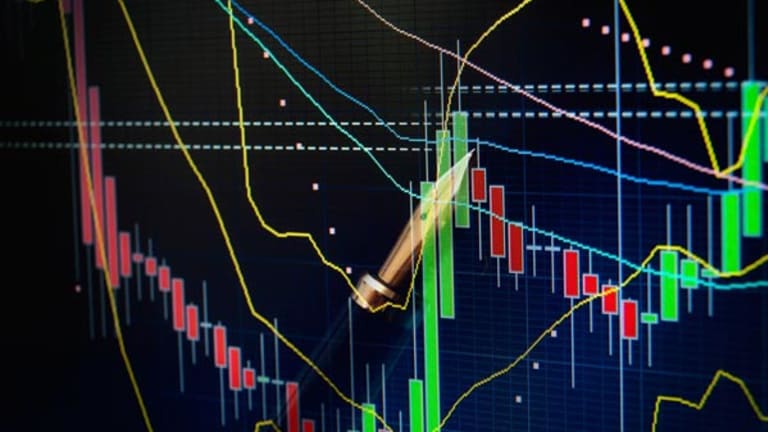 5 Big Stocks Set to Slingshot Higher
Here's a technical look at five high-volume stocks ready to move higher.
BALTIMORE (Stockpickr) -- The tug-of-war between bulls and bears continues this week, as today's European summit provides investors with new reasons to run for cover or buy with both hands, depending on how you look at it.
The two-day summit kicks off today, where it's expected EU leaders will come up with a stronger plan to unify Europe's banks, a necessary move given the capital shortfalls at Spanish banks in the past few weeks. That said, many investors expect the meeting to be a flop -- and they're using that as an excuse to be on the selling side of equity trades this week.
>>5 Big Stocks You Can Buy Dirt Cheap
So the bears are getting bigger in number right now, a sign that maybe it's not such a great idea to be bearish right now -- especially given that the
S&P 500
has been able to catch a bid and hold support at 1310 during its last two attempts. Yes, buyers may be outnumbered right now, but they're still buying in this market.
And that's exactly why we're paying attention to five big stocks that are set to slingshot higher in this market. Today, we'll take a technical look at them.
If you're new to
, here's the executive summary.
>>ACTIVE STOCK TRADERS: Check out Stockpickr's special offer for Real Money, headlined by Jim Cramer, now!
Technicals are a study of the market itself. Since the market is ultimately the only mechanism that determines a stock's price, technical analysis is a valuable tool even in the roughest of trading conditions. Technical charts are used every day by proprietary trading floors, Wall Street's biggest financial firms, and individual investors to get an edge on the market. And research shows that skilled technical traders can bank gains as much as 90% of the time.
Every week, we take an in-depth look at big names that are telling important technical stories. Here's this week's look at the technicals of
five high-volume stocks ready to move higher
.
McDonald's
First up is fast food behemoth
McDonald's
(MCD) - Get McDonald's Corporation Report
, a stock that's been getting shoved lower despite its positioning as a defensive name. Back in 2008, deteriorating economic conditions were a sales catalyst for McDonald's. In 2012, they've only helped to push shares 12% lower from the first trading day of January -- but that performance could be about to change.
Right now, McDonald's is forming a symmetrical triangle, a pattern that's formed by converging trend lines. The trading signal comes when MCD breaks through one of those trend lines, so if MCD pops above the upper trend line, traders have a buy signal. The symmetrical triangle is also sometimes called a coil because of the volatility properties it has; as the coil progresses, price action is getting constrained in a smaller range, and volatility is declining. Since volatility is cyclical, symmetrical triangles often get exited with big moves -- a good thing for traders looking for confirmation before buying.
>>8 Stocks to Help Keep the Bear Market at Bay
Typically, the symmetrical triangle is a continuation pattern. That means that the action following the pattern is usually a continuation of the price action that led up to the pattern (in this case, that has bearish connotations). But in my opinion, that's a dangerous way to get hamstrung about a trade before it even triggers.
, measured by 14-day RSI in this case, broke its downtrend last week. Since momentum is a leading indicator of price, McDonald's is favoring an upside
right now.
But I still wouldn't put a position on until the breakout actually happens.
I also featured McDonald's recently in "
4 Stocks the Pros Hate -- But You Should Love
."
Skyworks Solutions
Semiconductor firm
Skyworks Solutions
(SWKS) - Get Skyworks Solutions, Inc. Report
has been getting a lot of investor attention in the last few months, thanks in no small part to the nearly 60% rally that shareholders have enjoyed so far in 2012. Here's how to know if buyers of SWKS are in store for bigger gains:
Right now, this stock is forming a rectangle pattern, creating what I like to call an "if/then trade." Put simply, a rectangle is a pattern that's bounded by horizontal resistance above shares and support below them. Rectangles are common after big moves (like the one in SWKS this year) because they represent consolidation, a chance for traders to mentally absorb the big price moves in shares before they plan their next steps. For SWKS, the important levels to watch are resistance at $29 and support at $23.50.
>>10 New Stocks on All-Star Fund Managers' List
Put simply, if shares break out above $29, then the stock is a buy. Otherwise, if shares fall below $23.50, then SWKS is a short candidate.
has been declining as the pattern progressed, a good sign. We'll want to see higher volume when SWKS breaks out of the pattern; that indicates that buyers are participating in the breakout.
As of the most recently reported quarter, Skyworks was one of the
top holdings at Lee Ainslie's Maverick Capital
.
Roper Industries
A very similar setup is shaping up in shares of
Roper Industries
(ROP) - Get Roper Technologies, Inc. Report
right now. For this stock, the resistance level to watch is $103, and support comes in at $95. Like SWKS, the key to trading this setup is to wait for a break outside of the channel, and then take a position in the direction of that breakout.
If you cut your teeth as a value investor, it may seem unintuitive to buy when the stock's price is higher and sell when the valuation gets cheaper. But there's a very good reason for trading ROP like that; to understand it, you've got to think about what's going on with buyers and sellers.
>>5 Bargain Stocks With Tons of Cash
Essentially, that $103
exists because there's a glut of supply of shares at and above $103 -- it's a place where sellers are more eager to sell and take gains than buyers are to buy, and price stalls out there as a result. A breakout above $103 signals that buyers have completely absorbed the asks above $103 (they'd have to for ROP to print a price above that level). Without that technical barrier to prices moving higher, suddenly buying ROP above $103 becomes a high probability trade.
As a technical trader, you shouldn't care if a stock becomes more expensive as long as it keeps getting more expensive after you buy shares.
EMC
Computer storage firm
EMC
(EMC)
is having a good year, despite a selloff since the stock's highs in late March. Shares are up more than 12% year-to-date, besting the broad market by a factor of 2. Now, though, EMC could be in store for higher ground after a key reversal in shares. Here's why:
EMC made a bottom back at the start of June -- a low signaled by a bullish engulfing candle that broke the downtrend that had been driving shares lower since April. Since then, shares have been trading in an uptrend channel. While the channel in EMC is only in its early stages, it's been well defined by price action in shares (support and resistance each have been hit twice), and with EMC testing support this week, now's as good a time as any to be a buyer.
Momentum confirms the reversal in EMC right now, a nice added bit of evidence that EMC will continue to trade in the channel. If you decide to buy the bounce off of support here, risk management is key. I'd recommend placing a
just below
.
As of the most recently reported quarter, EMC was one of
. (For more on Fisher Investments' portfolio, check out "
Buy Ken Fishe'rs 5 Favorite Stocks
.")
Standard Pacific
Last up is
Standard Pacific
(SPF)
, a small-cap homebuilder that's been on a tear this year. Shares are up more than 82% in 2012, and they could be headed for triple-digits thanks to a bullish breakout in shares yesterday.
SPF had been forming a complex inverse head and shoulders pattern since the middle of May. The pattern normally indicates exhaustion among sellers, but when it's near the top of a stock's price action (as with SPF), it's a bigger signal that sellers are being completely overpowered. The breakout level for this stock was $5.50, which got taken out in yesterday's market session. That sends a buy signal out for this stock on Thursday, even if shares give back a bit in today's trading.
Lest you think that this pattern is less useful since it's so well known, think again: an academic study conducted by the
Federal Reserve Board of New York
found that the results of 10,000 computer-simulated head-and-shoulders trades resulted in "profits
that would have been both statistically and economically significant." I'd recommend placing a stop just below the 50-day
on this stock.
To see this week's trades in action, check out the
High Volume Technicals portfolio
on Stockpickr.
-- Written by Jonas Elmerraji in Baltimore.
RELATED LINKS:
>>7 Dividend Trap Stocks That Don't Pay Off
>>8 Stocks Under $10 Skyrocketing Higher
>>5 Foreign Stocks That Could Pop This Summer
Follow Stockpickr on
and become a fan on
Facebook.
At the time of publication, author had no positions in stocks mentioned.
Jonas Elmerraji is the editor and portfolio manager of the Rhino Stock Report, a free investment advisory that returned 15% in 2008. He is a contributor to numerous financial outlets, including Forbes and Investopedia, and has been featured in Investor's Business Daily, in Consumer's Digest and on MSNBC.com.