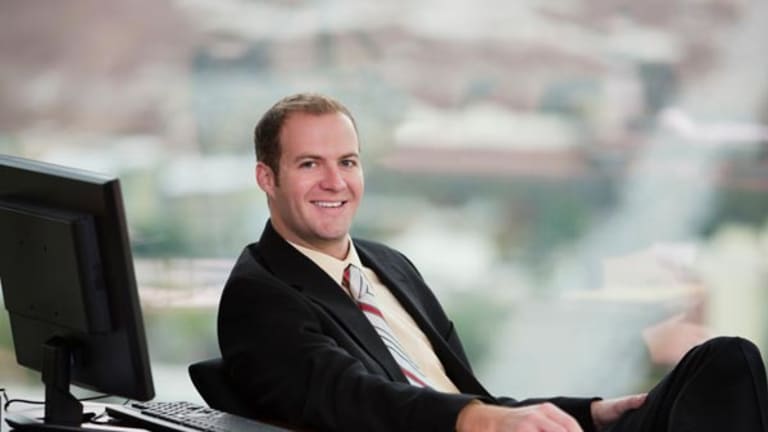 360 Degrees on Gold
Jeff Cooper, Dan Fitzpatrick, Guy Lerner and Richard Suttmeier examine the precious metal.
Jeff Cooper, Dan Fitzpatrick, Guy Lerner and Richard Suttmeier examine the precious metal.
Editor's Note: In this edition of "360 Degrees," an array of
RealMoney
commentators assess the prospects for gold and mining stocks. Does the recent selloff mean the party is over, or does the interest rate environment make it just a pothole in a rising road?
TheStreet.com
has always believed that offering a wide variety of opinions and viewpoints -- rather than a monolithic "house view" -- helps readers make better-informed investment decisions.
"360 Degrees" is a feature that takes advantage of our stable of reporters and contributors, who offer analysis of stocks and the markets from all angles -- fundamental vs. technical, short-term trader vs. long-term investor.
Click on the following link for information about a free trial to
RealMoney.com.
Gold on the Rebound, by Nick Godt
Originally published 5/25/2006 at 2:07 P.M. EDT
Gold was showing signs of life Thursday following the latest report on U.S. economic growth, an increase in crude oil prices and a weaker dollar.
The advance comes a day after the contract plunged $36.20, or 5.4%. That sharp drop during the previous session convinced many traders that the broad selloff that has hit commodities over the past two weeks is still under way.
After surging to a 26-year high of $730 earlier this month, gold had dropped nearly 13% to an intraday low of $636.80 on Monday. But then metals rallied Tuesday, fueling hopes that the commodities correction was through.
Chintan Karnani, a metals analyst at New Delhi's Insignia Consultants, believes retail investors and traders aren't buying into precious metals because "they are nervous and are using every rise in gold and silver as an opportunity to exit."
However, Peter Grandich, a gold analyst and editor of the
Grandich Letter
, says one of his sentiment indicators has just turned positive for gold after reaching its most bearish level ever two weeks ago. Grandich had
issued a special alert the day before the steep decline started in gold and commodities.
He now says the worst of the correction is likely "behind us," especially for mining shares. Grandich wrote in his newsletter that his sentiment indicator "is likely going to have to go to very bullish before we get 'the' bottom, but it suggests the correction is all but near its end,
perhaps hours, days or a few weeks away at most."
Click here to read the rest of the article.
It May Be the Fed's Call, by Guy Lerner
Over the past month, the price of gold has gone parabolic and pulled back rather sharply. Such volatility will often mark an important top and a change in trend, but I believe that the recent spike in gold will lead to consolidation over time and an eventual continuation of the uptrend.
Short-term interest rates have a big impact on the price of gold. If
Federal Reserve
monetary policy is accommodative, gold will shine; if the Fed raises rates, gold will lose its luster.
Currently, yields are at 4.75%. After 16 rate increases, some say the Federal Reserve has gone far enough and runs the risk of slowing down the economy. Others think the Fed is behind the curve and hasn't done enough to control inflation, and this is the real message behind gold's ascent to its highest level in 25 years.
The weekly chart below of gold vs. short-term interest rates sheds light on the Fed's conundrum. Short-term yields (lower panel) have risen rather persistently since the historic lows of 2003. Now they have run into a 20-year downtrend line that has served to contain higher yields in the past.
If yields remain below this trend line, the market will likely believe that the accommodative monetary policy of the past 25 years remains intact -- this is essentially inflationary and favors gold.
Note how prior downtrends in short-term rates have favored gold.
Gold and Interest Rates
If short-term rates climb to 6%, further gains in gold would be unlikely
Source: The TechnicalTake.com
If short-term interest rates were to rise above this trend line and the prior peak at 6%, it would mean the Fed is serious about attacking commodity inflation, and the price of gold should fall.
This is the Fed's conundrum. Does it raise rates and run the risk of slowing the economy? Or does it continue the policies of the past that in all likelihood will lead to continued inflation?
Wait for Congestion, by Dan Fitzpatrick
Wednesday's selloff in the gold stocks was significant, as they fell from levels that were low relative to their recent trading ranges.
Think about it. When a stock pulls back from a high, it's easily discounted as simple profit-taking. But if the pullback occurs after some profit-taking, then it's a bit more serious than that.
Take
streetTRACKS Gold Trust
(GLD) - Get Report
as an example.
The four bars within the blue circle represent what I'd call profit-taking. However, volume was heavier than average, not at all what we like to see during pullbacks. So, the stock fell lower over the next couple of days.
Monday's high-volume intraday decline beneath $65 provided a good frame of reference. If the decline was truly ending, the ETF should have held above $65. Wednesday's pullback effectively confirmed that the decline is not yet done. As I look at the chart, I see a downside limit at $57.50, where the breakout occurred in March. Note that this is not a target. Rather, it's the level at which buyers are likely to become more aggressive if the price falls that low.
With so many uncertainties and dislocations in the market now, it's tough to develop a workable thesis for gold based on the last couple of weeks of trading. I think the better approach is to simply wait for some congestion before taking much action either way.
Until the gold stocks build some sort of base, they just aren't attractive. That will take weeks, not days.
Two Values in a Range-Bound Group, by Richard Suttmeier
COMEX gold appears to have settled into a trading range between its 50-day simple moving average of $628.20 and the May 12 high of $732.00. This is quite a volatile range, which means that gold-mining stocks should be range-bound as well.
The precious-metals industry is 34.4% overvalued, but I have found two mining stocks that are undervalued and rated strong buys by ValuEngine.
Shares in the Peruvian miner
Compania de Minas Buenaventura
(BVN) - Get Report
are undervalued, at least in part, due to the antsiness of foreign investors over the outcome of the upcoming presidential runoff. Its shares are trading 28% below their fair value of $34.67.
Investors should buy weakness to my quarterly value level of $22.27 and sell strength to my monthly and semiannual risky levels of $31.35 and $32.73. This range has been in place since September.
Anglo American
(AAUK)
, which has mining operations worldwide, is trading 4.1% below its fair value of $19.58. Weakness should hold the 200-day simple moving average at $17.11; upside is to my semiannual risky level of $26.47.
Neither the Advance nor the Pullback Are Over, by Jeff Cooper
Last summer, when I wrote that I saw a major advance ahead for gold, I was anticipating a "Rule of 4 Breakout" over the triple tops at around the $450 level. A Rule of 4 Breakout is a breakout over triple tops that typically provides a strong advance.
Moreover, the lower trend line supporting gold just below that $450 breakout level at $420 represented a third higher low from the important bottom in 2001. This can be seen in the weekly gold chart below. This is important, because a third higher low sets up what I call a power surge pattern. Third higher lows many times generate fast and powerful moves, and that is exactly how things played out.
A simple technique measuring from the lower trend line of the triangle created from last July, August, September and November to the top of the last consolidation at $575 pinpointed the recent blowoff in gold to $729/$730. Let's take a look at this.
Rule of 4 Breakout

Source: Thechartstore.com
It is $155 from the low at that trend line at $420 (July 2005) to the top of the trend line prior to the recent breakout (April 2006) at $575. Adding $155 to the breakout point of $575 gives a projection to $730.
The monthly chart below shows that the return-rally test of the 1980 high from $871 moved up to approximately $700. So, that also meant that any move to around $700 would meet with critical resistance. The week before the high in gold, I said that $680 to $720 represented an important level to look for a reversal in gold. The day before the high, I stated that, with gold's move over $703, I wouldn't be surprised to see an immediate blowoff to $729. Gold gapped open $20 the next day and tagged $729/$730.
Return Rally Test

Source: Thechartstore.com
One of the reasons that I came to this conclusion was based on the power of the "Square of Nine Calculator," which I will write more about soon. Suffice to say that the Square of Nine Calculator shows that the number 703 is a corner number. Many times, corner numbers represent support or resistance. The next 90 degrees up on this calculator of squares is 729. It so happens that 729 served as opposition on May 6 -- another reason to look for gold to be magnetized right to this level in the first week of May.
Now what? I don't think that the advance in gold is over. At the same time, I don't think that the pullback is over. That is because when a parabolic arc is broken, as has occurred, and we get a weekly reversal, which has occurred, the expectation is for the ensuing reaction to tag the last breakout point. That was $575. This doesn't mean that gold has to pull back to $575, but I wouldn't be surprised to see it happen.
$677 is now important resistance. A 360-degree move down in price from $729 is $625. That would be a good level to look for a low. As it happens, 360 degrees plus 180 degrees yields a 540-degree move, which equates to $577. This proves from the math, because price moves in 90-degree increments and six squares of 90 degrees equals 540 degrees. In my study of price movement, I have found that 540-degree moves often represent culmination moves that are either blowoffs up or capitulation moves down. I believe that this is because a square, in this case, does not consist of four sides, but is, in reality, a cube consisting of six sides of 90 degrees. The 90 degrees multiplied by six yields 540 degrees. The blowoff in gold represents a 540-degree move up from $575 to $730.
If gold proves much stronger and has resistance to a pullback toward the $575 level, then the level that must be watched is $651, which represents a 270-degree pullback from the $729 high.
Jeff Cooper is the creator of the Hit and Run Methodology and the author of the best-selling books
Hit and Run Trading (The Short-Term Stock Traders' Bible)
,
Hit and Run II (Capturing Explosive Short-Term Moves in Stocks)
, as well as a video course, Jeff Cooper on Dominating the Day Trading Market. He also created the Hit and Run Nightly Reports and co-founded a trading markets Internet site.
Fitzpatrick is a freelance writer and trading consultant who trades for his own account in Encinitas, Calif. He is a former co-manager of a hedge fund and teaches seminars on technical analysis, options trading and asset-protection strategies for traders and business owners. Fitzpatrick graduated from the McGeorge School of Law and was a fellow at the Pacific Legal Foundation, a nonprofit public interest firm specializing in constitutional law. He also practiced law in the private sector before pursuing trading as a full-time career.
Guy Lerner is an anesthesiologist and freelance writer who trades for his own account. He is a member of the Market Technicians Association and is the founder of
, a Web site that offers content, commentary and strategies for investors and traders.
Richard Suttmeier is president of Global Market Consultants, Ltd., chief market strategist for Joseph Stevens & Co., a full service brokerage firm located in Lower Manhattan. At the time of publication, he had no positions in any of the securities mentioned in this column, but holdings can change at any time