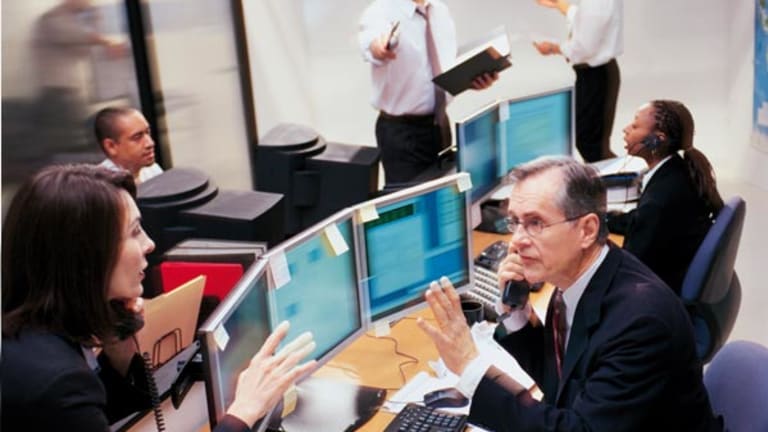 360 Degrees of Yahoo!
Michael Comeau, Jim Cramer, Alan Farley, Rev Shark and Cody Willard examine the Internet giant from all angles.
Editor's Note: In this edition of "360 Degrees,"
RealMoney
commentators evaluate
Yahoo!
(YHOO)
in the wake of its warning on third-quarter revenue Tuesday. Is it a value after being beaten down 12%, or is the company no longer worth granting Internet blue-chip status?
TheStreet.com
has always believed that offering a wide variety of opinions and viewpoints -- rather than a monolithic "house view" -- helps readers make better-informed investment decisions. In that spirit, we bring you "360 Degrees."
"360 Degrees" is a feature that takes advantage of our varied stable of contributors to
RealMoney
, who offer analysis of stocks and the markets from all angles -- fundamental vs. technical, short-term trader vs. long-term investor.
Click on the following link for information about a
free trial to
RealMoney
.
Head for Greener Pastures, by Michael Comeau
Hindsight may be 20/20, but it has been evident for a while that Yahoo!'s thunder had been stolen by
Google
(GOOG) - Get Alphabet Inc. Report
, which is growing faster and gaining market share and is basically synonymous with search.
Even after its recent decline, Yahoo! is still an extremely expensive stock at over 30 times next year's earnings, despite the fact that the company's last few quarters have been fairly unimpressive amid an Internet advertising boom. In addition, plenty of other Internet-levered names like
Akamai
(AKAM) - Get Akamai Technologies Inc. Report
have been absolutely blowing out the numbers. Now, matching analyst estimates isn't everything, but Yahoo! is a momentum stock, and it makes no sense to buy a momentum name that isn't hitting the numbers.
Yahoo! hopes that its upcoming "Panama" search technology will turn things by increasing the monetization of search queries, but the stock is already pricing in huge growth. And in any case, Google is still taking share from it in search. Market research outfit comScore reports that Google's market share rose to 44.1% in August, up from 43.7% last month and 37.3% a year earlier. Yahoo!'s share was 28.7% in August, down from 28.8% in July and 29.7% in August 2005. So while each search query Yahoo! receives may end up being more valuable, and I stress
may
because as of now Panama is vaporware, its share of the search pie is shrinking.
From a purely financial standpoint, Yahoo! doesn't look all that great. Year-over-year revenue growth has slowed in each of the last nine quarters, and it logged a sequential revenue gain in the second quarter of just 0.6% vs. a 7% gain last year. This slowing growth and increasing seasonality are obvious signs of maturity, which isn't a good match for an outsized valuation like Yahoo!'s. Additionally:
*SELF PROMOTION ON* When looking for growth stocks, I believe it is much more effective to focus on what I call "micro trends" that can drive huge financial results for a small company than big-picture trends that are required to generate meaningful growth for a company of Yahoo!'s size. For example, one of my
for the
Breakout Stocks
newsletter is a server maker focused on a very specific type of hardware in great demand by data-center operators. Another is a play on increasing demand for online video content. To me, that makes a whole lot more sense than betting on the entire sector with a company like Yahoo!, or even Google.*/SELF PROMOTION OFF*
Yahoo! will get the proverbial bounce from here as ever-bullish analysts reiterate their buy ratings on this supposed Internet-blue chip, but there are greener pastures to be found.
More to Net Than Yahoo!, by Rev Shark
This was originally published on
RealMoney
on Sept. 19 at 1:31 p.m. EDT
If you think the selling on the Yahoo! "warning" is overdone, the play isn't to buy Yahoo! but to buy the other stocks in the sector that are getting sold. Those include Google,
Aquantive
(AQNT)
,
ValueClick
(VCLK)
,
Amazon
(AMZN) - Get Amazon.com Inc. Report
,
InfoSpace
(INSP) - Get Inspire Medical Systems Inc. Report
,
24/7 Real Media
(TFSM)
,
Digitas
(DTAS)
, etc.
Yahoo! has been a laggard for quite some time, and the reason for that is now clear. Instead of buying Yahoo! in hopes that the selling is overdone, it is better to move to buy other stocks in the group that have been acting better and are being sold purely out of sympathy and fear.
Staying Pro-Nasdaq, by Jim Cramer
This was originally published on
RealMoney
on Sept. 19 at 12:28 p.m. EDT
I'm sticking by my pro-
Nasdaq
story. Yahoo!'s back to where it was when it missed. Everything says the Nazz is due for a selloff, and here it is.
I think that Yahoo! is being conservative. But it's becoming a disaster every time Yahoo! CFO Sue Decker speaks. I think the company's latest comments -- saying at a Goldman Sachs conference that its earnings will be in the lower end of the range -- are conservative.
That's because I believe that the Web is actually quite strong and that Yahoo! is doing better than it's making it out to be the case. I continue to believe that what management said was in line -- "We are going to do OK until Panama is ready." I think the selling we're seeing is a vicious overreaction to something that was predictable with Yahoo!.
On Sept. 20, Cramer added:
Here's what I think about Yahoo!: If it screws up one more quarter, Semel is out. And if it doesn't, you have a $35 stock. I like that risk/reward.
At the time of publication, Cramer was long Yahoo! and Goldman Sachs.
More Downside Likely, by Alan Farley
Yahoo's selloff Tuesday was the latest in an ongoing series of major distribution events for this stock. Notice the two prior selling waves, corresponding with the company's fourth quarter in 2005 and its second-quarter 2006 earnings releases. These wicked downturns have dropped it all the way back to its August 2004 lows. It's doubtful that it will hold current levels as we move into the October reporting season.
The weekly chart shows a broad topping pattern that could mark an eventual return to deep bear-market conditions. In any case, this stock has been a serious underperfomer in recent years. Sector investors hoping for a comeback would be better served by selling the next bounce and looking elsewhere. Akamai and Google offer much better opportunities in the Internet space and shouldn't require sitting in considerable losses for months, hoping to get bailed out.
Stumble of a Wannabe Hollywood Player, by Cody Willard
This is adapted from blog posts published on
RealMoney
on Sept. 19.
Reg FD questions aside (such as, why wasn't a press release issued aboutsomething so material?), I think this is mostly important to Yahoo! andYahoo! alone. The company is way too focused on trying to be a Hollywood player and not enough on trying to be a great content-agnostic distribution company.
Google has been taking market share -- it's the
Motorola
(MOT)
to Yahoo!'s
Samsung
, per my
prior post.
Yahoo! was crushed for about 12%, and Google and most other Net stocks were down a good bit midday, too. I bought some Google when it was crushed, adding a trading portion to my long, long-held investment in the name.
At the time of publication, the firm in which Willard is a partner was net long Google, although positions can change at any time and without notice.
Michael Comeau is a research analyst at TheStreet.com. In this role he performs stock analysis for
, and is also a regular contributor to RealMoney.com.
Jim Cramer is a director and co-founder of TheStreet.com. He contributes daily market commentary for TheStreet.com's sites and serves as an adviser to the company's CEO.
James "Rev Shark" De Porre is a self-taught trader who primarily trades for his own account from his home on Anna Maria Island, Fla. He is a member of the Michigan Bar Association and a former tax attorney and CPA.
Cody Willard is a partner in a buy-side firm and a contributor to TheStreet.com's RealMoney.
Alan Farley is a professional trader and author of
The Master Swing Trader
. Farley also runs a Web site called HardRightEdge.com, an online resource for trading education, technical analysis and short-term investment strategies.