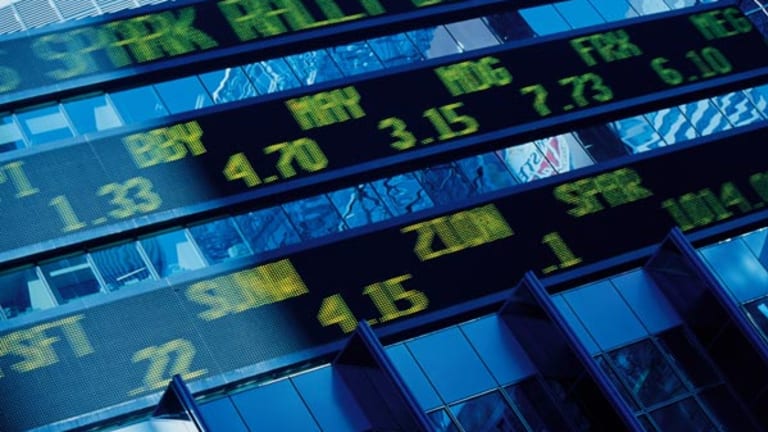 360 Degrees of XM and Sirius
Jim Cramer, Will Gabrielski and Richard Suttmeier examine the satellite radio rivals from all angles.
Editor's Note: In this edition of "360 Degrees,"
RealMoney
commentators take a look at
Sirius Satellite Radio
(SIRI) - Get Report
and
XM Satellite
( XMSR). Would they be better off merging, or are they in trouble no matter what they do?
TheStreet.com
has always believed that offering a wide variety of opinions and viewpoints -- rather than a monolithic "house view" -- helps readers make better-informed investment decisions. In that spirit, we bring you "360 Degrees."
"360 Degrees" is a feature that takes advantage of our varied stable of contributors to
RealMoney
, who offer analysis of stocks and the markets from all angles -- fundamental vs. technical, short-term trader vs. long-term investor.
Click on the following link for information about a
free trial to
RealMoney
.
It's Time to Get Sirius About XM, by Jim Cramer
This column was originally published on
RealMoney
on August 2 at 12:06 p.m. EDT.
Mel, as CEO of Sirius Satellite Radio, it's time to make your move on a merger. Right now.
Ahead of when XM Satellite gets competitive again, before the big Japanese optional-equipment deal. Ahead of when new management at XM pulls the rabbit out of the hat, which it will do. This is the moment. This is when you, Mel Karmazin, should make your bid.
Here's why. Right now, radio, terrestrial radio, is being killed. Right now, Sirius and XM pay way too much for what could not be paid for by terrestrial because those companies don't have the resources they once did. Right now, Sirius and XM give away upfront business to the automakers in order to please Wall Street.
All of that goes away after a merger. No one merged terrestrial radio companies like Mel Karmazin. Now he has a chance to revolutionize cable radio, raise price, take in uptake, go retail.
Why is this so necessary? Because Sirius reported a
darned good quarter, and it didn't matter. Not one whit. Too much competition.
If the two companies get bigger, some uninformed Justice Department Antitrust guy will say "they have too much of the satellite business." Right now they would still be able to say they are just a small part of the regular radio biz. Can you imagine one company with Major League Baseball, Nascar, NFL, Howard Stern and lots of TV deals, for which the TV companies gave away their stuff for multiple years?
What a winner. Sirius would double overnight.
But not if Mel tries to do it himself. What an opportunity. Almost no CEO has such an opportunity.
Take it, Mel. Take it. Bump the other Mel -- Mel Gibson -- off the front pages and be a winner.
At the time of publication, Cramer had no positions in stocks mentioned.
A Sirius Deal for XM Would Be No Bargain, by William Gabrielski
This column was originally published on
RealMoney
on August 4 at 1:32 p.m. EDT.
I don't believe any of Jim Cramer's reasons justify an acquisition of XM by Sirius, nor do I believe such an acquisition would create much shareholder value for Sirius.
Cramer's points include the following:
XM is not competitive right now.
There is a big Japanese deal coming for XM.
Terrestrial radio is getting killed.
The combined company wouldn't have to give away upfront business to automakers.
Combined, they'd have pricing power.
Sirius had a good quarter.
Sirius would double overnight.
A move by Karmazin would bump the other Mel (Gibson) off the front page.
Contrary to Cramer, I believe XM is competitive right now from a business standpoint. XM has 7 million subscribers vs. 4.7 million for Sirius. Both companies have deals with large auto manufacturers, and both are selling similar hardware through big-box retailers such as
Best Buy
(BBY) - Get Report
and
Circuit City
(CC) - Get Report
. Just Wednesday, XM signed a deal with
Google
(GOOG) - Get Report
to leverage Google's strong advertising customer base through its satellite distribution channel.
In the most recent quarter, Sirius added 600,460 subscribers, while XM added 398,012 off a much larger installed subscriber base. I call this a pretty balanced race at present, with XM still holding a sizable lead in total subscribers. But that lead should narrow and is likely to move toward consistent parity as Sirius catches up after entering the market nearly one year after XM.
I am not sure what Japanese deal Cramer is referring to. A quick look at XM's most recently filed 10-Q indicates that XM is already installed in vehicles made by
General Motors
(GM) - Get Report
,
Toyota
(TM) - Get Report
, Hyundai, Nissan, Porsche, Honda, Suzuki and Isuzu.
In other words, I am not sure that a market-moving Japanese deal that will alter the competitive landscape is lurking out there. I would love to hear otherwise and will certainly post about it if there is one.
As for terrestrial radio getting killed, this is not new news. Most radio stocks have been in steady decline since 2004, as advertising dollars are shifting from traditional media outlets to the Internet. In fact, I believe the shift of 11.7 million people from terrestrial radio to satellite radio (with many people still using both) has had little impact on the amount of total advertising dollars being spent over the airwaves.
The real culprits here are Google and
Yahoo!
(YHOO)
, which command premium ad rates now that broadband access is available to, and affordable for, the masses.
With respect to Cramer's arguments that the combined company would be a powerhouse with more leverage, I believe the two companies eventually will have to combine, but not for growth. In other words, both companies continue to lose money on every subscriber they add, and the remedy for this is lower costs or higher prices. The costs can come down with combined advertising, content-related synergies and reduced subsidies through a deal, which would be a boon to liquidity, but not necessarily valuation.
Wall Street probably wouldn't give a combined entity a much higher valuation if costs come down. From a business standpoint, this makes a lot of sense, but on a free cash-flow basis, the combined company still would run deficits for more than a year. That's too long for what many still think of as a growth stock.
I would also expect to see pressure on margin during that first year, rather than savings from scale, regardless of subscriber growth. The marginal subscriber will have higher incremental costs than previous subscribers, and as prices come down, a squeeze will happen. That's how I see free cash-flow forecasts and integration costs weighing on results during a crucial period, and it still adds up to a busted business model for the combined entity.
There are several impediments to pricing power at this point for satellite. For instance,
Apple
(AAPL) - Get Report
recently announced plans to integrate iPod adapters in
Ford
(F) - Get Report
and GM cars in 2007. I have read estimates that up to 70% of cars that roll off of the assembly line next year will have this $160 add-on feature, the cost of which is comparable to satellite radio -- but with consumers holding greater control over playlists. While satellite and iPod integration are not mutually exclusive, I would expect additional price elasticity to come into play here and pressure the satellite providers.
I don't believe Sirius had as good a quarter as Cramer suggests. For starters, the stock is down about 2.5% since the report, which indicates investors were not overly excited by the numbers, despite shares having already declined 40% this year. Continued weakness in the broader auto industry has weighed on factory installations in general, and subscriber-acquisition costs moved above $130 in the second quarter vs. $113 in the first.
Also, the Howard Stern-driven surge in subscribers is showing signs of coming to an end; Sirius showed a sequential decline in net subscriber additions in the second quarter vs. a sequential increase in subscriber additions in the same period last year.
Finally, Mel Karmazin has made it no secret that Sirius is entertaining the idea of acquiring XM. He recently told investors that Sirius "would love to buy XM."
But would Sirius "double overnight," as Cramer suggests?
Doubtful. Once you get beyond the scale benefits for integrating sales forces and hardware manufacturing, there is very little that makes this deal compelling, except that it likely will prevent the two companies from burning through billions more in cash. But that, in itself, is not a sound reason to speculate on a takeover being a boon for shareholders.
Even so, I wouldn't be surprised to see a deal happen.
Editor's note: You can find Will Gabrielski's past commentary on Sirius here and here
.
Satellite Stocks' Bean-Counting War, by Richard Suttmeier
This column was originally published on
RealMoney
on August 7 at 8:07 a.m. EDT.
Sirius Satellite Radio may be winning the subscription-growth battle against XM Satellite Radio, but both may be losing the war.
There are several factors at work that may threaten their current dominance on listeners' dashboard real estate. First, both XM and Sirius had to stop manufacturing some radio models that did not comply with federal emissions and frequency rules.
Second, the iPod from Apple Computer will be integrated into 70% of new 2007 vehicle models made by three large automakers.
Finally, terrestrial radio eventually will be going high-definition, and that will give
Clear Channel
(CCU) - Get Report
and
Cox Radio
( CXR) four signals for each frequency they control. The availability of HDR (high-definition radio) may be limited now, but over the next 10 years should revolutionize both AM and FM radio, just as high-definition TV is doing today.
The overall bean-counting favors the iPod and terrestrial radio over the long run. Apple shipped 8.1 million iPods last quarter, vs. fewer then a million new subscriptions for satellite radio. Since late 2001, Apple has sold 60 million iPods, and some forecasters are looking for this number to double by 2010. Meanwhile, terrestrial radio will have four times the choices, thanks to the compression of data available through digital technology.
One of the points I made in my May 2 column, "
Sirius Fights for Dashboard Real Estate," was that many drivers seeking entertainment already had an Apple iPod in their pocket and were able to connect them to their car radios. Next year, drivers will be able to plug their iPods directly into car audio systems available in 70% of the 2007 vehicle models made by GM, Ford and
Mazda
and sold in the U.S. In my judgment, this means that a car buyer will be less likely to sign up for a satellite radio subscription.
On May 2, I also indicated that terrestrial radio stations owned by Clear Channel and Cox Radio were already on the landscape of car dashboards, and since May 2, these shares have outperformed those of Sirius and XM. This is a warning that radio listeners may be waiting for the high-definition format.
The HDR signal will require new equipment to receive broadcasts, and more automakers may integrate this equipment into new cars rather than satellite units.
Thanks to the compression of data available through digital technology, stations using HD Radio can send up to four different signals over the same frequency it already uses. Some of this content will likely be available free of advertising.
The bottom line is that time may be running out for satellite radio to become the standard, but the unique content should keep the format around at least as a fringe product.
To be sure, I love listening to my Sirius radio in my car and in the home, but if I was still an avid recorder of my own music, as I was between 1967 and 1997, I would probably be using an iPod, and patiently waiting for HDR from which to make better recordings. Between 1997 and 2004 when I bought my first Sirius radio, I listened to CDs in the car.
Apple Computer traded as low as $50.16 on July 14; following the levels outlined in the May 2 article, this would have allowed for the opportunity to increase positions around my annual value level at $51.86. At that time, the stock was more than 20% undervalued and oversold, making a buy at $51.86 worth the risk at a 52-week low. The stock is back above its 200-day simple moving average (SMA) at $65.93, with quarterly and monthly risky levels at $73.55 and $76.15, where investors should consider booking profits. Last Friday, Apple shares got pealed by another round of issues concerning the backdating of options, this time back to September 2002. Apple stabilized and closed above its 200-day SMA.
Clear Channel has traded between $28.59 and $31.64 since May 2 and is right back to where it started; this is a better performance than those of its satellite competitors. The company reports its quarterly results before the bell Tuesday; EPS is expected to be 41 cents.
Clear Channel reported an EPS of 39 cents on Tuesday.
Cox Radio popped a quick 30% to $16.58 within days of my May 2 column. It subsequently dropped back to $13.34 on June 13, and closed Friday at $14.97, up 18%, while Sirius' stock was down 14.7% and XM's was down 35.7%.
Sirius Satellite Radio reported 4.678 million subscribers at the end of the second quarter, up 158% year over year. It projects 6.3 million subs at the end of 2006. Sirius is still rated a sell and should continue to trade between its 200-week SMA at $3.79 and my semiannual pivot at $4.87.
My monthly pivot at $4.34 provided blocking action on the positive reaction to the second-quarter earnings report on July 31. The May 24 low was the last test of the 200-week SMA when it was at $3.65. At $3.79, Sirius would be 17.6% undervalued, so I would not be an aggressive buyer. Sirius has been rated a sell according to ValuEngine since Dec. 8 when it was trading around $7.50. On Dec. 8, I wrote a controversial column, "
Time to Sell Sirius."
XM Satellite Radio traded below $10 after its earnings report on July 27 but snapped back after a low of $9.63 on the power of a monthly pivot at $10.62.
Jim Cramer is a director and co-founder of TheStreet.com. He contributes daily market commentary for TheStreet.com's sites and serves as an adviser to the company's CEO.
William Gabrielski is a research analyst at TheStreet.com.
Richard Suttmeier is president of Global Market Consultants, Ltd., chief market strategist for Joseph Stevens & Co., a full service brokerage firm located in Lower Manhattan.