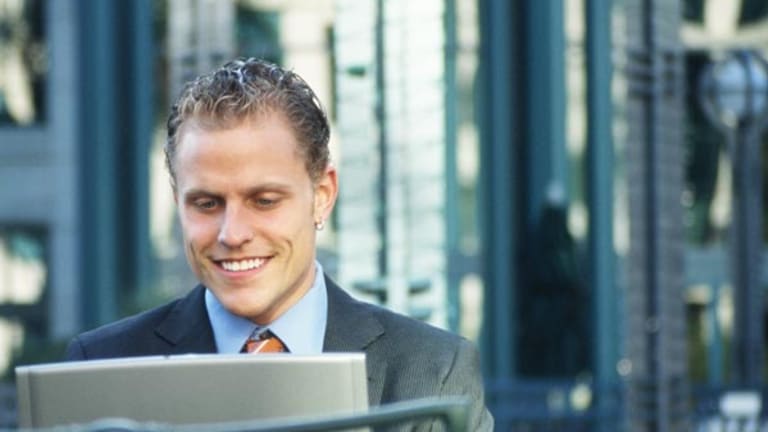 360 Degrees of the Elections
Jim Cramer, Chris Edmonds and Rev Shark examine the implications for the market.
Editor's Note: In this edition of "360 Degrees,"
RealMoney
commentators evaluate the impact that the tipping of power toward the Democrats in Washington will have on pharmaceuticals, defense stocks, energy and trade policy, and tobacco.
TheStreet.com
has always believed that offering a wide variety of opinions and viewpoints -- rather than a monolithic "house view" -- helps readers make better-informed investment decisions. In that spirit, we bring you "360 Degrees."
"360 Degrees" is a feature that takes advantage of our varied stable of contributors to
RealMoney
, who offer analysis of stocks and the markets from all angles -- fundamental vs. technical, short-term trader vs. long-term investor.
Click on the following link for information about a
free trial to
RealMoney
.
Washington Won't Be Ignored Anymore, by Jim Cramer
This is adapted from columns published on
RealMoney
on Nov. 8.
We like to jest on "Mad Money" that we have a government by and for the corporation. That means you can count on this government to side with business and with shareholders against any other interest. Only the judiciary sometimes slips up and gives the nod to the consumers.
Now that's going to change.
I know gridlock means a good situation for the government, but this is a P/E-lowering event for certain because the Democrats have historically sided with the consumer, not the shareholder, and that will only be exacerbated by the wilderness perspective that the Democrats bring to the table. They have sat back while the Republicans have voted to give corporations and rich shareholders every single break imaginable, and that's done.
So, why not sell everything? Because the ability of the Democrats to do anything but make corporations and their shareholders look and feel bad is in question.
You have been able to ignore Washington for years, save for
Fannie Mae
( FNM) or if you run a hedge fund. Starting today, you can't. It's now a risk factor. We don't like risk factors. But we have a new one. And it's not going to go away any time soon.
Big Pharma Loses
The big loser on this election was big pharma because big pharma's had such a run with the Bush administration. Just look at Medicare Part D, which was written by the drug companies and the health care cost-containment companies.
Within the next month, the Democrats will attempt to make it so the drug companies make less money. The Dems will demand that the government actually use its bargaining power to buy drugs. Given that the government is now by far the largest buyer, the drug companies will have to lobby like hell to stop this. They may not be able to, in part because they are not in enough states and don't "own" enough Democrats.
Also, the health care cost-containment companies and hospitals have made fortunes in the last few years off the government. They still will because the agencies have so much power here and they are bought and paid for by big health care.
More scrutiny ahead. That's a price-to-earnings ratio-lowering event, but probably no more than that.
The Road Clears for Fannie Mae
This war against Fannie Mae is over. The Democrats have been helpless to protect this company ever since the GOP took over Congress. Fannie historically has given money to both parties, but everyone in Washington knows it leans left.
Worse, Fannie Mae hurts the profit margins of the public originators of mortgages -- for example,
Citigroup
(C) - Get Citigroup Inc. Report
and
Wells Fargo
(WFC) - Get Wells Fargo & Company Report
-- and we know that's bad for shareholders.
I suspect this stock could really soar here and believe it's just a matter of time before Fannie gets back into its anointed place as a favored company with big earnings.
Domestic Security Stocks Win
Domestic security's a winner today. Has to be. The Democrats love to spend, just like the Republicans, but they like to spend it on homeland security to demonstrate domestic toughness. Bomb detection --
Thermo Electron
(TMO) - Get Thermo Fisher Scientific Inc. Report
,
American Science and Engineering
(ASEI)
-- and inspection --
L-3 Communications
(LLL) - Get L3 Technologies Inc Report
and
FLIR Systems
(FLIR) - Get FLIR Systems, Inc. Report
-- are the best ways to play it.
I would not outthink this theory. You need to have lots of hearings, lots of meetings, lots of changes before you get this spending boost.
That said, it's a great theme, money out of big defense into small defense. And it's a theme that most likely will produce good for everybody; in the end, we'll just layer on domestic security because the Republicans will fight like hell to back their own companies:
Northrup
(NOC) - Get Northrop Grumman Corporation Report
,
General Dynamics
(GD) - Get General Dynamics Corporation (GD) Report
and
Lockheed
(LMT) - Get Lockheed Martin Corporation (LMT) Report
.
Short-term, bad for them. Longer-term, no big deal.
At the time of publication, Cramer had no positions in any of the stocks mentioned.
Big Tobacco Wins, by Charles Norton
This was originally published in
RealMoney
's Columnist Conversation on Nov. 8 at 9:05 a.m. EDT.
The tobacco industry had a significant win this election. I know that's counterintuitive with the Dems winning the House and possibly the Senate, but Proposition 86 in California was a bigger potential threat for the industry than congressional control.
Prop 86 would have increased California's state excise tax about fourfold, and because California is so big (about 6% or so of U.S. volume), on a national basis the average state excise tax would have increased by about 20%. Throw in the already passed Texas increase and we're talking about a total increase, on a national average basis, of closer to 27%.
Of course, state excise taxes are pretty much a fact of life for the tobacco industry, and they've been growing at a 9% clip annually. But a surge in 2007 of 27% -- three times the long-term average growth rate -- would have had a significantly negative impact on consumption trends. Even worse, if Prop 86 had passed, other states would have likely tried to jump on that bandwagon and push through increases of their own.
But as is stands, the rejection of Prop 86 is a huge victory, especially in light of the overall anti-smoking nature of California. Now, re-energized, the industry can band together again to ward off future proposals for state excise tax increases.
The approval of state excise taxes in Arizona and South Dakota are not material on a national basis, and the initiative to increase taxes in Missouri was rejected.
The shift in power in Congress, despite what you hear, is unlikely to have a material impact on tobacco. Drugmakers and energy companies are clearly in the crosshairs, while tobacco seems to have little political interest at the moment.
Smoking-ban initiatives were passed in Ohio, Nevada and Arizona. While clearly not the way tobacco companies would write the script, smoking bans just don't have the same influence on consumption that higher retail prices do.
So, while not perfect by any means, the rejection of Prop 86 alone means that overall, the election results were favorable for Big Tobacco.
Wall Street's Take on Capitol Hill, by Christopher Edmonds
This was originally published on
RealMoney
on Nov. 8 at 10:17 a.m. EDT.
A Democrat-controlled Congress will propose many policy changes as it works to act on an agenda that has been dormant for nearly a decade. However, three broad policy areas are likely to receive the most attention: energy, pharmaceuticals and trade.
Energy Effects
In energy, major policy changes shouldn't be expected, as any punitive actions would be shunned by the White House.
However, the Democrats will successfully use the Congressional bully pulpit to spur policy discussions, especially in the areas of alternative-energy research and development.
That's actually an area where the GOP should agree, and meaningful policy advancement could indeed happen. Tax incentives and other policies that encourage the development of fuel-cell technology, renewable energy sources and other advances in fledgling technology are possible in a split Congress.
Some may cite the failure of California's Proposition 87 as an indication that Americans have little interest in the development of alternative-energy. That would be an incorrect interpretation of that referendum's defeat.
Rather, California voters rejected Proposition 87 due to the unnecessary and potentially onerous government bureaucracy it would create to manage research and development better left to the private sector.
Alternative-energy incentives may be an early focus of the House Energy and Commerce Committee, which is likely to be chaired by Michigan Democrat John Dingell, a longtime proponent of alternative-energy research.
All the major oil companies -- from
Exxon Mobil
(XOM) - Get Exxon Mobil Corporation Report
to
ConocoPhillips
(COP) - Get ConocoPhillips Report
-- will likely get more attention from Congress, especially the House, as California Democrat Henry Waxman heads up the House Committee on Government Reform.
While talk of a windfall-profits tax will swirl around Washington, action isn't certain. Even if Congress were successful in enacting a new tax on big oil, the veto pen would squelch those hopes. In addition, Dingell's Energy Committee may also choose to drag big-oil executives in for a chat over high oil prices and what some call "excessive" profits.
One other company targeted by Waxman's oversight committee will be
Halliburton
(HAL) - Get Halliburton Company (HAL) Report
because of its sole-source contracts in Iraq and its connection to Vice President Dick Cheney, the company's former chief executive. Halliburton could again appear in the news more often than current management would like.
Big Pharma
Waxman and Dingell will also be intimately involved in new policy surrounding the pharmaceutical industry. Waxman could use his broad committee-chair powers to investigate the pricing practices of drug companies and the government's role in approving new drugs. Again, this could be mostly rhetoric.
Dingell's role will be more important, as his Energy and Commerce Committee could reshape a government-sponsored prescription-drug policy that may be co-funded by big pharmaceutical companies.
The policy development is complex and far too uncertain to predict, but companies like
Merck
(MRK) - Get Merck & Co., Inc. (MRK) Report
and
Pfizer
(PFE) - Get Pfizer Inc. Report
will certainly be at the center of discussions.
International Trade
The final major component of the Democratic policy triad will be international trade. Here, Democrats will work to protect U.S. businesses from foreign competition.
How that will happen isn't clear, but most pundits argue that incremental policy steps, a review of the president's ability to enter unilaterally into trade agreements and other tariff reviews are likely.
The biggest potential casualty in the trade arena is the chance that the U.S. could revive the Doha world trade talks and the continued pursuit of more open global markets.
For example, the Democrats probably won't allow additional reductions in farm subsidies and more open agricultural markets. Good or bad, the tenor of the U.S. approach toward international trade policy should change meaningfully with a change of Congressional control.
Other Policy Impacts
One other possible focal point is defense. While the Democrats will take big swings at the Bush administration's policy in Iraq, changes in defense spending should only be incremental. Leaving Iraq isn't as simple as packing up and driving away.
Moreover, the Democrats know that if they have a chance to regain control of the White House in 2008, they must walk a fine line between being critical of Iraq and supporting a robust defense of our country, especially when it comes to protecting the U.S. from another domestic terror event.
Beyond defense, most other issues -- including financial market and hedge fund oversight, which have become causes of Rep. Barney Frank (D-Mass.), who is in line to chair the House Financial Services Committee -- should take more than two years to develop. Democracy can move very slowly.
The one exception may be minimum-wage legislation. The first legislation out of the new Congress in 2007 might well be an increase in the federal minimum wage, which President Bush will be hard-pressed to veto.
While Bush will still have veto power, a Democrat-controlled Senate gives one party control of budget-reconciliation legislation.
Reconciliation bills are not subject to the filibuster and cloture rules of the Senate, which would give the Democrats a vehicle to attempt to push more partisan policy issues to the president's desk.
Reality Check
Post-election predictions are usually long on hype and short on reality. That said, the electorate has spoken, and Iraq has clearly propelled the citizenry to force a change in congressional control.
However, exit polls showed that voters were largely pleased with the direction of the economy, a statistic the Democrats will likely take to heart.
As a result, this Congress could prove to be much more moderate or conservative on fiscal and monetary policy than many pundits expect. And, with the check of a conservative executive branch, the likelihood of major changes in tax and investment policy is small.
Market Reaction: Possibly a Ho-Hum, by Rev Shark
This is adapted from blog posts published on
RealMoney
on Nov. 8.
"While the Republicans are smart enough to make money, the Democrats are smart enough to get into office every two or three times a century to take it away from them."
-- Will Rogers
The election results came in even better for the Democrats than many expected and that seems to be producing a negative market reaction this morning. Although the Democrats have seized control of the House and maybe even the Senate, it is still a narrow enough margin that coupled with the President's veto power it is unlikely any significant legislation can be passed.
On the other hand, certain tax cuts will expire if no action is taken, and that expiration now seems much more likely. In addition, there is likely to be much more noise about other market-unfriendly issues such as windfall profit taxes on oil, price controls on drugs, and more government oversight in a variety of areas.
The election is probably more a psychological factor than a practical one. Politicians always talk about what they hope to do, but actually doing it is a different story. The market knows that and therefore doesn't place too much stock in fears that certain industries will be hurt by Washington. Oils, for example, sure aren't acting like they fear new laws.
Jim Cramer is a director and co-founder of TheStreet.com. He contributes daily market commentary for TheStreet.com's sites and serves as an adviser to the company's CEO.
Christopher S. Edmonds is a partner and managing director of research at Pritchard Capital Partners, a New Orleans energy investment firm. He is based in Atlanta.
Charles L. Norton, CFA, is a principal of GNI Capital, Inc., an SEC-registered investment advisor that provides investment management expertise for separately-managed equity, fixed income and ETF portfolios and a hedge fund, and is co-portfolio manager of the Vice Fund (VICEX) and the Generation Wave Growth Fund (GWGFX). In addition, Norton authors a twice-monthly newsletter, Supernova Stocks, which focuses on investments in market-leading stocks with unique and extraordinary growth potential.