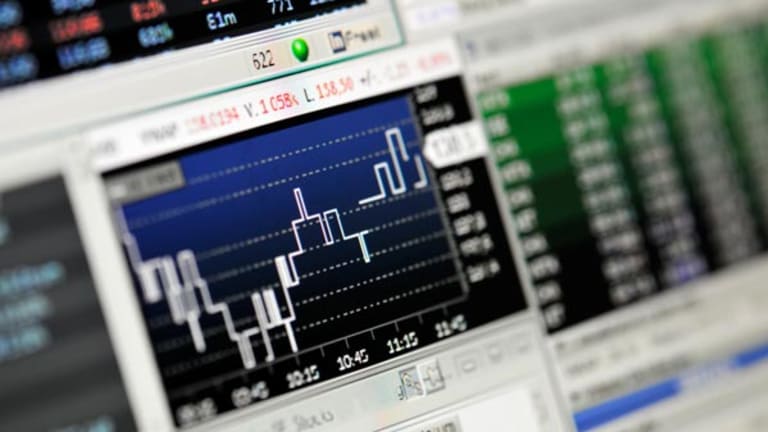 360 Degrees of Motorola's Q
Cody Willard, Will Gabrielski and Tero Kuittinen weigh in on whether the new smartphone makes the stock a smart play.
Editor's note: In this edition of "360 Degrees,"
RealMoney
commentators take a look at
Motorola
(MOT)
and its eagerly anticipated new Q smartphone. Will it be a hit that boosts the stock, or will it fail to live up to the hype?
TheStreet.com
has always believed that offering a wide variety of opinions and viewpoints -- rather than a monolithic "house view" -- helps readers make better-informed investment decisions. In that spirit, we bring you "360 Degrees."
"360 Degrees" is a feature that takes advantage of our varied stable of contributors to
RealMoney,
who offer analysis of stocks and the markets from all angles -- fundamental vs. technical, short-term trader vs. long-term investor.
Click on the following link for information about a
free trial to
RealMoney
.
Let There Be Q Indeed, by Cody Willard
This column was originally published on
RealMoney
on June 21 at 2:36 p.m. EDT.
"Q might have done the right thing for the wrong reason, perhaps we needa good kick in our complacency to get us ready for what's ahead"
--Captain Picard, to Guinan (Q Who?)
Last week I mentioned in the comments section below that I had boughtMotorola's Q, and I've received dozens of inquiries asking for a review. I knew there was some good buzz around the phone when I saw it positively mentioned in a teen trend newsletter that I was reading on the phone itself in a cab this morning.
Well, long story short, I've been playing with my new Q for about a week, and I rate it three-and-a-half rock stars out of four. (I rate things in terms of rock stars, not just any kind of star, because you want to buy a stock before a gadget becomes its own rock star, such as
Apple's
(AAPL) - Get Apple Inc. Report
iPod.)
The Q is the first Windows PocketPC-based phone without a touch screen, and I for one am thankful to Moto for replacing it with a one-hand controllable roll wheel. I've owned and loved four different Treos over the years, but I don't think I've ever been able to keep the stylus, no matter how many replacements I buy, for more than a few days at a time. So I always learn to use it stylus-free anyway. It's good thinking to design that way ahead of time, and it helps that the roll wheel is intuitive and would be familiar to any BlackBerry user.
The keyboard on the Q is wide, and though I hesitate to gush, it is simply the easiest to type on of any keyboard I've used. Oh, and it's the first device that I've felt like types as well a week into it as it did the first day I tried it. (I've already dropped the unit onto the sidewalk and street several times.)
The screen is easy to read and bright.
The camera takes pictures that aren't completely horrible, and that means it's about three times better than most camera phones. It even comes with a silly flash, but I think it's really better for reading or looking for the right key in the dark than it is for capturing that Kodak moment. (Does that term exist anymore, or did it go they way of
?)
The Web-browsing ability on the phone is rather good, and I actually typed the comment last week about having the phone from the phone while in a car. Fun and, more importantly, productive stuff.
I also set up the
Microsoft
(MSFT) - Get Microsoft Corporation Report
Outlook synching all by myself by just copying the information manually from my now-retired Treo 700w to the Q. Only took 20 minutes and three grunts of frustration from beginning to end.
One of my very favorite developments of the last few years as innovation has been trying to catch up to the waste of the bubble is how Microsoft has enabled me to answer an email from my cell phone using a QWERTY keyboard and that I'll have a record of that email transaction (including the little purple arrow graphic that let's you know you answered an email without opening it) on my Dell PC Outlook email program, on my MacBook Pro Entourage email program and on any browser that I use to pull up my email exchange server. Convergence does exist, you know.
The battery life has also held up very well, which makes it much better than the juice-sucking 700w and not quite as good as the juice-preserving 700p.
Walter Mossberg and a few other reviewers have rightly noted that it requires a couple of extra steps here and there to send a photo or to text a friend. Certainly, it's frustrating that the unit doesn't search its own contact list when you type in a name in the "To" section when sending a picture. But it's pretty fantastic when you just quickly scroll, select the option to add recipients and then type in three letters of the name with your thumb and get the picture sent off with two easy wheel clicks. I mean, the sheer user-friendliness of the hardware design more than makes up for some of the user unfriendliness of the software design (I know, it's always so easy to blame Microsoft -- and this is from Microsoft's biggest bull!)
So all in all, I am very pleased with my new Motorola Q phone. That the phone is being priced at relatively cheap $199 (with contract or whatever) vs. the $300 to $500 that Treo and high-end other smart phones and BlackBerries go for is really the biggest story of the Q. It's going to be a hot, hot seller. Maybe even rock star status if Verizon can get the price of wireless broadband Internet down low enough to make it resonate with the youth masses like
has.
At the time of publication, the firm in which Willard is a partner was net long AAPL and MSFT, although positions can change at any time and without notice.
Buy on a Pullback, by Dan Fitzpatrick
This was adapted from an article originally published on
RealMoney
on June 22 at 11:38 a.m. EDT.
Motorola has lost about 90% of its value since early 2000. But those who bought in 2003 have been rewarded quite nicely.
I've indicated what can be loosely described as an inverse head-and-shoulders pattern. Both shoulders are complex, consisting of two lows rather than one. The 2003 low marks the head of this pattern.
I've drawn the neckline along the tops that separate the shoulders from the head. This neckline also defines what I'd consider an important level of support, around $17.50. I'd look at any additional pullback as an opportunity to buy.
Q Weighs on Motorola By William Gabrielski
This column was originally published on
RealMoney
on June 20 at 4:13 p.m. EDT.
There has been a lot of media attention paid to Motorola's recently unveiled smartphone, known cleverly as the "Q."
But despite the media hype, I believe the Q will turn out to be a major disappointment for Motorola investors in the coming quarters as channel inventory builds and
Verizon Wireless
sales decline.
The Q has a host of problems:
It is not user-friendly.
The software is cumbersome for consumers not acclimated to using a smartphone device.
The battery is not as strong as the battery in competing products like Palm's (PALM) Treos and Research In Motion's (RIMM) Blackberry offerings.
Enterprises will be slow to adopt the product because it does not feature the same security patches available on other devices.
Despite these shortcomings, Motorola has laid out bullish assumptions for shipments of the Q, which could come back to hurt its share price as results roll in three and six months from now.
Verizon Wireless has priced the Q as the smartphone for the general consumer, though Motorola has made it clear through marketing campaigns that the Q will be marketed aggressively to enterprises as well. The Q can be had for just under $200 by Verizon Wireless subscribers eligible for a new two-year contract, or new subscribers. That's compared with nearly $500 for a Palm Treo 700w/p and upward of $300 for a good Blackberry device.
A quick look at the specs for comparable smartphones shows that with the Q, consumers may be getting what they pay for, and this could spell disaster as newbie smartphone users could be under whelmed and shy away from future smartphone purchases.
For instance, the talk-time battery life on the Palm 700w and 700p smartphones is nearly 13% longer than on the Q. The Q does score better against the Blackberry 7250 in terms of talk time, though the Blackberry has just over three hours of battery life. While the extra juice may not seem like a big difference, it is very meaningful because the newest smartphones are using higher-powered radios to connect to high-speed data networks such as Verizon Wireless's EV-DO network.
Much like a Wi-Fi enabled device, the added EV-DO capabilities and higher-powered
Intel
(INTC) - Get Intel Corporation Report
processors in the Q and Palm 700 series of smartphones require strong batteries to operate up to five applications at once. So the battery difference is notable after using the phones side by side for just a few days, as I did when I tried out a 700p, 700w, and Q simultaneously earlier this month.
However, I believe slimming down the battery was one of the key factors that allows the Motorola Q to come in some 2 ounces lighter than comparable smartphones. I took the battery out of both the Treo 700p and the Motorola Q, and the remaining physical hardware was very close in weight.
Another major distinction between the Motorola Q and other Windows Mobile smartphones, namely the Treo 700w, is that the Q does not let users edit documents, despite being equipped to open and view email attachments such as
Microsoft
(MSFT) - Get Microsoft Corporation Report
Word files. Of course, the Blackberry is running on its own software and has never been known for being user-friendly when it comes to opening attachments and making edits.
The Treo 700w is equipped with Microsoft Windows Mobile 5.0, which lets users create, edit and attach Word, Excel, and Power Point documents to emails directly on their phones. The Q, on the other hand, has a dumbed-down operating system from Microsoft known as Windows Mobile 5.0 for smartphones. In other words, people looking for the full functionality of a mobile Windows operating systems will be sorely disappointed if they were planning to do any work on the road that requires editing documents.
Not all Windows mobile devices are created equal, and Palm has a big step up on its competitors, as it was able to make modifications to the Windows operating system, something no other smartphone maker has been able to convince Microsoft to allow.
For instance, the home page, known as the Today screen on the 700w, has a search window that allows users to enter a word or phrase and do an immediate
Google
(GOOG) - Get Alphabet Inc. Report
search. (The irony here is that Microsoft did not push its own search functionality onto the home page.) This is not an option on the Motorola Q, which requires users to open a browser and go to Google.com before searching the Web. It is also evident that Microsoft is using the Treo as its vehicle to market its Windows Mobile operating system, something that bodes well for Palm.
Even so, Motorola's shipment projections for the Q are quite bullish. The company has made it clear it could ship up to 12 million units in its first year of being on the market. For comparative purposes, Palm, the leading smartphone manufacturer, has shipped a total of 3.3 million Treos since the product's inception in mid-2004. Motorola's management also said it expects the Q will ship 750,000 units in the first 90 days of launch, with follow-on shipments of 2 million units in the following 90 days. The most Treos ever shipped in one quarter was 564,000 earlier this year.
Based on my retail checks and contacts at Verizon Wireless, I believe the Q is not selling as well as had been expected by both Verizon and Motorola. My Verizon Wireless contacts indicate that a
The New York Times
article
, which tore the Q apart for its inferior software, took some momentum out of sales to enterprises. They also said that the Treo 700p from Palm saw a pickup in demand as a result. In addition, my sources indicate consumers are returning the Q because of its cumbersome operating system and less than stellar battery performance.
Hype and allure in the short run have made for some great press for the Motorola Q, but functionality and ease of use will be key determinants of sales in future periods.
On that note, Palm and Research In Motion should do much better relative to expectations than Motorola, despite what should be 100% smartphone-unit growth over the next 12 months.
Palm is a holding in TheStreet.com's Breakout Stocks model portfolio, which Gabrielski co-manages.
Fallen to Fair Value, by Richard Suttmeier
This was originally published in
RealMoney's
Columnist Conversation on June 19 at 9:58 a.m. EDT.
My model has shown Motorola overvalued for months, and last week's low at $19.32 was a return to fair value at $19.34. The weekly chart profile for Motorola is negative and the stock is below its annual pivots of $20.96 and $23.10.
If Motorola shares tumble further, as Will Gabrielski suggests, the downside is to my semiannual value levels of $17.34 and $14.11, where my model suggests buyers are likely to emerge.
Q ... Q ... Questions, by Tero Kuittinen
This was originally published in
RealMoney's
Columnist Conversation on June 20 at 4:50 p.m. EDT.
That's a very cool column on Motorola Q by Gabrielski right there -- this is a very interesting summer for email phones. Motorola Q has launched for Verizon in America and Nokia E61 just about everywhere else on the globe. Both are very close copies of the Blackberry product philosophy, though both are in some ways superior technologically.
What makes Motorola's public enthusiasm about Q volumes puzzling is its very narrow early global footprint -- the GSM/W-CDMA version is not expected until the fourth quarter, so Verizon will have to sell Q very heavily and the GSM version will have to have a picture perfect launch to deliver meaningful 2006 volumes. Nokia's E61 is somewhat controversial -- this first version lacks the jogwheel, but combining WiFi and 3G support in such a light device is creating a lot of buzz in Europe this June.
The E61 seems to have a notably aggressive price curve -- it's slicing below a $400 unsubsidized price in some countries already. This is extreme territory for a 3G/WiFi device without a contract. So we'll be witnessing a clash of two superficially very similar products with radically different market roll-outs and feature sets.
Personally, I think that a WiFi-W-CDMA combo is needed to have a global email phone hit this year -- by the fourth quarter, the price pressure in this category is going to be very intense. It'll be interesting to see what Research in Motion is going to do to counter the new pressure. They need to speed up the product cycle to a whole new level.
Alan Farley is a professional trader and author of
The Master Swing Trader
.
Tero Kuittinen is a senior product specialist for Nordic Partners, Inc., a pan-Nordic brokerage firm.
Richard Suttmeier is president of Global Market Consultants, Ltd., chief market strategist for Joseph Stevens & Co., a full service brokerage firm located in Lower Manhattan.
Cody Willard is a partner in a buy-side firm and a contributor to TheStreet.com's RealMoney.
He also produces a premium product for TheStreet.com called
The Telecom Connection and is the founder of Teleconomics.com.