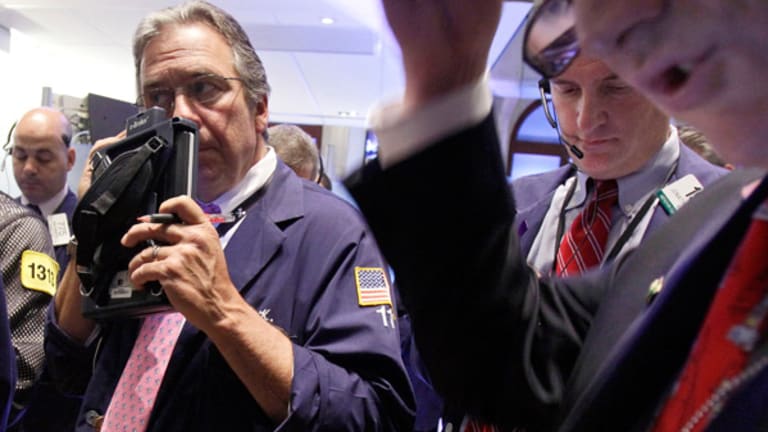 360 Degrees of McDonald's
James Altucher, Jim Cramer and Dan Fitzpatrick examine the fast-food giant from all angles.
Editor's note: In this edition of "360 Degrees,"
RealMoney
commentators examine
McDonald's
(MCD) - Get Free Report
.
"360 Degrees" is a feature that takes advantage of our varied stable of contributors to
RealMoney,
who offer analysis of stocks and the markets from all angles -- fundamental vs. technical, short-term trader vs. long-term investor.
Click on the following link for information about a
free trial to
RealMoney.com.
Grab a Value Meal, by James Altucher
Since I wrote about McDonald's in "
Six Stocks Activists May Rock in2006," the stock has held its ground, barely moving as the market has fallen significantly off its highs. The activist buzz has settled down and McDonald's has demonstrated its ability to execute on several levels. I think there is a lot of value left in this play: It could easily see $40 by year-end.
Since my piece, several things have happened:
McDonald's has decided to sell 1,500 company-owned restaurants within the next three years. While this isn't the 8,000 activist investor William Ackman wanted the company to sell, it is certainly a start. I believe once management and investors realize the clear benefits of a shifted business model, the company will proceed to sell more company-owned restaurants.
The company said it would buy back $1 billion in stock. While this isn't the $13 billion Ackman demanded, it will certainly help to increase shareholder value. Because the company is buying back roughly 30 million shares, the stock price should appreciate simply due to expansion in EPS/cash flows/EBIT/EBITDA per share. Many Wall Street analysts justify valuations by saying a stock should trade at Y times earnings per share. With fewer shares, the EPS figure inflates.
Chipotle (CMG) - Get Free Report has come public at a solid valuation, showing investors that McDonald's can actually deliver value. Spinning Chipotle off allowed investors to receive the premium valuation this growth businessdeserves. Chipotle currently trades for 35 times earnings and 22 times EV/EBITDA vs. nine times EV/EBITDA and 22 times earnings for the parentcompany.
Much like
Denny's
, McDonald's earns tremendously greater margins from its franchising business than from company-owned restaurants. As the company makes this shift, I expect it to generate significant cash from the sales and significant increases in EBIT and EBITDA margins.
As a result, I expect EBIT to increase from $4.02 billion in 2005 to roughly $4.8 billion in 2007. In addition, I expect EBITDA to expand to $6.4 billion by 2007, compared to just $5.3 billion in 2005.
As of now, the company trades for nine times EV/EBITDA and 18 times earnings. While it's hard to find a "correct" comparable, it seems to be fairly valued. For example,
Wendy's
trades for11.5 times EV/EBITDA and 31 times earnings, and
OSI Restaurant Partners
and
YUM!
trade in line with McDonald's.
While this doesn't make McDonald's look dirt cheap, I don't believe these other names have the same EBIT/EBITDA expansion potential as McDonald's due to its refocusing on the franchising businessand shrinking of the company-owned restaurant business.
Defensive All-Star, by James Cramer
I
wrote Thursday that McDonald's has earnings momentum and could surprise to the upside. Add to that the fact that it developed another concept besides Mickey D's -- Chipotle -- and it tells us just how special this name is.
I believe this could be the second-best defensive stock in the market after
Pepsi
(PEP) - Get Free Report
. It's well run and much better than it used to be, and that's coming from someone who hasn't always been a fan.
The Trend Is Your Friend, by Dan Fitzpatrick
McDonald's has been making a series of higher lows and highs over the past couple of years. The recent low around $32 is still higher than the low set a year ago at around $27, so the big picture still shows an uptrending stock, with the 50-week moving average acting as a reliable reference. The current resistance is at $35 -- the level from which McDonald's fell in May.
A close above $35 would be my signal to buy. But keep something in mind -- it's expiration Friday, and there is significant open interest at the $35 strike price. So it's likely that McDonald's could get pinned at the strike and force us to wait until next week before determining whether Wednesday's advance has any legs.
So here's the bottom line: The trend is always your friend, and the trend is moving higher. So McDonald's remains a buy on dips unless the stock hits $32 before it hits $36. Only then would I say that the uptrend is in trouble.
Trade the Levels, by Richard Suttmeier
McDonald's is rated a hold by ValuEngine and has been trading around its fair value of $35.13. The weekly chart profile is positive, with the five-week modified moving average at $33.43. It will report earnings premarket on Tuesday and EPS of 57 cents is expected.
Investors should trade this stock, buying on weakness to my quarterly value level of $33.69 and selling strength to my annual risky level of $37.26.
Jim Cramer is a director and co-founder of TheStreet.com. He contributes daily market commentary for TheStreet.com's sites and serves as an adviser to the company's CEO.
James Altucher is a managing partner at Formula Capital, an alternative asset management firm that runs several quantitative-based hedge funds as well as a fund of hedge funds.
Dan Fitzpatrick is a freelance writer and trading consultant who trades for his own account in Encinitas, Calif. He is a former co-manager of a hedge fund and teaches seminars on technical analysis, options trading and asset-protection strategies for traders and business owners.
Richard Suttmeier is president of Global Market Consultants, Ltd., chief market strategist for Joseph Stevens & Co., a full service brokerage firm located in Lower Manhattan.