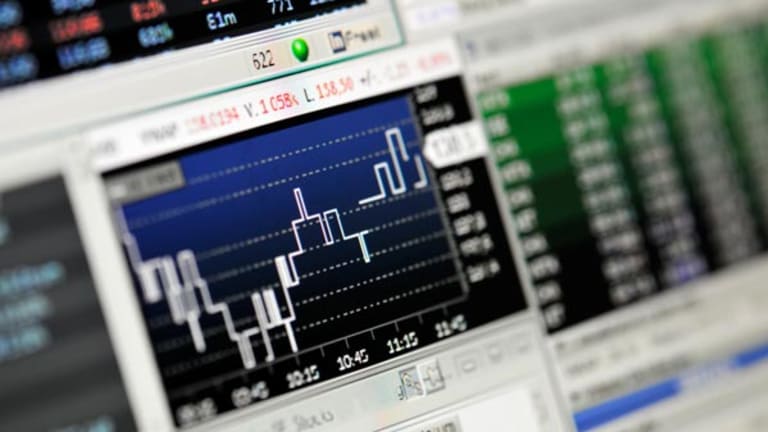 360 Degrees of Goldman Sachs
Jim Cramer, Dan Fitzpatrick, John Layfield, Steve Smith and Richard Suttmeier examine Wall Street's hottest investment bank from all angles.
Editor's Note:
TheStreet.com
has always believed that offering a wide variety of opinions and viewpoints -- rather than a monolithic "house view" -- helps readers make better investment decisions. In that spirit, we bring you "360 Degrees."
This weekly feature is designed to take advantage of our stable of reporters and contributors, who will offer analysis of specific stocks from all angles -- fundamental vs. technical, short-term trader vs. long-term investor.
Today's subject,
Goldman Sachs
(GS) - Get Free Report
, was chosen by our readers
last week; please see our poll below to help determine the next stock to get the "360 Degrees" treatment.
Click on the following link for information about a free trial to
RealMoney.com.
Pounding the Table on Goldman Sachs, by Jim Cramer
Editor's Note: The following is from an April 5 RealMoney.com column.
Am I a house man for Goldman Sachs, having cut my teeth in the business at the firm? Did I get a thrill out of being the keynote speaker at the Goldman alumni association last night, in front of a half-a-trillion dollars' worth of managers?
Those aren't the reasons I am pounding the table on this stock and pounding it hard here. I am doing that because of the numbers.
First, I believe that Goldman can earn at least $15 a share here. I say "at least" because the share buyback is aggressive, the earnings power is actually increasing, the margins are going higher, the table of employment isn't really growing, and the compensation is under control.
It's the multiple, however, that explains why I went out last night at the association meeting and said that we could see $225 for this stock by the end of the year, something I told you readers
the other afternoon. The multiple simply makes no sense whatsoever.
This stock sells for about 10 times earnings.
Wells Fargo
(WFC) - Get Free Report
, by comparison, sells at 14 times earnings! Wells has nowhere near the growth of Goldman. It has nowhere near the control of its destiny vs. Goldman. Wells is hostage to the
Fed
; Goldman couldn't care less where the short rates go. Housing bubble being pricked? Who cares at Goldman? But it's devastating for Wells. The U.S. markets cool? Wells can't do a thing. Goldman can go all over the world to the best markets.
Which is why I believe that Goldman will get a higher multiple than Wells and get one now, after this fantastic quarter. I believe that 15 times earnings is reasonable, a mere one multiple point above Wells.
Do the math: 15 x $15 = $225.
I rest my case.
The Perfect Storm, by John Layfield
Editor's Note: The following is from a March 25 Street.com column.
Goldman Sachs' last earnings report was very similar to Barry Bonds having a ball teed up for him. Goldman went deep.
It blew away earnings estimates of $3.29 per share with $5.08 in the first quarter. Goldman already has earned 42% of profits that were forecast for the entire year.
Goldman is the world leader in mergers, acquisitions, public common stock offerings and IPOs. It is best in class in trading commodities, fixed income and equities. Equity trading resulted in a 94% jump in revenue. Fixed income generated revenue of $3.74 billion, 42% higher than its previous record.
Return on equity was a record 38.8% in the first quarter, beating
Morgan Stanley's
record of 36.3% in the first quarter of 2000. Earnings were up more than 60% on revenue that was up also over 60%. This would be like a major league ballplayer having a 100-home run season with 40 stolen bases; dominant is an understatement.
Goldman has become so dominant that it creates a snowball effect. Goldman gets sweetheart deals, such as first crack at business with many Asian companies like
Sumitomo
. CFO David Viniar told analysts that Goldman was seeing unprecedented trading and client activity in Japan and Asia, and that the level of deals pending is "significantly" higher than a year earlier. Rarely if ever have we seen fixed income, equities, and mergers and acquisitions at a high simultaneously. Goldman has encountered the perfect storm and is profiting from it.
I could go on about the numbers; suffice it to say they were awesome. With a forward multiple of around 10 and a long-term growth rate of around 14%, this stock looks cheap. However, I believe the estimates are low.
Merrill Lynch
(MER)
has a forward multiple of 12.8; if Goldman had the same P/E, it would give the stock a 28% upside on multiple expansion alone.
Considering the perfect environment we are still in, the comments made about future deals by the CFO, and analysts being very wrong about the estimates this quarter, I believe this is a $190 to $200 stock.
A Tough Buy Right Now, by Dan Fitzpatrick
Goldman Sachs is in a well-defined uptrend. We can see on the weekly chart below how buying pressure has increased on pullbacks. Even a multiweek pause in the uptrend has brought out aggressive bidding -- buyers have simply lost patience and paid the market price.
This loss of patience occurred in February and March. The stock traded sideways just long enough for the uptrending support line to catch up. For the past four weeks, Goldman has closed successively higher.
However, uptrends don't last forever, and Goldman is a tough buy right now. The strong upside momentum is undeniable, and I'm not one to fade well-established trends. However, each time Goldman has been this high in its channel the stock has tended to pull back and offer a better entry. At best, I'd wait for a pullback to buy.
At worst, Goldman will pull back significantly, as it did in April of 2004 and 2005. I'd wait until the lower edge of the trading channel has been tested. This requires patience, which is much talked about, but rarely displayed.
Davey Collars Goliath, by Steven Smith
Some of you out there with big gains in Goldman Sachs are probably getting nervous that rising rates and Goldman's dependence on proprietary trading leave it vulnerable to a downdraft. Then again, Goldman has a good thing going on, and you'd hate to leave the party before the punch has been fully spiked. Let's look at an option strategy that will secure profits but also retain the potential for unlimited upside gains.
Some call it a slingshot. As far as I know, the term was coined by Charles Cottle, a.k.a. the
. The position is a variation on a collar: It limits the downside but also provides unlimited upside potential. The strategy is appropriate for someone who has enjoyed a substantial portion of Goldman's 60% gain over the past 52 weeks and has a decent amount of capital and time available to make adjustments, if necessary.
Here's an example of a typical collar: Assume you own 1,000 shares of Goldman, which is currently trading around $159 a share. One could buy 10 of the July $155 puts for $5 a contract. This is a married put, and it would limit your downside risk by locking in an effective sale price of $150 per share. It also maintains unlimited upside potential, but the cost basis, or upside break-even, is now $163 a share. To "collar" the position, one would then sell a contract like the July $160 call at $7.50 a contract. This would finance the cost of the put, bringing the break-even, or effective sale price, up to $152.50 a share, but it would also cap the upside at $162.50, for a 2.5% gain over the next three months.
The slingshot involves selling a call
spread
, not just a single strike. For example, instead of selling 10 $160 calls, one might sell 20 $165/$170 call spreads for a credit of $2 each. This translates into paying $4, or 80% of the cost of the $155 put, so the effective sale price is locked in at $154, a $1, or 0.06%, decline. More importantly, it opens up the upside potential. For example, if the shares climb to $165, you realize the 4.4% gain.
The worst-case scenario would be if Goldman is at $170 on the July expiration. This would result in a gain of just $1, or $1,000 on the 1,000 by 20 call credit spreads. Make $11 on the 1,000 long shares, lose $10 on the 20 $165/170 credit call spread. But if Goldman rises above $170, the position becomes once again outright long 1,000 shares and has an unlimited profit potential.
So if you think Goldman can climb more than 7% in the next three months, the slingshot might make sense. If you suspect the stock will stall, go for the regular collar.
Reduce Holdings, by Richard Suttmeier
ValuEngine rates Goldman Sachs as a buy, but its shares are trading 11.3% over their fair value of $142.50. Its weekly chart shows overbought momentum, with the five-week modified moving average at $149.68.
Despite the rising yield on the 30-year bond, its fair value, according to my model, has risen from $125.92 on March 13 to $143.94 on April 4 due to its tremendous earnings report on March 14. Wall Street analysts have raised their 12-month forward EPS estimates.
On April 4, I suggested that investors should reduce holdings if the stock crossed above my monthly risky level of $159.86, which it did -- that level is now likely to be a pivot around which the stock will swing. My model shows that buyers are likely to emerge if it falls to my monthly value level of $152.17 -- a drop below it could extend to my quarterly value level of $132.69.
Jim Cramer is a director and co-founder of TheStreet.com. He contributes daily market commentary for TheStreet.com's sites and serves as an adviser to the company's CEO. Outside contributing columnists for TheStreet.com and RealMoney.com, including Cramer, may, from time to time, write about stocks in which they have a position. In such cases, appropriate disclosure is made.
John Layfield, a former All-American offensive lineman at Abilene Christian University, played professional football for the then-Los Angeles Raiders and later in the World League. After wrestling in Japan, Mexico and Europe, Layfield arrived in the WWE in the mid-1990's. A former WWE champion, JBL was a featured wrester at WrestleMania 21 and can also be seen on
Friday Night SmackDown!
on UPN. JBL is a self-taught investor who was recruited to write a personal finance book,
Have More Money Now
, which was released in the summer of 2003. He has appeared on finance shows on CNN and Fox News Network.
Fitzpatrick is a freelance writer and trading consultant who trades for his own account in Encinitas, Calif. He is a former co-manager of a hedge fund and teaches seminars on technical analysis, options trading and asset-protection strategies for traders and business owners. Fitzpatrick graduated from the McGeorge School of Law and was a fellow at the Pacific Legal Foundation, a nonprofit public interest firm specializing in constitutional law. At the time of publication, Fitzpatrick held no position in any stocks mentioned, though positions may change at any time. While Fitzpatrick cannot provide investment advice or recommendations, he appreciates your feedback;
to send him an email.
Steven Smith writes regularly for TheStreet.com. In keeping with TSC's editorial policy, he doesn't own or short individual stocks. He also doesn't invest in hedge funds or other private investment partnerships. He was a seatholding member of the Chicago Board of Trade (CBOT) and the Chicago Board Options Exchange (CBOE) from May 1989 to August 1995. He appreciates your feedback;
to send him an email. To read more of Steve Smith's options ideas take a free trial to
.
Richard Suttmeier is president of Global Market Consultants, Ltd., chief market strategist for Joseph Stevens & Co., a full service brokerage firm located in Lower Manhattan. At the time of publication, he had no positions in any of the securities mentioned in this column, but holdings can change at any time. Early in his career, Suttmeier became the first U.S. Treasury bond trader at Bache. He later began the government bond division at L. F. Rothschild. Suttmeier went on to form Global Market Consultants as an independent third-party research provider, producing reports covering the technicals of the U.S. capital markets. While he cannot provide investment advice or recommendations, he invites you to send your feedback --
to send him an email.
TheStreet.com has a revenue-sharing relationship with Traders' Library under which it receives a portion of the revenue from Traders' Library purchases by customers directed there from TheStreet.com.