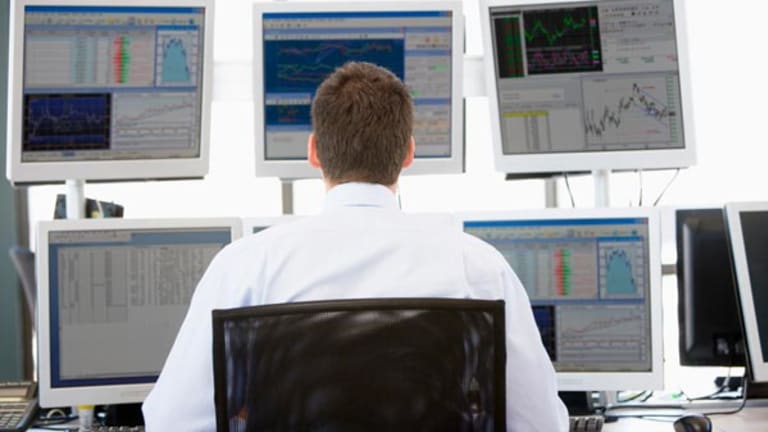 360 Degrees of GM
Jim Cramer, David Merkel and Will Gabrielski look at the automaker from all angles.
Editor's Note: In this edition of "360 Degrees," RealMoney commentators take a look at General Motors (GM) - Get General Motors Company Report. Will its structural adjustments allow the struggling automaker to regain a sound footing, or are its shares bound for the junkyard?
TheStreet.com
has always believed that offering a wide variety of opinions and viewpoints -- rather than a monolithic "house view" -- helps readers make better-informed investment decisions. In that spirit, we bring you "360 Degrees."
"360 Degrees" is a feature that takes advantage of our varied stable of contributors to
RealMoney
who offer analysis of stocks and the markets from all angles -- fundamental vs. technical, short-term trader vs. long-term investor.
Click on the following link for information about a
free trial to
RealMoney
.
Give General Motors Some Credit, by Jim Cramer
This column was originally published on
RealMoney
on June 23 at 9:33 a.m. EDT.
It's time for General Motors to get some credit for something. This stock and this company get no respect, despite some radical actions taken by management to get its balance sheet and costs in line. The partial sale of the finance division, the announcement that worker buyouts could tally more than 30,000 -- higher than expected -- the supplier procurement deals, all of these are saying that things are much better at the firm.
Yet the stock still isn't back where Kirk Kerkorian paid for his shares. That's wrong. As I listened to the news this morning, I heard once again that GM may be weighing bankruptcy. That's just plain nutty.
I am not saying that GM is a blue-chip stock. I would say that it has a fighting chance to print some really big numbers. On June 22, a high-level executive from GM foretold a huge quarter. The stock moved up a tad, but nowhere near what I thought it should, given that news.
Still time to get in.
Cramer updated his views on GM this morning. To read the article, click here.
At the time of publication, Cramer had no positions in the stock mentioned.
GM Notches a 'W,' by Dan Fitzpatrick
This originally appeared on
RealMoney
on June 27 at 10 a.m. EDT.
I last covered General Motors in a
360 back in February when it was in the process of putting in a bottom. The prior advance had peaked out around $24, so this level became my criterion for a higher high. GM ran above this resistance level in early May and has been backing and filling ever since. GM should continue to get a lift, but I'd still keep a stop just below the breakout level.
If You Must, Consider the Convertible, by William Gabrielski
General Motors shares are up about 40% this year, making the troubled automaker the best-performing Dow component. However, I believe this stock is nothing more than a call option on GM's ability to survive as a going concern -- and a richly priced call option at that.
The main driver of the stock's rise has been the company's structural changes, not improved auto sales. The cash-strapped, weakening giant has announced a 50% cut in its dividend to an indicated yield of 3.75%, sold off a stake in its most valued asset, GMAC, and some 35,000 employees have agreed to accept early retirement packages. The company's equally disheveled supplier,
Delphi
(OTC: DPHIQ), has avoided a work stoppage that could have potentially cost GM billions in cash due to production shutdowns.
GM shares have risen, but the common stock remains just a small piece of the GM puzzle, and there are way too many creditors and potential pension beneficiaries lined up in front of shareholders with claims on assets. The company's equity value of about $15 billion is dwarfed by $277 billion in total debt. Sure, much of the company's debt is related to auto financing, but a sizable portion is still owed to retirees through the company's pension and health care plans.
The auto business isn't even close to profitable at present, and it's hard to imagine a way in which GM can turn things around, with Asian automakers expanding production in the U.S. In 2005, the company's automotive segment generated a $20.5 billion loss from operations on $158 billion in revenue. A combination of higher steel costs, rising gasoline prices and declining market share due to poor product positioning weighed on results.
The interest expense associated with GM's corporate debt was $2.8 billion, or nearly 121% of the company's income earned from its finance arm, GMAC. Since GM now has just a 49% stake in GMAC, Goldman Sachs expects income from GMAC to decline some $1.3 billion in 2006, which would make the company's weak auto operations stand out like a sore thumb in the reported EPS.
However, you have to look beyond this to really understand just how bad things are, as the company's earnings will be distorted by a number of one-time noncash items due to fluctuations in pension assumptions and retiree benefits. For instance, the company reported trailing 12-month net income in March of $8.89 billion. Operating cash flow was an outflow of $9.98 billion. And the company spent a staggering $7.9 billion on capital expenditures for property and product launches during the year. In other words, cash from operations less capital expenditures didn't come close to covering the company's interest on its debt, and principal repayments on debt and retiree health care compensation is a drain on the company's $17.42 billion in cash on hand.
If you must own GM, I suggest taking a look at some of the convertible preferred stock that trades. The yields are better than the common stock, and you stack up better in terms of the capital structure should a cash crunch occur down the road. One particular GM preferred convertible, GBM, is due in 2032 and converts into 0.3852 shares of GM with a 7.7% yield. Another, GXM, converts to 0.3561 shares of GM, is due in 2032, and yields closer to 5%.
GM: Less Has Changed Than Meets the Eye, by David Merkel
The story of GM over the past few decades has been to sell off desirable assets to fund the core auto operations, close factories and reduce jobs in North America. Its recent round of adjustments is only different because of the desperateness of the situation. Even with the labor concessions being discussed, GM's cost structure will remain higher than most of its competition.
Consider the ratings agencies that are "inside the wall" and possess more information than other market participants. Even after the changes made, GM's debt is rated Caa1 (negative outlook) by Moody's and B (negative watch) by S&P. The ratings on GM's debt reflect a highly speculative company with an uncertain future. The debt of GM, though the price is up from its lows still reflects significant uncertainty of full payment. Long debt trades in the mid-$70s.
We still don't know whether the Pension Benefit Guaranty Corporation will go for the sale of 51% of GMAC. GM has only made a dent in the total liabilities that it faces in pension and health care (active and retiree). Does the PBGC want to lose a claim on one of the more valuable aspects of the firm should it go under?
Finally, sales have been disappointing, and discounting must be resorted to in order to "move the metal." GM's offerings have improved of late, but that might only be enough to get someone to buy a GM instead of a Ford. The improvements at GM don't place the company on the same footing as Toyota or Honda from either a cost or marketability basis.
GM may be able to eke out a small GAAP operating profit in the short run from the changes made. It is still in a lousy competitive position against firms with stronger balance sheets and lower cost structures. My estimate of the long-run outcome has not changed. Avoid the stock and unsecured debt of GM.
P.S. At least GM is showing a little vigor relative to
Ford
(F) - Get Ford Motor Company Report
, but that's not saying much. Ford's situation, if judged by the asset markets (stock, bond and credit-default swaps), has worsened relative to GM. Credit-default swaps now show Ford as more likely to default over the next five years than GM. What a mess.
At the time of publication, Merkel and/or his fund was short GM and Ford, though positions may change at any time.
Jim Cramer is a director and co-founder of TheStreet.com. He contributes daily market commentary for TheStreet.com's sites and serves as an adviser to the company's CEO.
Dan Fitzpatrick is a freelance writer and trading consultant who trades for his own account in Encinitas, Calif. He is a former co-manager of a hedge fund and teaches seminars on technical analysis, options trading and asset-protection strategies for traders and business owners.
William Gabrielski is a research analyst at TheStreet.com. Interested in reading more by Gabrielski? Check out
and
TheStreet.com Breakout Stocks
.
David J. Merkel, CFA, FSA, is a senior investment analyst at Hovde Capital responsible for analysis and valuation of investment opportunities for the FIP funds, particularly of companies in the insurance industry.