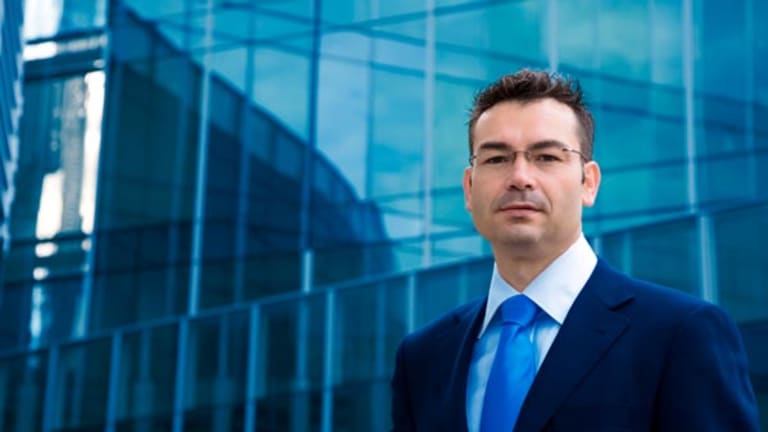 360 Degrees of Ford
Jim Cramer, Michael Comeau and Dan Fitzpatrick examine the automaker from all angles.
Editor's Note
: In this edition of "360 Degrees,"
RealMoney
commentators evaluate
Ford
. Is the hiring of
Boeing
veteran Alan Mulally to replace Bill Ford as CEO a reason to buy the stock, or do the company's significant problems merit continued caution?
TheStreet.com
has always believed that offering a wide variety of opinions and viewpoints -- rather than a monolithic "house view" -- helps readers make better-informed investment decisions. In that spirit, we bring you "360 Degrees."
"360 Degrees" is a feature that takes advantage of our varied stable of contributors to
RealMoney
, who offer analysis of stocks and the markets from all angles -- fundamental vs. technical, short-term trader vs. long-term investor.
Click on the following link for information about a
free trial to
RealMoney
.
Boeing Executive Will Help Ford Fly, by Jim Cramer
This column was originally published on
RealMoney
on Sept. 6 at 8:19 a.m. EDT
Of all the lines written about
the change in command at
Ford
(F) - Get Ford Motor Company Report
, of all of the thoughts about what Bill Ford didn't accomplish and what Alan Mulally must accomplish, one line stands out, from
The Wall Street Journal
: "Mr. Mulally has no Detroit experience." To which I say, hallelujah!
Detroit's an insular place, and no place is more insular than Ford. I have long felt this place to be an odd public-private fiefdom, with one of the Fords waking up one day and saying "OK, now I'm in charge," and then just as quickly saying, "OK, I'm not in charge."
Mulally would not have taken this job if he didn't have a free hand. He didn't have to leave Boeing; he's a really successful guy who doesn't need to go anywhere without that kind of guarantee. I'm sure he was able to negotiate that kind of deal.
I think Mulally could solve Ford's principal problem, the one that
GM
(GM) - Get General Motors Company Report
needed Jerry York to solve: costs. Nothing's more intractable than the costs, including the union costs, of building a major jet plane. Mulally solved those for
Boeing
(BA) - Get The Boeing Company Report
. He delivered problem-free aircraft on time and cheaper than a state-subsidized
Airbus
.
What's not to like?
I have liked Ford's stock ever since it preannounced a horrible quarter and the stock went higher. I believe the turn in Ford can happen. These turns, which run exactly opposite conventional wisdom, tend to happen overnight.
If I owned Ford, I would hold it. If I wanted to buy it, I would pray for a pullback, which we're likely to get only if the market craters, and I don't see that happening.
At the time of publication, Cramer had no positions in the stocks mentioned.
Warning Signs on the Daily and Weekly Charts, by Dan Fitzpatrick
Ford's announcement that Alan Mulally would be moving into the driver's seat created quite a stir, but after a higher open, the stock settled very close to Tuesday's close in the morning session. Let's take a look.
This daily chart shows the intraday action in yellow. The higher price indicates a positive reaction to the news. The intraday low of $7.90 indicates the greatest power of the bears -- they just couldn't push the stock any lower. If you bought the stock today, consider putting a stop just below the intraday low. If selling pressure increases enough to violate the intraday low, we can assume that all the buyers have done their work and the bears will be in charge.
If you've been holding Ford for a while, it's important to get a longer-term perspective from the weekly chart.
The weekly chart above shows a multiyear trend line that was finally broken last month. However, the stock has moved almost 25% since the breakout and almost 50% since its July low. That means there is a lot of potential profit-taking. If you've been holding Ford from lower levels, it's important to understand that any selling pressure could push the stock significantly lower before even testing the breakout. As such, I'd use a trailing stop to protect gains. Nothing feels worse than watching a paper profit vaporized by a significant correction.
Ford Is Still in the Penalty Box, by Michael Comeau
At this point, Ford's share price will be dictated more by the company's ability to successfully engage in financial engineering tactics rather than compete in the ever troublesome auto marketplace.
Investors shouldn't underestimate the potential ramifications of the company's recent production cuts. The F-Series line of pickups was by far Ford's most important product line, and according to my industry sources, basically its only profit engine.
The F-150 is the company's flagship model, and probably the best pickup truck on the market, however, even it couldn't withstand the onslaught of Ford's Japanese competitors, which have greatly improved their pickups. Its sales have also been hurt by high gasoline prices, to which Ford was incredibly slow to react.
I do believe that Bill Ford stepping aside is a huge positive development; frankly, Mulally can't do any worse, and by most accounts, he did a great job at Boeing. But the question is can Mulally make lemonade out of a pretty lousy crop of lemons?
Over the past 30 years, Ford has seen a steady erosion in market share and mindshare due to the superior quality of its European and Asian competitors' vehicles. Ford has made enormous strides in product quality, but the average car buyer probably isn't aware of that.
Can Mulally attract quality people to Ford, where job security is uncertain? Can he turn around the company's fledgling Premier Automotive Group? It is headed up by the Jaguar, a brand that has failed to perform well, despite the luxury car boom of recent years, which has been a huge contributor to strong results for auto manufacturers like Toyota (Lexus), Porsche and BMW.
All of these lines have distinct brand identities: Lexus stands for conservative and high quality; Porsche symbolizes high-performance; and BMW simply makes cars for people who love to drive.
What does Jaguar stand for? Memories of expensive cars that spend more time in the mechanic's shop than on the road.
Ford has been terribly mismanaged for at least the past 20 years, and while I would never root for a revolutionary (yes, Ford was revolutionary in its day) American company to fail, I believe that it remains in the penalty box, as Mulally must undo the considerable wrongs of the past.
It may not be too late, but there is simply too much hope required for me to form a bullish thesis on Ford since I prefer to bet on numbers and hard data rather than people, however impressive their resumes may be.
Jim Cramer is a director and co-founder of TheStreet.com. He contributes daily market commentary for TheStreet.com's sites and serves as an adviser to the company's CEO.
Michael Comeau is a research analyst at TheStreet.com. He performs stock analysis for
, and is also a regular contributor to RealMoney.com. Prior to his arrival at TSC in June 2004, Comeau worked as a Consultant to Toyota Motor North America, performing in-depth research on automotive industry issues, primarily in the areas of alternative engine technologies, competitive analysis and macroeconomics.
Dan Fitzpatrick is a freelance writer and trading consultant who trades for his own account in Encinitas, Calif. He is a former co-manager of a hedge fund and teaches seminars on technical analysis, options trading and asset-protection strategies for traders and business owners.