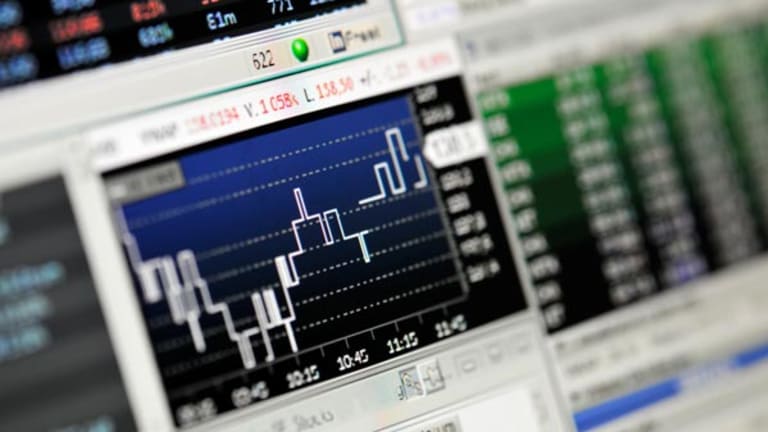 360 Degrees of BP
Christopher Edmonds, Dan Fitzpatrick and Roger Nusbaum examine the oil giant from all angles.
Editor's Note: In this edition of "360 Degrees,"
RealMoney
commentators evaluate
BP
(BP) - Get Report
. Like all the oil majors, it's pulling in record profits. Is the recent spate of negative news a reason to pull the plug?
TheStreet.com
has always believed that offering a wide variety of opinions and viewpoints -- rather than a monolithic "house view" -- helps readers make better-informed investment decisions. In that spirit, we bring you "360 Degrees."
"360 Degrees" is a feature that takes advantage of our varied stable of contributors to
RealMoney
, who offer analysis of stocks and the markets from all angles -- fundamental vs. technical, short-term trader vs. long-term investor.
Click on the following link for information about a
free trial to
RealMoney
.
The Headline Game Is Against It, by Christopher Edmonds
If the shutdown of its badly corroded Prudhoe Bay pipeline wasn't enough, BP now faces an inquiry from federal investigators over suspicions that the company attempted to manipulate the crude oil and gasoline trading markets.
While claims that major oil companies have been involved in collusion are nothing new in an era of soaring oil and gasoline prices, the formality of this investigation is, and it's likely to linger for some time. Combined with recent charges that BP manipulated the propane markets, investors are correct to be concerned, despite BP's continued claims of innocence.
Put together the suspicions of market manipulation with the problems at Prudhoe and the tragic explosion at the company's Texas City refinery in 2005 that claimed 15 lives, and you have an integrated oil company with too much bad karma for most investors.
It's quite possible that BP will be exonerated of the crude market manipulation charges. It's also very possible that the investigation will linger for some time, with little resolution.
Moreover, it's likely we haven't seen the beginning of the investigations related to the Prudhoe Bay missteps. Plus, the recent news that BP CEO John Brown has been subpoenaed to testify regarding the Texas City refinery accident may also lead to meaningful headline risk for the company.
BP may be a fine company, but when the headline game is against you, even the best company finds it challenging to fight the tape. With so many other look-alikes --
Exxon Mobil
(XOM) - Get Report
,
Chevron
(CVX) - Get Report
and
ConocoPhillips
(COP) - Get Report
to name three -- there seems to be little reason to swim upstream.
BP will again have its day. But for investors, it isn't likely to be this week or even next month.
At the time of publication, Edmonds was long Exxon Mobil, though positions may change at any time.
Stay Long -- for Now, By Dan Fitzpatrick
The uptrend in this weekly chart from 2004 through most of 2005 is easy to see, but for almost a year, BP has been moving sideways. Like many energy stocks, BP is now at that stage where it pays to wonder whether all the smart money is moving out of this stock or whether we're just seeing a bit of consolidation before the uptrend resumes.
Notice the very long price-by-volume bars at the $62-$70 level. Those mark the levels at which the most trading volume took place. More volume means more financial and emotional commitment.
The current trading range between $65 and $75 will ultimately resolve itself. If I were long, I wouldn't liquidate the position until the stock closed beneath current support of $65 on a weekly basis. That would be a new low for the year and enough evidence to me that the uptrend was in serious trouble.
Don't Be Scared by Bumps in the Road, by Roger Nusbaum
BP has had its share of problems in the last few weeks. If you go back to the refinery accident in Texas and to questions over propane market manipulation, it has been a bumpy couple of years.
This summer, BP made the news because it was forced to shut down a pipeline in Alaska that was badly corroded, crimping oil supplies at a sensitive time. On Tuesday there was a new bombshell: Federal investigators are looking into whether BP manipulated crude oil prices in 2003 and 2004 and gas prices in 2002.
The story has a lot of moving parts, and we probably won't know the full scope for quite a while. If you are more of a short-term investor, you probably sold at the first whiff of trouble after the pipeline news.
Part of owning an individual stock is knowing what it is capable of doing, price-wise, in reaction to good and bad news. A quick look at the multiyear chart above shows that the stock regularly has dropped 10% to 15% in reaction to bad news. While the current batch of bad news creates psychological discomfort, the market doesn't seem to be treating this any differently.
I believe there could be a loose psychological parallel to
Altria
(MO) - Get Report
. Despite years of even bigger and more dangerous risks, the stock has continued to float higher.
I think the pipeline news creates awareness of just how vital Alaska is to our energy needs, and BP is the biggest fish in that important pond.
For a short-term trader, there could be more bumps in the road to be sure, but a big company facing a few months of uncertainty is nothing new.
At the time of publication, Nusbaum held BP in client accounts, though positions may change at any time.
Christopher S. Edmonds is vice president and director of research at Pritchard Capital Partners, a New Orleans energy investment firm. He is based in Atlanta.
Fitzpatrick is a freelance writer and trading consultant who trades for his own account in Encinitas, Calif. He is a former co-manager of a hedge fund and teaches seminars on technical analysis, options trading and asset-protection strategies for traders and business owners.
Roger Nusbaum is a portfolio manager with Your Source Financial of Phoenix, Ariz., and the author of Random Roger's Big Picture Blog.