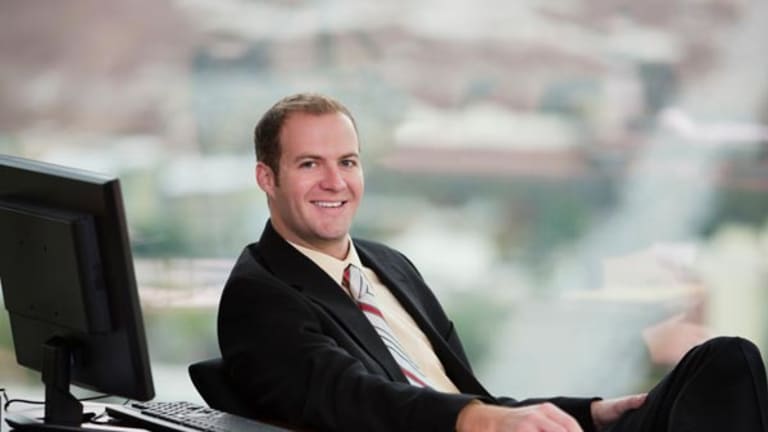 360 Degrees of Apple
Jim Cramer, Dan Fitzpatrick, Richard Suttmeier and Cody Willard examine the tech highflier from all angles.
Editor's Note: In this edition of "360 Degrees,"
RealMoney
commentators evaluate
Apple
(AAPL) - Get Apple Inc. Report
in the wake of its
announcement Tuesday of a new movie and video-game service and a device named iTV that will allow users to stream video and audio from their computers to their TV sets. Has Apple fashioned an unstoppable entertainment juggernaut, or is the stock overvalued after a healthy run-up this summer?
TheStreet.com
has always believed that offering a wide variety of opinions and viewpoints -- rather than a monolithic "house view" -- helps readers make better-informed investment decisions. In that spirit, we bring you "360 Degrees."
"360 Degrees" is a feature that takes advantage of our varied stable of contributors to
RealMoney
, who offer analysis of stocks and the markets from all angles -- fundamental vs. technical, short-term trader vs. long-term investor.
Click on the following link for information about a
free trial to
RealMoney
.
Making It Easy Will Increase Apple's Pie, by Jim Cramer
This column was originally published on
RealMoney
on Sept. 13 at 9:06 a.m. EDT
I often feel that when it comes to
Apple
(AAPL) - Get Apple Inc. Report
, there are those who use the iPod and therefore know that it is the king and won't be toppled, and there are those who don't use it and are always willing to think that competitors may get an edge on the iPod.
I see a lot of things and hear a lot about the hardware and software that is going to win the living room. I thought they are almost all nonsense until I read about the
iTunes-PC-to-TV device (nicknamed iTV). If I had that, I'd go to an iMovies store, if Apple develops that, and download episodes of
24
to play right on my television. I expect I could go to something like that iTunes easy-to-use shop and just get every movie.
I find all the other movie alternatives clunky. I like the one device, one clicker thing. I like the fact that everything is so easy to use and I don't need some guy coming to my house to program a complicated remote. I expect it will be as easy as plugging my iPod into my Bose unit after I download music.
It's the ease. It's how much fun it all is. It's how you can't live without it. Which is why, in reality, Apple's going higher.
The following is an excerpt from a column by Cramer titled "Hot Apple Has Fund Appeal Baked In" that was published on
RealMoney
on Sept. 8 at 10:32 a.m. EDT
I remain adamant that Apple may be one of those companies that has become, overnight, the new de facto standard. It is the must-own name for tech funds and generalist funds alike.
Some of it is
Dell's
(DELL) - Get Dell Technologies Inc Class C Report
issues, some of it the exciting new products, but most of it is a sense that this is
the
back-to-school and holiday-shopping-season stock.
Usually I would say, "This one can't be bought without a pullback." But that's not the case with Apple. When we get one of these moves where there's a
lack
of safe alternatives in a sector, you get one of those situations where there are multiple buyers who don't even wait until the market's open to buy. No other stock is anointed like this one, not even
Cisco
(CSCO) - Get Cisco Systems, Inc. Report
.
Apple's going higher.
At the time of publication, Cramer had no positions in the stock mentioned.
Wait for a Pullback, by Dan Fitzpatrick
Apple announced Tuesday that it would be going into the online movie business. This highly anticipated event was a textbook "buy on the rumor, sell on the news" trade, yet the stock hung in there. That is constructive because it demonstrates persistent demand for the stock, despite the recent advance. You'll see on the daily chart below that Apple is now right around the same level it was at in May, when the stock peaked and began selling off.
In my mind, the healthiest thing this stock could do would be to retest the $70 breakout area for several days. That would allow for some profit-taking without damaging the technical picture.
If you're already long, consider placing a stop just below $70. And if you're waiting to buy, the safest bet is to wait for that retest so you can place a fairly tight stop. But if Apple instead moves above $74, just remember that you are arriving to the party a bit late.
At the time of publication, Fitzpatrick was long Apple.
Apple Takes On the Broadcasters, by Cody Willard
This column was originally published on
RealMoney
on Sept. 13 at 11:09 a.m. EDT
To expand on what I
quickly noted about
Apple's
(AAPL) - Get Apple Inc. Report
new iTV product yesterday, this will mark the company's first formal foray into taking the cable and satellite companies head on. Downloading TV shows and movies isn't just about taking on the DVD and VOD businesses. This product is all about taking on the broadcasters themselves.
No longer will people in their living rooms be beholden to broadcasters that choose what content at what time gets pushed out to consumers' television sets. As Apple continues to add content (which, by the way, can be stored indefinitely and at practically no expense) of more TV shows, movies, user-generated content, sporting events, and so on, consumers will increasingly choose to use the iTunes store to pick what they view instead of flipping channels.
As I
outlined yesterday, broadcasters and production companies have made many billions of dollars off their model of bundling 24 hours of content per channel and hundreds of channels per package. Apple's ability to deliver a consumer-friendly, easy-to-use platform for consuming unbundled video content puts the bundling business fully on the path of secular decline. Broadcast won't go away, but its glory days are fully behind it.
Apple's easy-to-use technology and iTunes' status as the de facto standard for legal digital downloading, along with the iPod's increasing ability to store hours upon hours of content, set it up for huge success in this business. But to be sure, it won't be the only winner.
Google
(GOOG) - Get Alphabet Inc. Class C Report
will have a place in distributing video content to your TV, too, perhaps leveraging the very same iTV device that's coming to your living room. And
Microsoft's
(MSFT) - Get Microsoft Corporation Report
Xbox 360, as well as
Sony's
PS3, are going to enable them to get into this business, too. And private companies like Akimba, Brightcove and YouTube will make their impact felt as well.
The revolution, enabled by incredibly cheap processing and ever-faster and cheaper broadband, is here. Both processing and broadband will continue to get faster and cheaper, and that will help to accelerate this paradigm shift.
Apple is set to be the big winner. I do worry that there is too much fast money and too many mo-mo traders who have plowed into this name leading up to yesterday's announcement, and I'm concerned about the potential for major problems from its options-backdating issues. However, there is no way I'm going to sell my Apple stock, which I've owned since the dawn of the iPod. This one has been a long-term winner and is set to be a long-term winner in the future.
At the time of publication, the firm in which Willard is a partner was net long Apple, Google and Microsoft, although positions can change at any time and without notice.
Take Some Profits, by Richard Suttmeier
Apple was one of the top-performing stocks in 2005, but it's had a volatile ride in 2006.
I believe the recent rebound was in anticipation of the product announcements we heard Tuesday. Apple had been on the rebound and has reached its fair value of $73.25 and my quarterly risky level of $73.55. A risky level is a level at which investors should consider booking profits, and I think that would be merited in this case. From its July low to Monday's high at $73.73, Apple has risen 46.9%.
Nonetheless, Apple has a history of becoming overvalued, and its weekly chart profile isn't yet overbought. Thus, even though I suggest some profit-taking, if it closes the week above $73.55, it could rise to my higher quarterly risky level of $79.90.
Jim Cramer is a director and co-founder of TheStreet.com. He contributes daily market commentary for TheStreet.com's sites and serves as an adviser to the company's CEO.
Dan Fitzpatrick is a freelance writer and trading consultant who trades for his own account in Encinitas, Calif. He is a former co-manager of a hedge fund and teaches seminars on technical analysis, options trading and asset-protection strategies for traders and business owners.
Richard Suttmeier is president of Global Market Consultants, Ltd., chief market strategist for Joseph Stevens & Co., a full service brokerage firm located in Lower Manhattan.
Cody Willard is a partner in a buy-side firm and a contributor to TheStreet.com's RealMoney.