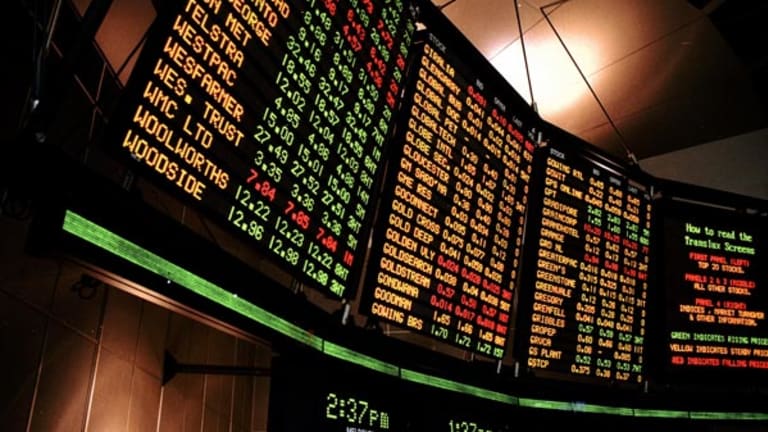 360 Degrees of Altria
Jim Cramer, Alan Farley and John Reese examine the tobacco giant from all angles.
Editor's Note: TheStreet.com has always believed that offering a wide variety of opinions and viewpoints -- rather than a monolithic "house view" -- helps readers make better-informed investment decisions. In that spirit, we bring you "360 Degrees."
"360 Degrees" is a feature that takes advantage of our varied stable of contributors to
RealMoney.com,
who offer analysis of stocks and the markets from all angles -- fundamental vs. technical, short-term trader vs. long-term investor.
Today's subject is
Altria
(MO) - Get Altria Group Inc. Report
.
Click on the following link for information about a
free trial to
RealMoney
.
Light 'Em Up With the Gurus, by John Reese
Originally published on 5/12/2006 at 1:37 p.m.
Tobacco may smell bad, and many may think it immoral, but it can be a very good business. The best in the business is Altria, and if you don't have qualms about tobacco, this is an investment opportunity you shouldn't let go up in smoke.
Since I recommended the stock last May, it has risen 10%, not including dividends -- not bad for a large-cap stock. The best may be ahead.
Sales are up, it has grown its domestic tobacco market share and it is aggressively seeking to expand in developing markets. Litigation problems, while not over, seem to have abated. It has an 85% stake in Kraft, the second-largest packaged food company in the world. Four years ago, Altria sold Miller Beer and took a 29% equity stake in the buyer, now called SABMiller, which is based in South Africa and is one of the world's largest brewers.
The company continues to make acquisitions, grow and do well, and the guru strategies I use to analyze stocks once again think the company is a buy.
The O'Shaughnessy Strategy
My strategy based on James P. O'Shaughnessy's investing style screens for large, well-known companies with market caps over $1 billion and strong cash flow. Altria has a hefty $5.81 per share in cash flow, well above the
S&P 500
mean of 14 cents per share.
Altria has 2.1 billion shares outstanding, well in excess of the S&P 500 average of 636 million.
Its trailing 12-month sales of $98.6 billion are well above the strategy's minimum of 1.5 times greater than the S&P 500 mean of $17.6 billion.
Finally, Altria's tidy dividend yield of 4.3% puts it among the 50 companies with the highest dividend yields that passed the strategy's other screens.
The Dreman Strategy
My strategy based on the investment style of Mr. Contrarian, David Dreman, also singles out Altria.
Like the O'Shaughnessy strategy, it favors larger companies and screens for those with rising earnings over the last few quarters. Altria's EPS rose 20.28% in the first quarter from the previous quarter, five times the rate of the S&P 500. It expects positive earnings growth for the whole year, although analysts' projections are for a rather modest 3.7% rise. This could set the stage for an upside surprise.
To determine whether a stock is contrarian, it must be in the bottom 20% of the S&P 500 in two of the following four categories: P/E ratio, price-to-dividend ratio, price-to-cash-flow ratio and price-to-book ratio. It passes on P/E ratio and price-to-dividend (this last one really means that the yield should be in the top 20% of the market, which Altria's is).
It could be that a company is in the bottom 20% of these criteria because it is financially weak. However, Altria passes the strategy's tests for financial health: It has a payout ratio slightly below its past average (56.63%), a very impressive return on equity of 32%, a high yield and debt-to-equity considerably below its industry average.
This is a company that is performing and has a reasonably priced stock that could do even better in the future. You may not want to light up a cigarette to celebrate, but you may well want to buy its stock.
Dead Money, by Alan Farley
Altria rallied to an all-time high of $72 last September. After that, the stock dropped into a sideways pattern and it has crossed through this level an astounding 53 times. In fact, it's trading right at the same price this week.
This means the stock is dead money and should be avoided except as a pure dividend play.
Of Two Minds About Altria, by James Cramer
Originally published on 6/6/2006 at 10:33 a.m.
Altria's not buying back stock. It had a not-so-hot quarter. It said that its restructuring is on hold. And yet it goes up pretty much every day.
That's just the
Fed
speaking. The market is saying you can't own anything that is levered to the economy because we are going to have one of the nastiest recessions you have ever seen.
That's a bet that I continue not to want to make. It is also the only game in town.
A poor-performing company is going up because people still smoke in a recession. You have to respect the fact that this is something that
only
happens when GDP growth crashes.
That's the hard-landing, "Bernanke doesn't have a clue" thesis. I have never gone wrong underestimating the Fed's wisdom. But this one is testing me. It is assuming oil is about to drop big because of a cessation of demand. It assumes that all commodity prices will be rolled back. It presumes that that we are done going out and done spending.
Way too many presumptions for me. Yet, this battle plan worked perfectly in 2000. Who can blame people for doing it again?
At the time of publication, Cramer had no positions in the stocks mentioned.
Outlook: Negative, by Richard Suttmeier
I have been and continue to be negative on Altria. It is rated a hold by ValuEngine and is trading 19% over its fair value of $59.51. The stock looks like it's forming a downtrend below the 200-day simple moving average of $72.76.
Altria has been holding up reasonably well above my semiannual and quarterly pivots of $67.34 and $70.46, however. If this zone fails to hold, the downside is to my annual value level of $60.63.
Jim Cramer is a director and co-founder of TheStreet.com. He contributes daily market commentary for TheStreet.com's sites and serves as an adviser to the company's CEO. Outside contributing columnists for TheStreet.com and RealMoney.com, including Cramer, may, from time to time, write about stocks in which they have a position. In such cases, appropriate disclosure is made.
Alan Farley is a professional trader and author of
The Master Swing Trader
. Farley also runs a Web site called HardRightEdge.com, an online resource for trading education, technical analysis and short-term investment strategies. He had no positions in the stocks mentioned at the time of publication.
John P. Reese is founder and CEO of Validea.com, an investment research firm, and Validea Capital Management, an asset management firm serving affluent investors and companies. He had no position in the stocks mentioned at the time of publication.
Richard Suttmeier is president of Global Market Consultants, Ltd., chief market strategist for Joseph Stevens & Co., a full service brokerage firm located in Lower Manhattan. He had no position in the stocks mentioned at the time of publication.