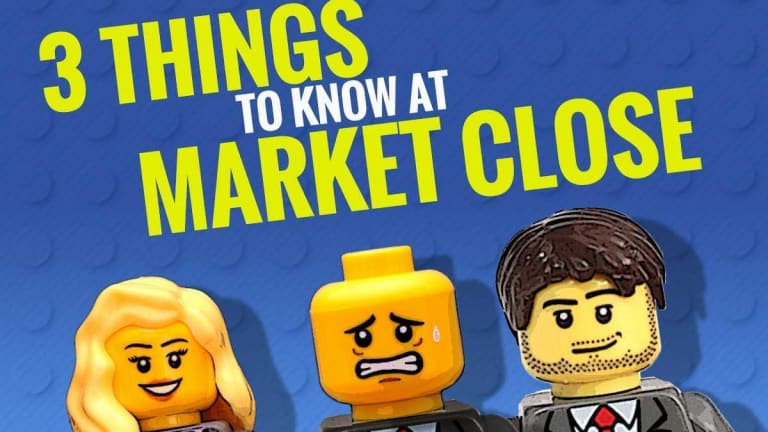 3 Things to Know at the Market Close: How the Grinch Stole the Markets
President Trump, Jim Cramer's thoughts on the market, and Steven Mnuchin are only a few of the top stories on TheStreet.
Happy Holidays to everyone except the market. 
Stocks markets opened lower on Monday, Dec. 24 after a Sunday tweet from Treasury Secretary Steven Mnuchin spooked investors. And then they went lower still..
TheStreet's London Bureau Chief, Martin Baccardax, broke down what happened.
Mnuchin said Sunday that he held individual calls with CEOs of the nation's six largest banks, all of whom said their institutions had ample liquidity for lending to consumers, businesses and all other market operations despite the recent market turmoil.
The unusual statement, issued via the Treasury Department's verified Twitter feed, also noted that Mnuchin would chair a meeting of the President's Working Group on Financial Markets, which includes the Board of Governors of the Federal Reserve system, the Securities and Exchange Commission and the Commodities and Futures Trading Commission.
At the close, the Dow was down 653 points, or 2.9%. The S&P 500 was down 2.7% and the Nasdaq was down 2.4%. 
This close marked the worst close on Christmas Eve in history. The S&P is also officially in a bear market. 
So, it sounds like the Grinch really did steal Christmas this year.
All right, let's wrap this up so you all can go and enjoy the holidays. 
Bank Stocks Get Hit
TheStreet's John Pickering took a look at the bank stocks post-Mnuchin tweet. 
On Monday, President Donald Trump tweeted, blaming the Fed for the market downturn.
Earlier, Mnuchin tried to reassure investors about talk that Trump would seek to fire Fed chairman Jerome Powell.
In a tweet, Mnuchin passed on a message from Trump: "I never suggested firing Chairman Jay Powell, nor do I believe I have the right to do so."
It's unclear whether the President's tweet Monday reflects his having a different view of the Fed than what Mnuchin said. His comparison of the U.S. central bank to a "powerful golfer" was likewise obscure.
On Sunday, Mnuchin spoke with the heads of JPMorgan Chase, Wells Fargo, Goldman Sachs, Morgan Stanley, Bank of America and Citi. Each of the executives said they have "ample liquidity" to lend to consumers, businesses and perform other market operations, the Treasury Department said in a statement Sunday evening.
At the close, JPMorgan (JPM) - Get Report  fell 2% to $92.21, Wells Fargo (WFC) - Get Report  dropped 3.3% to $43.63, Goldman (GS) - Get Report  slipped by 2% to $156.74, Morgan Stanley (MS) - Get Report  lost 1.8% to $36.99, Bank of America (BAC) - Get Report  fell by 2.5% to $22.77, and Citi (C) - Get Report  dropped by 1.8% to $49.30 as stocks fell for a fourth day, extending the worst December for the markets since 1931.
The Trash Talking Continues
Okay, so we just talked about the tweet from Trump Monday morning that kicked off Christmas Eve with some trash talk. 
TheStreet contributor Adam Smith took a look at why the president decided to take another shot at the Fed. 
The Twitter post--y'know, the one about the Fed not "feeling" the market--followed a wild weekend during which Bloomberg reported that Trump was eyeing firing Powell and then days later the White House's own budget chief, Mick Mulvaney, went on ABC's "This Week" and "Fox News Sunday" and played down any idea that Trump would consider trying to dump the Fed chairman, whom in October Trump reportedly called "crazy."
"It's not at all unusual for a president to complain about the actions of the Federal Reserve Chairman," said Mulvaney, who's also acting chief of staff, during an interview on "This Week." He added that the president doesn't have the ability to fire Powell. Trump has been upset over the raising of interest rates.
Jim Cramer Weighs In on This Market
In case you didn't know--over on TheStreet's sister site, Real Money--Jim Cramer has a column. 
Cramer decided to give investors a holiday present if sorts--his thoughts on the market. 
Here's what he wrote:
The reason why it is so hard to tell what's ailing stocks has to do with the beginning of the bear market and what's been done--the opposite--to end it.

Some say the bear started all the way back in January. That's when President Trump decided to fight back against China and the stock market grew more volatile, wiping out those silly souls who had made money month after month betting that the placid bull would continue to roam.

In truth, the market had become narrower as it clawed its way back and climbed ever higher. But the confusion of its origin stems from two fatal decisions that had nothing to do with business and everything to do with Washington.

On the third of October the Fed chairman, Jerome Powell, decided, in a very odd and erratic way, to come out swinging and declare that he had to stop this runaway train of an economy with one rate hike this year and three hikes the next. Indeed, he might need to overshoot and cause the economy to grow more slowly.

This moment was the first when we realized that Powell was not who we thought he was. He impressed as a pragmatist, not a dogmatist; he spoke like a cautious, even humane, banker, but we discovered he was a theoretician relying on models that it seems as though he never used before this.

So that's a lot to digest, but Cramer isn't done. He ends his column by bringing up what he's thinking about the markets. 
I am watching the world slow, demand dry up -- isn't that what oil is telling you, even with its reversal today from last night, a reversal of a dollar down that sent the S&P futures from bright green, as much as 18 ticks, to dripping red down 13 -- and the P/Es shrink and those who disagree with me don't even have an answer for any of these, but I am sure they will foment some to make themselves feel better as the bear market deepens through no fault of the companies themselves.
And, just so you know, this isn't even half of Cramer's column, which can be found here. 
Phew! Okay, now we can all go enjoy Christmas. 
Catch y'all on Wednesday.
JPMorgan, Citibank and Goldman Sachs are holdings in Jim Cramer's Action Alerts Plus Portfolio.