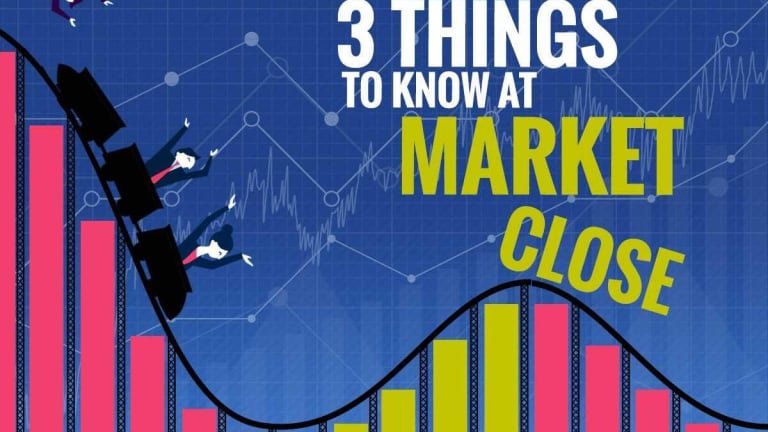 3 Things to Know at the Market Close: Government Shutdown, Nike and Facebook
The government shutdown, Nike and Facebook are just some of the top stories on TheStreet.
Happy Fri-yay!
Are you ready for the holidays? Apparently, the market isn't. 
Before you go kick off the holiday celebrations, here's what you should know.
Stocks fell on Friday, Dec. 21, after investors briefly thought there was a glimmer of hope the Fed might back track on its promise to raise interest rates as quickly as anticipated.
Losses were fueled by increasing anxiety that Donald Trump's erratic administration will add to a global market backdrop that has been struggling under intense pressure from falling share prices, slumping crude and a weakening U.S. dollar.
When trading wrapped up for the week, the Dow was down 422 points or 1.8%. The S&P 500 was down 2% and the Nasdaq was down nearly 3%.
The Government Shutdown Looms
TheStreet's John Pickering breaks down what will happen if the government shuts down. 
President Trump's decision to force a government shutdown over the refusal of congressional Democrats to approve $5 billion for a wall on the Mexican border means that more than 800,000 federal workers will be facing furloughs or forced to work without pay if a resolution isn't reached before funding expires at midnight Friday.
Of the 15 Cabinet-level departments about nine are expected to lose funding as are and dozens of agencies, including the departments of Homeland Security, Transportation, Interior, Treasury, Agriculture, State and Justice, as well as national parks and forests.
The Defense Department as well as the departments of Veterans Affairs and Health and Human Services already have been funded and will continue to operate as usual. The U.S. Postal Service won't be affected because it's an independent agency.
For investors, a shutdown could increase market volatility by reducing activity in the fourth quarter, following the fourth Federal Reserve rate hike of the year earlier this week, according to economists at S&P Global.
"A selective shutdown would have a modest, if not muted, impact on the $19 trillion economy in real terms," according to S&P Global. Shutting down 25% of the government "could shave approximately $1.2 billion off real GDP in the quarter for each week part of the government is closed."
"There also could be losses for business more reliant on holiday cheer for a boost -- such as retailers, restaurants, and entertainment establishments near government sites -- because some customers may choose to close their pocketbooks, seeing only a lump of coal inside," according to the S&P note.
Trump tweeted Friday that a shutdown "will last for a very long time," seeking to blame Democrats for a lapse in funding that just last week he said he would be proud to initiate.
"I will take the mantle. I will be the one to shut it down," Trump told Sen. Chuck Schumer, Democrat of New York, and Rep. Nancy Pelosi, the leader of the Democrats in the House, in a televised argument last week.
Nike Takes Off
TheStreet's Martin Baccardax reported on Real Money's stock of the day, Nike. 
The world's biggest sports apparel company posted stronger-than-expected quarterly earnings as new digital drive boosted revenues at home and accelerated sales in key markets such as China abroad.
Nike (NKE) - Get Report said earnings for the three months ended in November, the company's fiscal second quarter, came in at 52 cents a share, firmly ahead of the Street forecast of 46 cents and up 13% from the same period last year. Group revenues, Nike said, rose 10% to 9.4 billion, again topping Street forecast, as sales in China rose 26.5% to just over $1.54 billion thank in part to a 40% surge in Singles' Day activity.
"The growth for Q2 was exceptional and we had a great start for Q3, with the largest product launch that we've ever had in our history. So that's a good signal right there," CEO Mark Parker told investors on a conference call late Thursday. "And then, we have more potential as we diversify the portfolio of product, particularly around the Woman's offense in both footwear and in apparel."
"So again we're actually quite bullish on the future opportunities and continued growth for Jordan in the second half and beyond as we move into fiscal '20," he added.
Nike also said full year revenues could "potentially" approach the lower double-digit percentage range, with gross margins improving by around 70 basis points, up from a prior forecast of just over 50 basis points.
Nike closed up over 7% to $72.37 a share.
This Company Is Getting Coal for Christmas
Baccardax and Katherine Ross discussed what companies are likely to get coal from Santa Claus this year. 
It shouldn't be too surprising that Facebook (FB) - Get Report is the first stock on the naughty list after a year of scandals.
Baccardax breaks down why he thinks the company deserves a stocking filled with coal.
In addition to the high profile Cambridge Analytica scandal from earlier this yera, the social network is now working through a New York Timesreport that it gave big tech companies such as Microsoft (MSFT) - Get Report and Amazon (AMZN) - Get Report greater access to user's data than previously disclosed.
The Times said the access, which was revealed through internal company documents, was an effective exemption for some so-called partner companies to Facebook's privacy rules that may have violated a 2011 agreement with the Federal Trade Commission. In some cases, the Times report noted, companies like Netflix  (NFLX) - Get Report and Spotify (SPOT) - Get Report were able to read Facebook users' private messages, while in others, Microsoft's Bing search engine was allowed to see the names of users' friends without their consent.
"None of these partnerships or features gave companies access to information without people's permission, nor did they violate our 2012 settlement with the FTC," Facebook's director of development platforms Konstantinos Papamiltiadis wrote in a blogpost in reaction to the Time story. "We've been public about these features and partnerships over the years because we wanted people to actually use them - and many people did. They were discussed, reviewed, and scrutinized by a wide variety of journalists and privacy advocates."