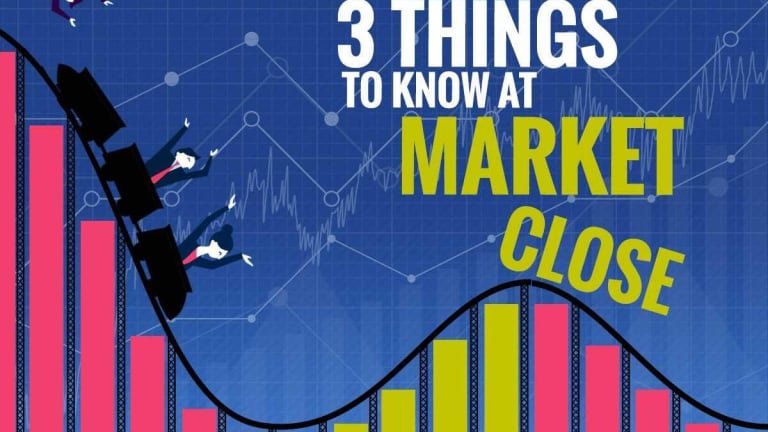 3 Things to Know at the Market Close: Bank Earnings, GDP Report and Jim Cramer
Here's what you need to know on TheStreet.
Here's what you need to know on TheStreet.
By the time you finish this article, it'll be Friday. 
Feels good, right?
So let's hurry through what you need to know before Friday's trading session.
At the close, the Dow Jones Industrial Average jumped 163 points, or 0.67%, to 24,370, the S&P 500 was up 0.76%, and the Nasdaq rose 0.71%.
The Bank Report Card
So bank earnings are pretty much done. 
Real Money's Kevin Curran compiled a bank report card to list out what the Street needs to know.
Citigroup  (C) - Get Report  started off the week and served to set the table for earnings on the week with a mixed result that was aided by management commentary that soothed some nerves that remained frayed over the firm's fixed income losses.
Citi got a B- from Curran.
Wells Fargo (WFC) - Get Report  reported as one of the weaker banking stocks even as many in the sector saw stocks surge. The company's quarter reflected some weakness in community banking and investment management, which certainly was not helped along by the bank's consistently tarnished reputation in recent years.
Unfortunately, Wells Fargo came out with a C.
JPMorgan  (JPM) - Get Report came in with one of the more disappointing results, missing on top and bottom line estimates from analysts.
Welp. Sorry, JPMorgan, but that quarter earned you a D.
America's second largest bank, Bank of America (BAC) - Get Report , saw its profit doubled in the fourth quarter from a year earlier when the bank took a big write-down related to passage of the 2017 tax law.
Bank of America received an A. 
"We continue to see a business that has steadily grown its tangible book value while RoTCE has increased to multi-year highs," the Action Alerts PLUS team wrote in its earnings report on its biggest bank holding, Goldman Sachs (GS) - Get Report . "It is refreshing to see a dirt cheap and hated stock like Goldman get more respect today in reaction to the print."
Congrats on that A, Goldman.
Morgan Stanley (MS) - Get Report  missed big on Thursday to quickly kill what was a bullish trend among banks when it released its earnings on Thursday morning.
Yikes. Well, that's a big old F. 
What's Going on With the GDP Report?
"As the partial shutdown of the federal government grinds on with no end in sight, it's growing more likely that fourth-quarter gross domestic product data won't be released as scheduled later this month, potentially throwing a wrench in forecasts and analysis about the economy, even extending to the Federal Reserve," wrote TheStreet's contributor Adam Smith. 
Just a reminder that this shutdown is about to hit the month mark.
Positioning Your Portfolio During the Shutdown
Need some help? Jim Cramer is here. 
In his Real Money column Thursday morning, Jim Cramer discussed the government shutdown's impact on the stock market.
"What I do know is that we are in earnings season and you don't want to hear either that we have slowed or that the government shutdown is going to lead to forecast cuts, because after this run from the bottom, we will not be able to handle them without taking some real hits to the midsection," wrote Cramer. "How can you protect yourself from these cautionary words? I think you have to continue to trim the shares of those companies that are related to the consumer and emphasize those that are related to secular growth trends that aren't going to let up even if there is no significant slowdown and the government shutdown drags on."
'Till next time.
Citi, JPMorgan and Goldman Sachs are all holdings in Jim Cramer's Action Alerts Plus portfolio.