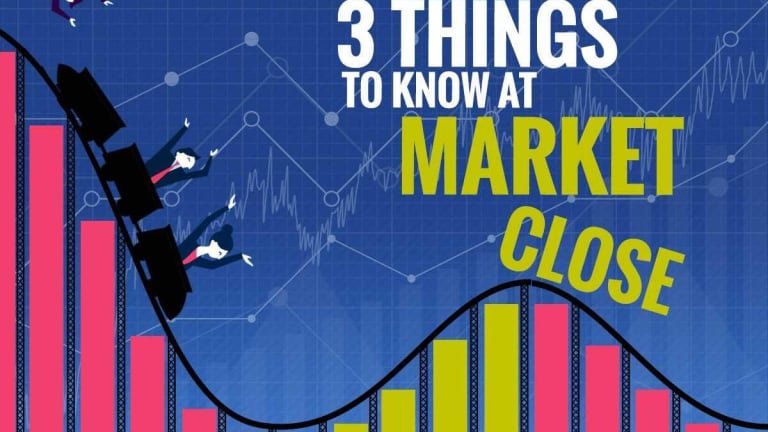 3 Things to Know at Market Close: Tech's the Name of the Game
Here's what you missed on TheStreet.
Here's what you missed on TheStreet.
Happy hump day!
We've made it this far, so congrats. 
Despite the potential for hurdles, the biggest news item on Wednesday, Jan. 9 seems to be the announcement that Jeff and MacKenzie Bezos made Wednesday morning. You know, the one where they said they were getting divorced?
About 20 minutes before the closing bell, it was reported that President Trump had walked out of a meeting with Democratic leaders about the government shutdown. Trump called the meeting "a total waste of time" and Sen. Chuck Schumer said that Trump had a "temper tantrum" in a press conference. 
Stocks in the U.S. rose for a third straight day on Wednesday, however, lifted by optimism over the trade talks. the Dow Jones Industrial Average gained 92 points, or 0.39%, to 23,879, the S&P 500 rose 0.41, and the Nasdaq was up 0.87%. 
What's Going on at CES 2019?
CES is a couple of days in and there has been no shortage of headlines. 
During the keynote Wednesday, AMD (AMD) - Get Reportannounced its new GPU, Radeon VII as its competitor, Nvidia (NVDA) - Get Report  , also announced new GPU's, according to TheStreet's tech columnist Eric Jhonsa, AMD's Radeon is a higher-end GPU than Nvidia's middle-range market GPU's.
On Tuesday, Verizon VZ rolled out its "5G Challenge" that puts $1 million to work for developers who want to create 5G applications, and LG announced the world's first rollable TV. 
And Google (GOOGL) - Get Report , according to Jhonsa--TheStreet's boots on the ground at CES-- "pulled out all the stops at CES to promote Google Assistant to hardware firms, developers and the media. This time around, [Google used] the event to unveil several new Assistant features."
Whew, that's a lot. 
Apple Holds Steady
Apple (AAPL) - Get Report closed up 1.7% to $153 a share on Wednesday after TheStreet's founder Jim Cramer sat down with the consumer electronics company's CEO Tim Cook. 
"I'm never surprised by the market, to be honest with you," Cook told Cramer. "Because I think the market is quite emotional in the short term. And we sort of look through all of that. We think about the long term. And so when I look at the long-term health of the company, it has never been better."
Apple is Real Money's stock of the day. Kevin Curran, reporter for Real Money,covered Morgan Stanley's note on Apple from Katy Huberty. 
Huberty set a $211 price target and an "Overweight" rating for the stock.
No Trump Impact?
Matthew Cheslock, an equity trader with Virtu Financial, weighed in on the markets and what he's looking at going forward.
When looking at the China-U.S. trade talks and how the market is reacting, Cheslock said, Now we're seeing substantial gains for the third or fourth straight day here and most of it is based on the optimism out of China
"Nothing that was kind of unexpected and that's what the market likes. It was expecting the worst it didn't get it. So we saw a rally," he continued.
Alright, that's enough for one day. Catch y'all later. 
Google and Apple are holdings in Jim Cramer's Action Alerts Plus portfolio.