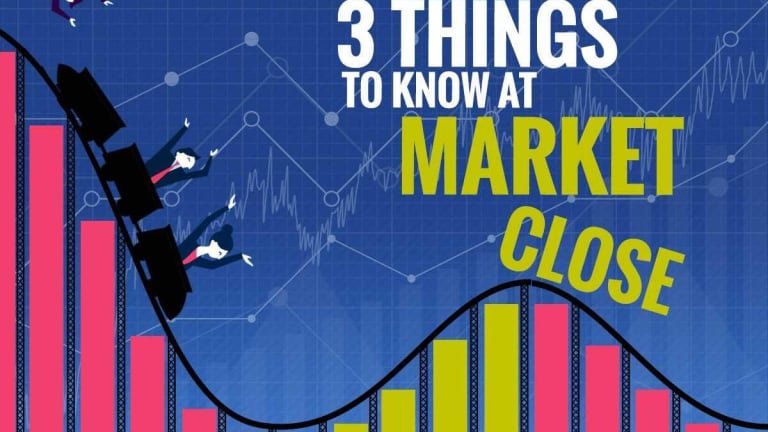 3 Things to Know at Market Close: Nvidia, Jay Powell and Howard Schultz
Here's what you need to know on TheStreet.
Phew, what a day!
The Dow closed higher while the S&P 500 and Nasdaq lost ground on Tuesday, Jan. 29, as investors digested a host of corporate earnings reports and a U.S. decision to pursue criminal charges against the chief financial officer of China's biggest tech company.
At the close, the Dow Jones Industrial Average rose 52 points, or 0.2%, to 24,580, the S&P 500 fell 0.15%, and the Nasdaq dropped 0.8%
Oh, Nvidia
Jim Cramer reacted to Nvidia's guidance cut in his morning column for Real Money:
I found myself flummoxed yesterday when Nvidia (NVDA) - Get Report  the huge graphics chip maker, long a loved stock, wasn't down as much as it could have been given 1) its huge miss -- and it was huge, one of the biggest I have seen in ages; 2) its bizarrely bad forecast guide-down, as nasty as they come; and 3) whole new areas of weakness -- like the once-red-hot gaming biz and the smoking data center, and not just a crypto mining card shortfall, which was the culprit in its last earnings report.
Cramer said that his major takeaway from Nvidia's guidance cut and his Real Money column is that Nvidia should be much lower. 
Ready for Some Chaos?
Chair of O'Shares ETFs and ABC's Shark Tank star, Kevin O'Leary is looking forward to presidential campaign. 
"[Howard Schultz] is going to cause chaos in the Democratic Party," he said. "He's going to pull 20 or 30 percent of those votes into an independent bid. That would be a disaster."
"This is going to be the best theater we have ever seen, " he added.
Guess we'll have to see whether or not Schultz, ex-CEO of Starbucks (SBUX) - Get Report is actually running first. 
Yikes, Apple
A report came out on Tuesday morning that notes anyone with FaceTime can immediately hear the audio coming from the phone they are calling, even before the person on the other end has accepted or rejected the incoming call, reported Real Money's Kevin Curran. 
According to Buzzfeed, the person placing calls can receive both audio and video from the intended recipient.
Apple (AAPL) - Get Report responded to the report by stating they are "aware of this issue and we have identified a fix that will be released in a software update later this week."
And yet, it hasn't impacted Apple. 
The company reported EPS of $4.18 after the bell, beating expectations of $4.17 a share. In after hours trading, the stock was up. 
Score a Touchdown with Jim Cramer's Big Game Special
Get access to the best stock picks in Jim Cramer's investment portfolio by executing a two-minute drill on our Big Game Special on Action Alerts PLUS, Jim's VIP club for investors. Sign up now through Feb. 4 and receive 58% off of the normal subscription price. Now that's a real touchdown!