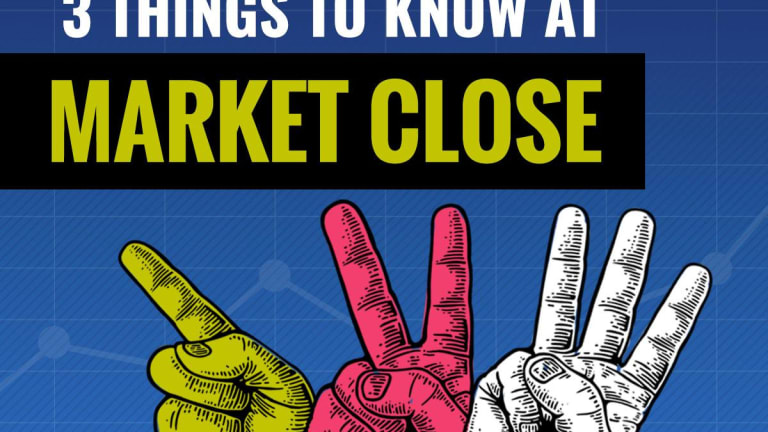 3 Things to Know at Market Close: The Grinch Stole Christmas, But Not New Year's
Jerome Powell, Jim Cramer, and Citron's boost are some of the top stories on TheStreet today.
Feeling that post-holiday hangover yet?
Apparently the markets aren't. They finally caught that addictive joy that comes with the holiday season, which--for many investors--led to sighs of relief as Wall Street recovered from the worst Christmas Eve for the markets in history. 
At the highs, we saw the Dow surge 1,000 points. This was the first time that the Dow closed up over 1,000 points--making it the biggest point gain in history.
The Dow closed up 1,086 points, or 4.99%. The S&P 500 was up 4.96% and the Nasdaq was up 5.84%. 
Looks like the Grinch may have stolen the markets' Christmas, but he's got nothing on the New Year. 
Fed Chief's Job Is Safe
TheStreet contributor Scott Van Voorhis reports on the state of Jerome Powell's job. 
The answer? Powell's position is safe for now. 
The embattled Fed chief appears to have dodged a bullet, with a top Trump aide telling reporters Wednesday Jerome Powell's job is "100 percent" safe. 
The comments by Kevin Hasset, chairman of the Council of Economic Advisers, comes after several days of harsh criticism by President Trump, who has taken to Twitter to blame the Fed chief for the stock market losses of recent weeks.
On Christmas Eve, Trump took aim at the Fed, writing on Twitter "the only problem our economy has is the Fed," which he compared to a "powerful golfer who can't score because he has no touch - he can't putt!"
Citron Research Boosts Facebook's Target Price
TheStreet contributor Rob Lenihan reports on the target price boost. 
Citron Research increased their stock target for Facebook (FB) - Get Report  from $120 to $160 Wednesday, saying the social media giant has improved despite a tough year.
"In the past 30 months (Facebook) has more than doubled its quarterly revenue and concerns of engagement have shifted to concerns of addiction," famed market watcher Andrew Left's Citron Research wrote, "yet the stock is back down in $120 range. Time to back up the sleigh!"
Citron noted that Facebook has 2.2 billion active users and has grown revenues 33% quarter over quarter during this controversial 2018, when the company had to deal with issues "ranging from digital addiction, genocide in Myanmar, failure to adequately monitor or curtail propaganda from sources outside the country, and multiple abuses of user privacy."
"Considering the user base excludes China, this is a lead that has no second place," Citron wrote.
Citron said Facebook has made progress with privacy and it continues to invest in the network, adding that "the press has resorted to sensationalizing Facebook privacy issues that is not intellectually honest."
Jim Cramer Breaks Down the Markets
Over on Real Money, Jim Cramer breaks down what investors should know. 
Here's what Cramer wrote:
Can something be done by any authority to mitigate the situation? Let me give you a scenario that would make you REGRET selling right now. How about one of the White House's trade people come up with something? How about if Robert Lighthizer and Peter Navaro actually prevail in some high level talks that are mutually positive for both sides? What happens if the Chinese know that it isn't possible to continue their insistence on pernicious joint ventures. 

I think it is possible that the President's people have more flexibility - certainly more than the Fed. That could change the debate and make you wish that you bought some of the more internationally oriented companies that are being thrown away left and right.

Do I think that's a possibility? Let's put it this way: I think there's a lot greater chance to happen then anything to help us from the Fed which just dug in its heels and can't un-dig on a dime.
Cramer writes a daily column over on Real Money. 
I know that sentiment, negative sentiment, means nothing to the bear. But I also know this: if you are long-oriented there are a lot of companies that are now selling at 7-10 times earnings where the earnings WILL BE MADE and you might have to scramble if some sort of concession is made by the Chinese.

As you know, I am a hardliner on China. I have seen them do too much to industries I am well aware of, taking away our jobs for theirs and adding a dollop of world eco-destruction and forced conversion of non-believers just like the bad old Maoist days.
Until tomorrow. 
Facebook is a holding in Cramer's Action Alerts Plus portfolio.