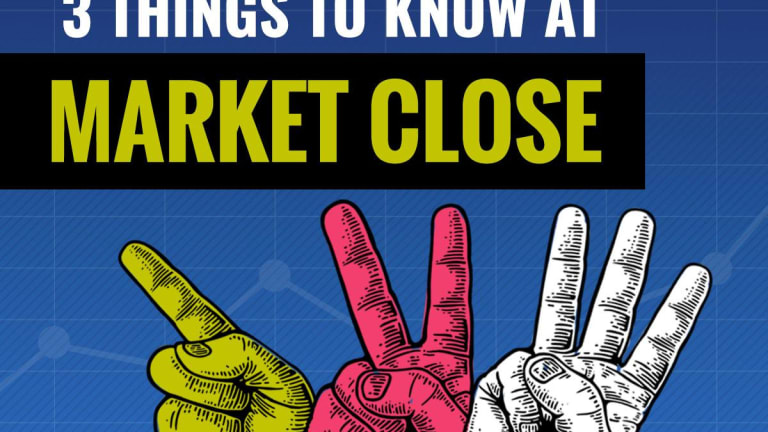 3 Things to Know at Market Close: Have You Made Your News Years Resolutions Yet?
Capri Holdings, Verizon and investment resolutions are some of the top stories on TheStreet.
Happy final day of 2018. 
Before we all get to celebrating, let's pause and review the top news on the Street today. 
Stocks were rising sharply on Monday, Dec. 31, the last trading day of 2018, after Donald Trump tweeted over the weekend that "big progress" was being made in trade talks between the U.S. and China.
The two nations previously agreed to a temporary tariff truce at least until March, putting on hold the Trump administration's plans to raise tariffs of some $200 billion worth of Chinese imports from 10% to 25%.
Meanwhile, a Chinese Foreign Ministry spokesman was quoted by the official Xinhua News Agency as saying that "China stands ready to work with the United States to move forward the China-U.S. ties which are underpinned by coordination, cooperation and stability."
The Dow Jones Industrial Average jumped 265 points, or 1.15%, to 23,327 on Monday, the S&P 500 was up 0.85%, and the Nasdaq rose 0.77%.
I'm Sorry -- Capri, Who?
Michael Kors (KORS) has officially changed its name and gained a new brand.
TheStreet's Tony Owusu reported that the company will begin trading under the ticker symbol "CPRI" on Wednesday, Jan. 2.
The announcement came after the company said it completed its acquisition of fellow luxury brand Versace for about $2.12 billion.
"With the acquisition of Versace, we have now created one of the leading global fashion luxury groups in the world," said Chairman and CEO John D. Idol. "Versace has long been recognized as one of the world's leading fashion luxury houses, and is synonymous with Italian glamour and style. We are thrilled that the house of Versace is now part of the Capri Holdings family of luxury brands."
Capri Holdings said it believes the acquisition will help grow the group's annual revenue to $8 billion in the near future. The Versace brand is expected to bring in $2 billion annually to go along with $1 billion in revenue from the Jimmy Choo brand and another $5 billion from the Michael Kors brand.
Don't Fret, College Football Is Back 
Or so TheStreet contributor Adam Smith reported.
Verizon Communications Inc. (VZ)  last week threatened to pull Walt Disney Co. (DIS)  services such as Disney, ESPN and some ABC content from Fios TV over a money dispute. But by Sunday, Verizon had said it's reached a deal.
"Verizon and The Walt Disney Company have reached a broad-based distribution agreement. Details will be released in the coming days," said both Verizon and ESPN over Twitter Sunday.
Just after Christmas day, Verizon had emailed Fios customers, saying that "Disney is currently proposing that Verizon pay hundreds of millions of dollars more for its programming, despite the fact that many of its key networks are experiencing declining viewership."
"The rising cost of programming is the biggest factor in higher TV bills and we are standing up to networks like Disney, refusing to accept these huge increases," Fios added.
Need Some Investing Resolutions?
TheStreet's sister site, Real Money, has your back. 
Real Money's Bret Jensen broke down his portfolio and his resolutions going into 2019. 
It is hard to believe we are at the end of the year already. If nothing else, the market this year certainly was a "memorable" one, and not in a good way from a performance perspective. It is also the time of the year where most everyone makes some resolutions. These usually involve eating and drinking less, taking more time for friends and family and getting to the gym more. They usually have the half-life of a CNN mini-series.

Investors should also have their own resolutions. This is especially true given what equity holders had to endure in the fourth quarter of 2018, which was one of the worst quarters for investors since the financial crisis. The market's day-to-day extreme volatility tested even the most seasoned investors.

As I look at how my portfolio performed in 2018 and how I adhered to my risk management guidelines, it definitely is a mixed bag of keeping to well-established guidelines. I am a firm believer that no more than 25% to 30% of one's portfolio should be allocated to any one sector of the market. Thanks to doing some major buying during the recent dip in the market in the battered biotech sector, I have slightly exceeded those parameters and find myself overweight this high-beta part of the market. Performance has suffered somewhat due to this.
Want more investing advice? Head on over to Real Money.
And that's a wrap for 2018. 
See y'all on the other side, and have a safe and happy New Year. 
Disney is a holding in Jim Cramer's Action Alerts Plus portfolio.