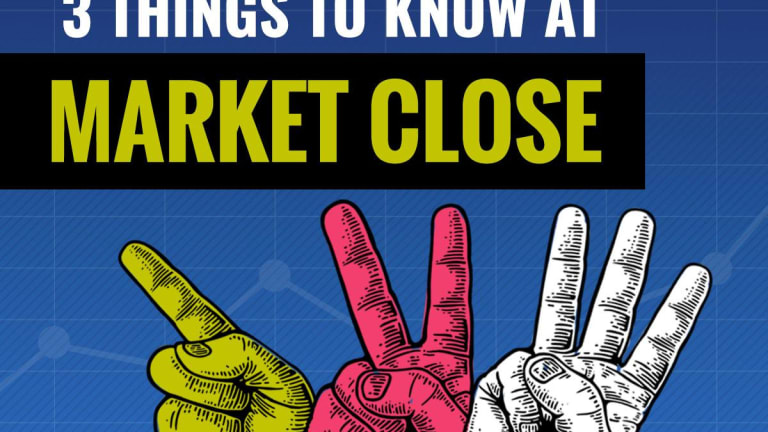 3 Things to Know at Market Close: Chevron, Rite Aid and the Jobs Report
Chevron, Rite Aid and Jim Cramer's response to the jobs report are some of the top stories on TheStreet Friday, Jan. 4.
Chevron, Rite Aid and Jim Cramer's response to the jobs report are some of the top stories on TheStreet Friday, Jan. 4.
Happy Fri-yay!
Are you ready for the weekend? Investors certainly may be as the weeks wild trading ended on a high note. The Dow soared over 830 points at the high on Friday, thanks in part to Jerome Powell saying that the central bank plans to be "patient" about rate hikes. Prior to Friday's trading stocks were no pace for one of their worst starts to a new year in recent history.
At the close, the Dow Jones Industrial Average jumped 746 points, or 3.3%, to 23,432, the S&P 500 gained 3.4%, and the Nasdaq was up 4.3%.
The rally followed Thursday's session, which saw the Dow close down 660 points after Apple slashed its revenue forecast to $84 billion from $91.5 billion.
Jim Cramer's Responds to Massive Jobs Report
Cramer responded to the jobs report, which shocked the markets Friday, as non-farm payroll came in at 312,000, which beat estimates of 180,000. 
The employment number proves that "it's a joyous time," Cramer told TheStreet. "I celebrate the fact that you can get jobs."
The markets also enjoyed the report as futures popped on the report's release and kept rising throughout the normal trading day.
Rite Aid Is Looking for a Band-Aid
The drugstore is at risk of being delisted from the New York Stock Exchange because shares of the company have been trading for under $1 for nearly 30 days. 
The company is reportedly looking into various options, including a reverse stock split after the NYSE notified Rite Aid (RAD) - Get Report about a possible delisting Thursday, Jan. 3. 
Over the past year, Rite Aid has fallen nearly 62% and was trading at $0.77 when the market closed Friday.
What's Going on, Chevron?
Chevron (CVX) - Get Report is Real Money's Stock of the Day. 
The company has seen a recovery in share prices, which--as Real Money's Kevin Curran pointed out this morning--coincides with the rebound in oil prices. U.S. crude oil prices have risen more than 13% from their bottom of the barrel price of $42.53 on Christmas Eve.
The recovery is, in large part, due to OPEC and its firm production cuts. 
"[Chevron has] had a nice little 10 day run at about 7 to 8 percent to the upside. It's still relatively expensive to its peers at about 14 times forward," said Martin Baccardax, TheStreet's London Bureau Chief.
When the markets closed, Chevron was up 2% to $110 a share.