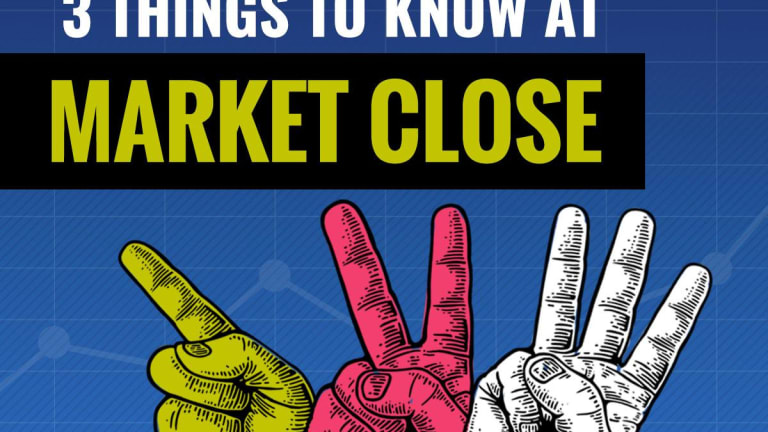 3 Things to Know at Market Close: 2019 IPO's, IBM Earnings, and Oil
Here's what you should know at the market close.
Happy hump day. 
Concerns about the global slowdown, which has resulted in cuts to growth forecasts from the International Monetary Fund earlier this week along with reports of stalled progress in trade talks between Washington and Beijing, according to TheStreet'sreporters, eased somewhat today.
At the close, the Dow Jones Industrial Average rose 171 points, or 0.7%, to 24,576 - at its high for the session the blue-chip index gained 296 points. The S&P 500 was up 0.22%, and the Nasdaq was closed up 0.08%. Yesterday, the Dow sank 1.2%, the S&P 500 fell 1.42% and the Nasdaq slumped 1.91%.
Jim Cramer Reacts to IBM Earnings
The computer company is Real Money's stock of the day. 
IBM (IBM) - Get Report said adjusted earnings for the three months ending in December came in at $4.87 per share, down 5% from the same period last year but ahead of the Street consensus of $4.82 per share. Group sales were also softer than the prior period, falling 1% to $21.76 billion, but the figure topped estimates and IBM said it sees free cash flow for 2019 of around $12 billion, largely in-line with its tally over the past year, reported TheStreet's Martin Baccardax.
Jim Cramer reacted positively to the earnings. Watch what he has to say.
Will 2019 Make IPO's Great Again?
David Ethridge, PwC's U.S. IPO Services Leader, broke down what he expects for IPO's in 2019. 
"So I think, coming into '19, setting aside other external factors for a moment, the expectation of the market was we'd have leadership from two sectors. One would be pharma life sciences, or PLS, and the other would be tech, media, telecom, or TMT," said Ethridge. "So, we had the expectation that, coming into 2019, those two sectors would lead again."
Bow Down to Oil
Jim Cramer tackles the market in his afternoon column for Real Money.
"I found it remarkable that terrific results from IBM, a huge tech concern, Procter & Gamble (PG) - Get Report , the king of packaged goods and United Technologies , a broad conglomerate that includes aerospace, residential and commercial climate controls as well as an elevator company, could mean so little in the face of the linkage from oil to the S&P. It's like it doesn't matter how well corporate America does if the report card comes the same day as a breakdown in oil which, like back in 2016, is linked to China except this time it's China as in the trade talks with China," Cramer said. "Oh and lets' throw in the results from another stock, Comcast (CMCSA) - Get Report , which at one point was up two points off a truly amazing quarter with true greenfield growth from Sky, but ended up giving up half that gain on the altar of oil."
When the bell ended trading Wednesday, WTI crude was down 1.1% to $52 a barrel and Brent crude was down 0.1% to $60 a barrel.