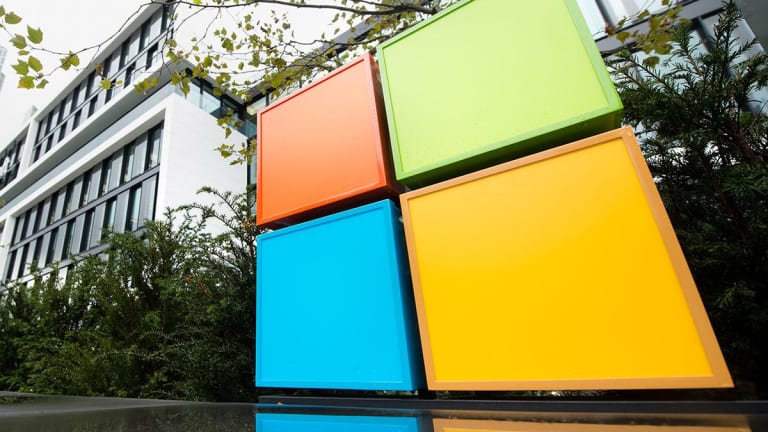 3 Lessons for Investors from Microsoft's Impressive Turnaround
Among other things, the software giant's performance in recent years drives home the importance of good leadership and the long-term value of "legacy" platforms.
As quite a few publications have been eager to mention, Microsoft's (MSFT) - Get Microsoft Corporation Report market cap has surpassed Apple (AAPL) - Get Apple Inc. Report , making it the world's most valuable publicly-traded company.
There's no guarantee that Microsoft will be worth more than Apple -- or for that matter, Amazon.com (AMZN) - Get Amazon.com Inc. Report or Alphabet (GOOGL) - Get Alphabet Inc. Report -- a year from now. But even if Microsoft only briefly holds onto the title it just obtained, obtaining it represents one more remarkable milestone for a company that not long ago had been dismissed by many as a "legacy" or "irrelevant" tech giant.
Since Satya Nadella was named Microsoft's CEO in early 2014, the software giant's stock has risen three-fold. The company's non-GAAP EPS rose 48% from fiscal 2013 (it ended in June 2013) to fiscal 2018, and is expected to grow another 14% this fiscal year.
There are arguably some valuable lessons for investors to take from Microsoft's turnaround. Here are three big ones:
1. Don't Just Focus on Businesses and Trends the Tech Press Likes to Write About
A disproportionate amount of tech media coverage involves consumer products and services. And that, arguably, did much to shape popular narratives of Microsoft as a has-been tech giant. Thanks to its Windows franchise, Microsoft was strongly associated with a PC market that has been in decline for much of this decade. And even Microsoft's biggest fans would admit that the company blew major opportunities in fields such as mobile operating systems and consumer Internet services.
Focusing on just these things, however, would have led investors to ignore the solid competitive positions and/or meaningful growth opportunities Microsoft still had in enterprise tech markets such as public cloud services, server operating systems, databases and business apps. And (though Office is sold to both consumers and businesses) it could have also led the growth potential for the Office productivity suite to be underestimated This is both because productivity software isn't exactly the sexiest topic in consumer tech, and because much of Microsoft's recent Office revenue growth has come from using its Office 365 platform to improve Office's corporate feature set and grow the amount of long-term revenue its gets from enterprise Office seats.
2. Leadership Matters
While not all of the criticism that Steve Ballmer has received for his 14-year stint as Microsoft CEO is warranted, odds are pretty good that Microsoft's stock wouldn't be trading above $100 if Nadella hadn't replaced Ballmer.
Nadella's efforts to restructure Microsoft's product engineering teams, use M&A to obtain useful technology assets and prioritize investments in areas such as public cloud apps and services, mobile apps and machine learning arguably have much to do with the current competitiveness of platforms such as Office 365, Azure, SQL Server (database) and Dynamics 365 (business apps). In addition, it's quite possible that Ballmer wouldn't have signed off on certain strategic decisions that Nadella has made, such as building feature-rich Office apps for iOS and Android and avidly embracing open-source software.
And Microsoft's upper management in general deserves credit for the company's solid operational and financial execution in recent years. Unlike several major acquisitions inked during the Ballmer years, Microsoft's $26.2 billion 2016 acquisition of LinkedIn has gone pretty well. The company has also kept its operating expense growth at moderate levels in recent years, and has effectively used large stock buybacks to boost EPS.
3. 'Legacy' Tech Platforms Can Act as Useful Springboards for Newer Platforms
Office 365 is a good example of this phenomenon, given how much of its success clearly depends on how accustomed legions of productivity app users were to using apps such as Word, Excel and Outlook thanks to traditional Office licenses. However, there are few other Microsoft platforms that fit the bill as well.
Azure, for example, has benefited a lot from Microsoft's ability to integrate the platform's cloud services with traditional data center software platforms such as its Windows Server OS and System Center management software, as well as from the bundling of Azure service credits with broader enterprise software agreements. And Microsoft's Windows cash-cow helped enable the creation of its Surface PC/tablet line, as well as (more recently) the launch of Microsoft 365 subscriptions for businesses, which bundle Windows, Office 365 and security and mobile management software.
Microsoft, Amazon, Alphabet and Apple are holdings in Jim Cramer's Action Alerts PLUS member club. Want to be alerted before Jim Cramer buys or sells MSFT, GOOGL, AMZN or AAPL? Learn more now.
This column originally appeared on Real Money, our premium site for active traders. Click here to get more great columns like this.