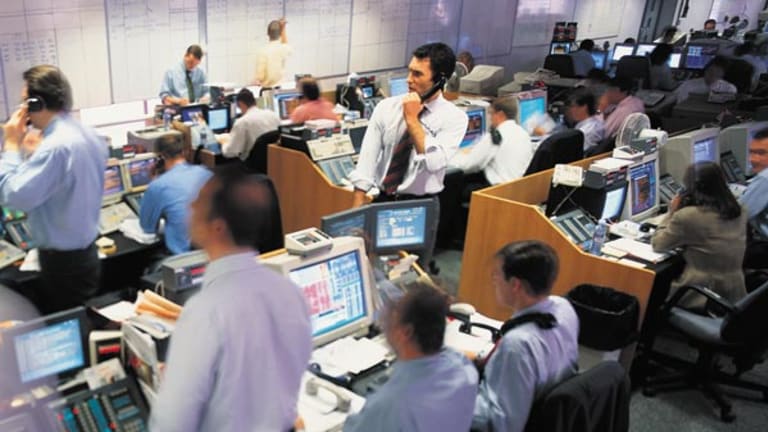 25 Takes on 2007 Surprises, Part 2
There's more to think about in Doug Kass' take on 2007.
Editor's note: This is Part 2 of James Altucher's response to Doug Kass' 25 Surprises for 2007, parts 1 and 2. Click here to read Part 1 of Altucher's column.
This column was originally published on
RealMoney
on Dec. 18 at 10:18 a.m. EST. It's being republished as a bonus for TheStreet.com readers. For more information about subscribing to
RealMoney,
please click here.
Kass starts to get into Nostradamus mode with surprises 14 through 25; take 14, for instance:
14. "A well-known corporate raider finds himself with a concentrated portfolio ... and suffers large losses."
Every year we're going to experience an Amaranth or two. The important thing about these big losers is that our economy has shown an astonishing ability to bandage itself when there are holes. Long Term Capital Management's disaster was enough to cause chaos back in 1998. In 2006, Amaranth -- which had significantly larger losses -- caused barely a ripple. Same will go for the big losers of 2007.
15. Cyberterrorism.
These bad apples are trying and failing, trying and failing. I can guarantee that on July 4, 2007, the Internet will not be ineffective due to cyberterrorism. Doug, I will instant message you on July 4 to wish you a happy Independence Day.
16. Newt Gingrich for president?
I sincerely hope not.
17. SAC Capital Partners' Steve Cohen acquires majority control of the New York Yankees.
It would be great for the Yankees and NYC if Stevie Cohen took over. Kass, I hope you're right; if this comes to pass, I might actually attend the third baseball game of my life.
18. Wal-Mart's funk continues.
Kass specifies that
Wal-Mart
(WMT)
will report five consecutive months of negative same-store sales. I don't even understand how this could happen, mathematically. And where would everybody be shopping in that case?
Target
(TGT)
?
Dollar General
(DG)
?
Kass is saying that a combination of deflationary winds blowing plus a general consumer slowdown that could affect high-end purchases will cause problems. Maybe, but why didn't that happen this year when all the car companies fell apart and housing prices slumped? Incomes went up, the stock market went up, and global expansion continued, which all ultimately drive sales to companies such as Wal-Mart.
19. "Google marches on ... and dramatically exceeds ... expectations."
I agree, but only because of the trend that online advertising, fueled by a growing economy, is going to keep booming, and
Google
(GOOG)
gets the bulk of that revenue.
However, I believe
Yahoo!
(YHOO)
is the better bet in 2007.
Kass also believes legislators will question Google's monopoly in 2007. I guess anything can happen, but right now there are many, many choices of online ad platforms, and growing competitors such as Yahoo!'s Panama, Adbrite and even StumbleUpon will force Google to keep being competitive.
20. Saddam Hussein and Osama bin Laden found dead.
Maybe.
21. Corruption scandals in Russia hit emerging markets in 2007.
Uh, haven't there been nonstop corruption scandals there already? The government walked in and took over the biggest oil company and sold off all the assets -- and that
still
didn't scare people out of doing business there.
22. "A large hedge fund lowers its ... fees ... lead ing to a 50% reduction in the number of hedge funds."
I totally agree with this one. Hedge funds are beginning to resemble large money management firms and even institutions like banks. And, in fact, the bigger funds are getting bought by banks and going public. You can't charge 2 and 20 in an environment like this. Particularly, you can't charge it when firms like
WisdomTree
are going to introduce actively managed ETFs that consistently outperform the hedge funds.
It's over, guys. I feel bad for the reverse commuters reading
The Wall Street Journal
on the train to Greenwich, Conn.
23. Ugh, I can't even type about stocks anymore. Kass predicted something about stocks here, but my eyes can't focus anymore.
24. Maria Bartiromo goes to The View.
Doug, I hope you're right. I'll start watching it then. If Ellen DeGeneres goes with her, it's a clincher for me.
25. "Mad Money" goes prime-time on CBS in early 2007.
I don't know anything about Cramer's contract with
CNBC
, but I have to think before anything like that happens that Cramer will first do a reality show where he allocates aspiring young hedge fund managers some of his personal money and then drills them, Lightning Round style, on their picks. We follow the contestants while they visit companies and CEOs, talk to analysts, visit some of the great hedge funds and watch them trade, and the eventual winner gets his own hedge fund. I would watch such a show religiously.
Final note to Kass: Try not to worry so much. In March-April 2003, I felt like
we were Butch Cassidy and the Sundance Kid, both bullish when everything looked like it was falling apart. What happened, Doug?
What happened?!
At the time of publication, Altucher and/or his fund had no positions in any of the stocks mentioned in this column, although positions may change at any time.
James Altucher is a managing partner at Formula Capital, an alternative asset management firm that runs several quantitative-based hedge funds as well as a fund of hedge funds. He is also the author of
Trade Like a Hedge Fund
and
Trade Like Warren Buffett
. Under no circumstances does the information in this column represent a recommendation to buy or sell stocks. Altucher appreciates your feedback;
to send him an email.
Interested in more writings from James Altucher? Check out his newsletter, TheStreet.com Internet Review. For more information,
.
TheStreet.com has a revenue-sharing relationship with Trader's Library under which it receives a portion of the revenue from purchases by customers directed there from TheStreet.com.