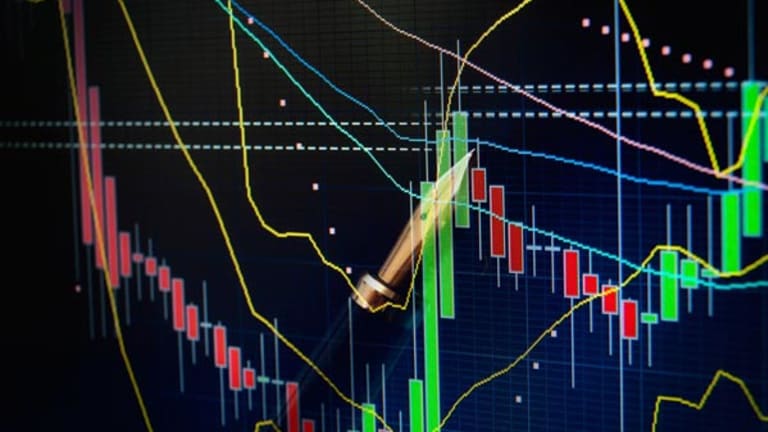 10 Things to Watch in Big-Cap Health Care
Here are some companies and issues that could have an impact in 2007.
This column was originally published on RealMoney on Jan. 5 at 2:30 p.m. EST. It's being republished as a bonus for TheStreet.com readers. For more information about subscribing to RealMoney, please click here.
While all of us pundits have our list of hopes, concerns and expectations, I thought it would be helpful to put together a list of 10 items in large-cap health care worth keeping an eye on. These aren't arranged in any particular order, but I do believe the influence of big-cap valuations trickling down to the rest of the players is important enough to monitor those stocks to help navigate the year.
1. Amgen vs. Roche.
With the erythropoietin (EPO) market for anemia medication on the line, this fight may play out in two separate parts in 2007. First,
Amgen
(AMGN)
has precedent on its side in its lawsuit against
Roche
for alleged patent infringement. Many believe Roche's CERA is just a slightly modified version of Amgen's blockbuster duo, Epogen and Aranesp. The question remains: What exactly is CERA? Roche has shrouded the molecule with secrecy. If Amgen is successful in blocking Roche through the courts, Amgen's stock is unquestionably cheap. If not, the second part of the battle -- the one for market share -- will begin.
2. Large licensing deals and more M&A.
Activity on both the licensing and the acquisition fronts was high in 2006, and I expect that to continue in 2007. Licensing deals became much more expensive in the past six to 12 months, and I have no reason to believe that will change, considering all the players and their money at the table. Longer-term concerns for Big Pharma and Big Biotech (discussed later in this column) will keep their thirst for deals elevated, and I believe sowing the seeds several years in advance is in the best interests of all players. I expect there to be mistakes, as usual, but they will be more expensive in the current deal environment. This could change the deal landscape if they strike at the wrong time.
3. Boston Scientific: Turnaround or not?
Boston Scientific
(BSX)
has all the makings of a potentially great stock in 2007. Its end markets should return to growth by year-end, and other negative overhangs should be removed as the year progresses. Unfortunately for me, it doesn't carry a turnaround valuation, considering its large slate of challenges and questions.
The company is still trying to fix its manufacturing woes with the Food and Drug Administration related to some of the Guidant products. In addition, I believe Boston Scientific was so willing to overpay for Guidant in 2006 because it recognized the brutally competitive landscape looming in the drug-eluting-stent market, its legacy cash cow. If things go well on the operational turnaround and manufacturing, and competition in stents appears manageable, the stock works. If not, look out below. I'll pass on a coin-toss bet.
4. Genentech.
After floundering for most of 2006 as I expected,
Genentech's
(DNA)
earnings are within reasonable shooting distance of its stock price. Its price-to-earnings ratio on a pro forma basis is now under 30 times. Though it is not bulletproof, not much is, and I believe the company will be able to execute to get its stock moving up again.
5. Celgene.
No doubt,
Celgene
(CELG)
is a Wall Street darling. Revlimid continues to demonstrate promise in treating other hematologic malignancies outside the original multiple myeloma market. The question now is whether Revlimid will deliver whatever expectations are priced into the stock. I don't have the answer, but keep an eye out for the jar of Revlimid they'll be sprinkling in your coffee, coming to stores near you.
6. What multiple for Big Pharma?
The dollars were flowing into Big Pharma in the second half of 2006. The
Amex Pharmaceutical Index
undefined
closed the year up nearly 8% in appreciation from its June lows, and the forward P/E multiples of the group now fall in the mid-to-high teens range, while the forward P/E multiple on the
is about 16 times.
I'd argue that the current balance sheets, cash-flow characteristics and dividend yields for the pharma group support current valuations. I also believe the companies will do a lot internally to tighten their operating ships. The problem I have with the valuations relative to the S&P 500 is that the companies, nearly unilaterally, each have major patent loss exposure within the next five years.
I expect multiples to contract relative to the S&P 500. Exceptions include
Johnson & Johnson
(JNJ)
and
Abbott Labs
(ABT)
, which remain the most insulated because of their very diverse businesses, and
Schering-Plough
(SGP)
, which doesn't face much in the way of patent losses. As always, there will certainly be periods of great trading opportunities.
7. Gilead Sciences.
Gilead Sciences
(GILD)
is a somewhat different beast now that it is about to close its acquisition of
Myogen
. If Myogen's drug lives up to its promise, Gilead will have demonstrated once again why it has A-plus managers. I haven't forged a concrete opinion on it yet. I am concerned about upcoming guidance for 2007, as spending will likely be high after the acquisition closes.
8. Wal-Mart.
I believe
Wal-Mart's
(WMT)
efforts to exercise its marketing power on the drug supply chain will not live up to the hype, and we should find out in 2007. If it is successful in driving more consumers to its pharmacies, then the other drug retailers, the drug distributors and the pharmacy benefit managers face some risk. But the vast majority of drug consumers are not cash-paying customers, and their decisions are driven by their PBM and/or HMO that sets their co-pays.
9. Sword-rattling from the Democratic Congress?
I don't think there really is any way to know how this will turn out this year, but it makes the list here because it should be a concern for anyone who saw what happened to health care stocks in the days of Hillary-Care. Pharmaceuticals and HMOs are usually the ones to take the first bullets, but I believe large-cap biotech could be breaking into that elite group with the cost of biologics and the lack of clear pathways for biogenerics, which brings me to ...
10. Biogenerics.
I believe that at some point in the next few years, a few of the large-cap biotech stocks will be facing a compressed-multiple fate because of the threat of biogenerics. There are many outstanding questions on how these generic versions of biotech drugs will be regulated, approved and ultimately marketed and accepted, but they will unquestionably be a part of medicine within the next handful of years.
At the time of publication, Ferayorni had no positions in any of the stocks mentioned, although positions may change at any time.
Justin Ferayorni, CFA, is the founder and principal of Tamarack Capital Management and was an analyst and portfolio manager at Bricoleur Capital. Under no circumstances does the information in this column represent a recommendation to buy or sell stocks. Ferayorni appreciates your feedback;
to send him an email.