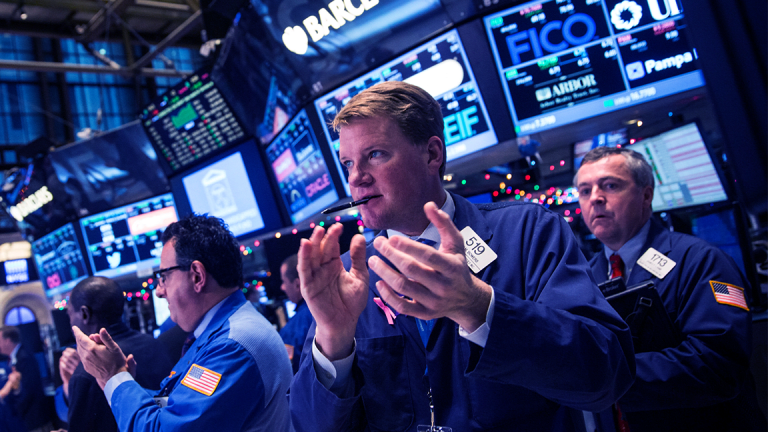 'Melt Up' or 'Blow Off'? Wall Street Futures Extend Gains as Global Rally Grinds
U.S. and European stocks are pushing higher again Tuesday as investors show no signs of pullback from the global equity market rally.
Wall Street continued to defy gravity Tuesday, with stocks expected to rise higher into record territory amid a renewed surge in European markets and a modest rebound for the U.S. dollar ahead of the fourth quarter earnings season.
Early indications from equity futures point to further gains for U.S. markets ahead of the start of the corporate earnings season, which kicks off in earnest Friday with fourth quarter numbers from JPMorgan & Co. (JPM) - Get JPMorgan Chase & Co. (JPM) Report PNC Financial Services Group Inc. (PNC) - Get PNC Financial Services Group, Inc. Report and Well Fargo & Co. (WFC) - Get Wells Fargo & Company Report
Contracts tied to the Dow Jones Industrial Average were marked 67 points higher from their Monday close, suggesting a 0.27% gain at the opening bell, while those linked to the broader S&P 500 bumped 4.75 points, or 0.17% above their closing levels in European trading and look to extend the best start to a trading year in more than a decade. The Nasdaq may gain 15.25 points at the opening bell, pushing further into record territory. 
The dollar index, a measure of the greenback's strength against a basket of six global currencies, added 0.3% from early Monday levels to change hands at 92.55, thanks in part to modestly higher U.S. Treasury bonds yields and profit-taking in the euro, which has the largest influence on the dollar basket. Benchmark U.S. 10-year yields hit 2.5% ahead of a week in which $56 billion in new paper will hit the market, while 2-year yields bumps 1 basis point higher to 1.96%.
The U.S. equity moves, however, have divided analysts' views amid a debate over whether the current rally, which as lifted the S&P 500 to more 65 record highs over the past year, is being driven by the so-called 'melt up' phenomena of investors buying into an expensive market for fear of missing out, or exhibiting sighs of a classic "blow off top" in which prices ramp quickly higher only to be followed by a sharp and unpredictable correction that snuffs out recent gains.
The latter, however, seems unlikely at the moment, given that central bank bond purchases, low interest rates, monetary and fiscal stimulus and, now, a $1.5 trillion tax cut from Republican lawmakers have all congealed into a bull-market paste that's plugged the many geopolitical cracks that investors are more than happy to ignore as stocks rise ever higher and inflation continues to flat-line.
Bank of America Merrill Lynch, for example, lifted its full-year U.S. earnings forecast this week, suggesting S&P 500 companies will earn $153 per share over the whole of 2018. Around $10 of that increase, the bank said, is pegged to the Trump Administration tax cuts.
Last week's December employment report, which indicated the economy added 2.1 million jobs over the course of a year but saw wages rise by only around 2.5% (just ahead of the pace of inflation, meaning real-wage gains are virtually flat) ensures investors that the economy will continue to grow, but won't be choked-off by nervous central bankers fretting about inflation.
A similar trend is at play in Europe, where Germany's powerhouse manufacturing economy is steaming along at the fastest pace since 2009, according to industrial data published Tuesday and the European Central Bank is holding its €2.55 trillion quantitative easing program in place.
Data from the Chicago Futures Trading Commission Monday indicates bets that the euro will rise substantially against the U.S. dollar this year have risen to just under $20 billion. That followed news from the European Commission that its benchmark consumer confidence gauge hit the highest level since October 2000 last month while its deeper assessment of business conditions in the Eurozone rose to a peak not seen since it started collecting the data back in 1985 in what is being hailed on social media as the #Euroboom.
Europe's Stoxx 600 index added 0.44% by mid-day Tuesday to 400.16 points, testing two-and-a-half year highs as investors snapped up cheaper equities in the wake of a pullback in the single currency, which fell 0.2% against the greenback to change hands at 1.1942. Germany's DAX performance was bumped 45 points higher into the green while France's CAC-40 was marked 0.64% to the upside.
Overnight in Asia, the region-wide MSCI Asia ex-Japan index slipped 0.05% to 589.47 points, still withing touching distance of 10-year and all-time highs, while Japan's Nikkei 225 returned from its 'Coming-of-Age Day' holiday to gain 0.6% and close at 28,849.99 points despite suggestions from the Bank of Japan that it may slowly pull back some of its extraordinary stimulus now that stocks are trading at 27-year highs.
Global oil markets extended gains in overnight trading, and held them into the European session, ahead of what could prove to be critical inventory data from the United States later this week. Last Friday's modest dip in U.S. drilling installations, along with the ongoing discipline of OPEC members to comply with agreed production cuts that are taking 1.8 million barrels of oil from the market each day, have pushed prices to the highest levels in more than two and a half years.
Brent crude contracts for March delivery, the global benchmark, were a few cents higher from their Monday New York close at $67.78 per barrel while WTI futures for the same month added 13 cents to change hands at $61.86 per barrel.